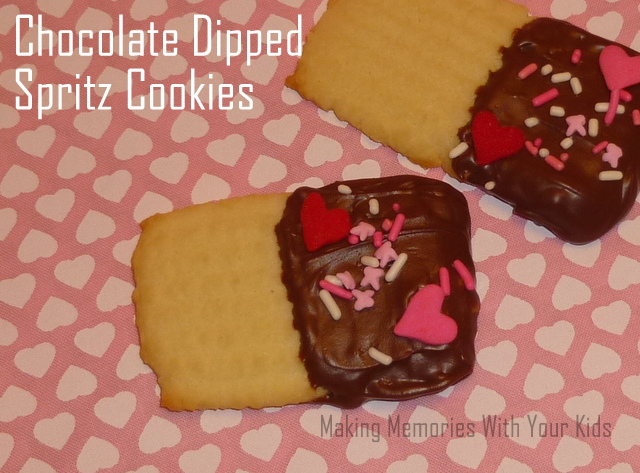 For some reason I always have thought my Wilton Cookie Press
was a Christmas cookie press… only.  Why haven't I branched out to other holidays???  Because let's face it.  These are adorable.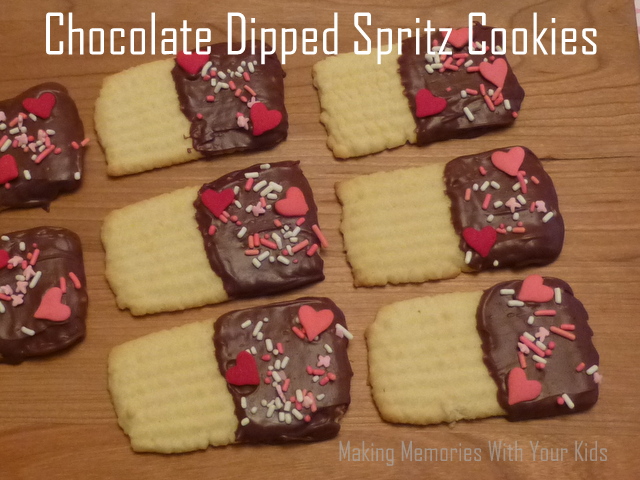 Thank you to Baby Living Mama for this idea.  The recipe is the same as the recipe on my Wilton Cookie Press box.  The one difference was the coking time and temperature.  Wilton says to cook them in a 400 degree oven for 6-8 minutes.  Emilie baked hers in a 375 degree oven for 10-12 minutes.  You chose, but I decided to cook them for the shorter amount of time.  I didn't want super crunchy cookies.
Aren't they fun for Valentine's Day?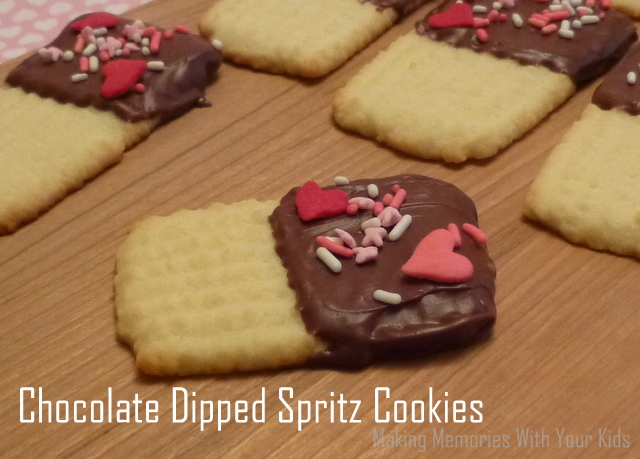 Chocolate Dipped Spritz Cokies for Valntine's Day
Ingredients
1½ cups butter (3 sticks)
1 cup granulated sugar
1 egg
2 Tbsp. milk
1 tsp. vanilla
½ tsp. almond extract
3½ cups all-purpose flour
1 tsp. baking powder
Milk chocolate chips
Sprinkles
Instructions
Preheat oven to 400 degrees.
Cream butter and sugar thoroughly.
Add egg, milk, vanilla and almond extract. Beat well.
Stir together dry ingredients (flour & baking powder) in separate bowl and gradually add to creamed mixture. Mix until dough is smooth. DO NOT CHILL!
Follow the instructions on your cookie press, using the bar or ribbon disc to create bar cookies, placing them on an ungreased cookie sheet.
Bake for 6-8 minutes just until the edges start to lightly turn brown.
Cool on a cooling rack.
After cookies are cool, melt chocolate chips in the microwave on 30 second bursts. Stir well.
Dip cookies in chocolate or spread with a knife.
Add sprinkles and let sit until chocolate hardens.
Enjoy!
http://makingmemorieswithyourkids.com/2015/01/chocolate-dipped-spritz-cookies-for-valentines-day/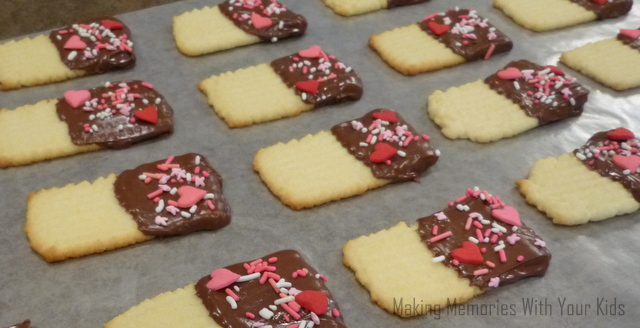 We're linking to the parties found HERE.