We've made Pop Tarts before and absolutely loved them.  Who doesn't love a good Pop Tart???  We've even made them over a campfire.  So making them for Valentine's Day was a no brainer.  Heart shaped, filled with Homemade Jelly?  Yes, please.
They are super easy to make and taste so much better than the store bought Pop Tarts.  Sorry Kelloggs, but they do.
You can either make your own pie crust or use refrigerated dough.  I was looking for simple so we went with store bought.  Cut out your shapes.
Spread your jelly in the center.  Make sure you don't go too close to the edge or else it will spill out when it's baking.  I think what makes these so dang delicious is the fact that we used Homemade Jelly.  That's just something I can't buy in the store.  Homemade is like eating pure berries and the taste is amazing.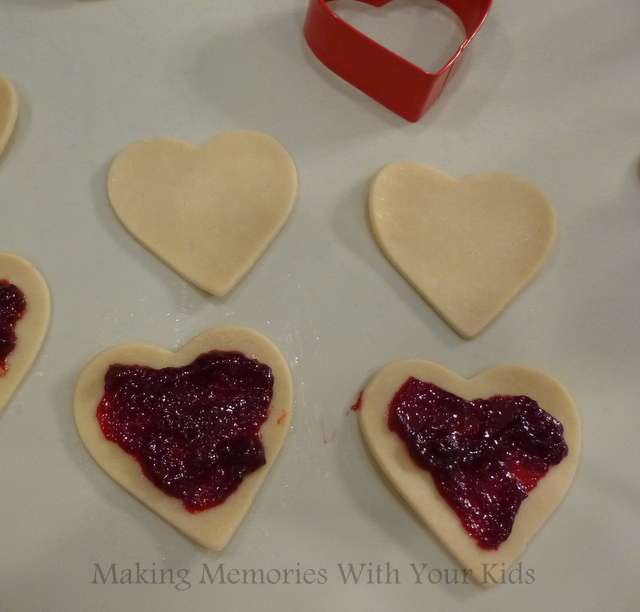 Add the top piece of dough and seal the edges.  Make sure you add a little water around the edge to help seal them.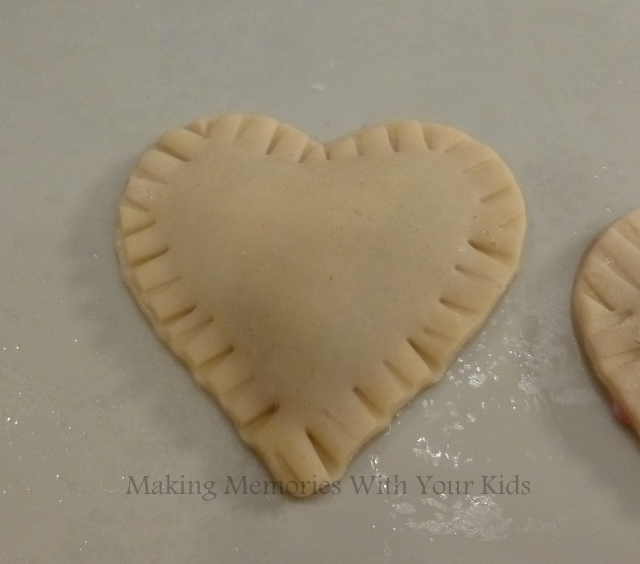 Bake until golden brown.
You could leave them just like this if you want.
But again, who doesn't love frosting?  And sprinkles?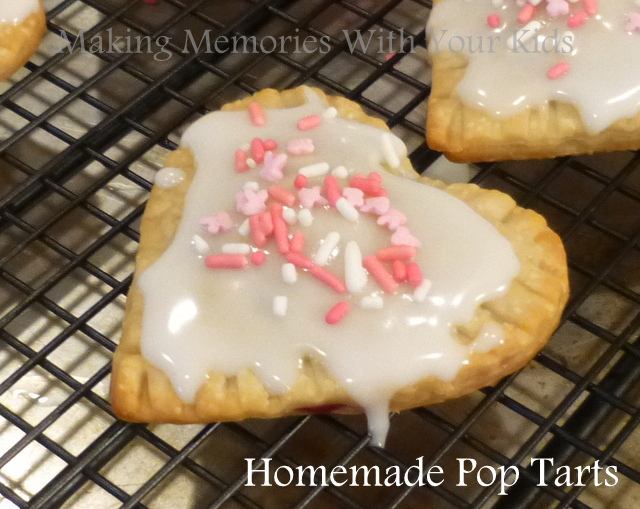 The crust if buttery and flaky and the filling is TO. DIE. FOR!
Surprise your kids this weekend with these.  Or better yet, just make them for yourself because after you eat one, you might not want to share.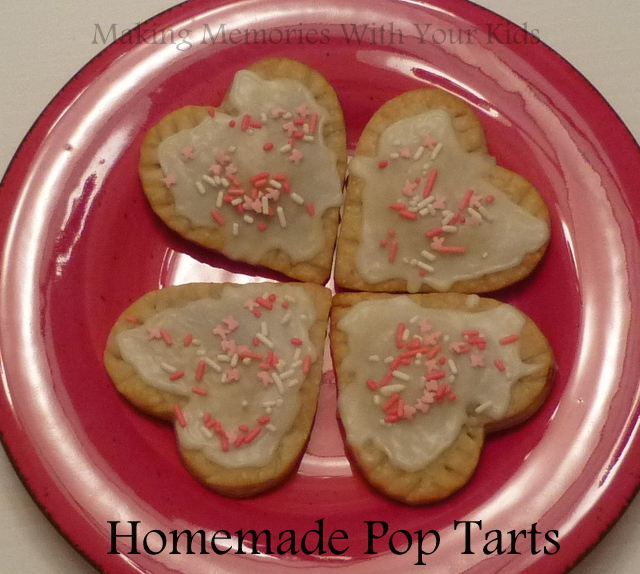 Ingredients
Pie crust (either store bought or homemade)
Jelly or Jam (homemade is best)

For the glaze

1 cup powdered sugar
1/2 tsp. clear vanilla
1-2 Tbsp. milk
Instructions
Preheat oven to 400 degrees.
Cut out your shapes in the pie crust.
Spoon jelly or jam in the center and spread out to about 1/4 inch from the side.
Wet your finger with water and run your finger along the edge of the heart. This will help seal your dough together.
Place the top piece of dough on top and gently press together.
Using a fork, press the 2 pieces of dough together.
Depending on the size of your pop tarts (or hand pies), bake for 7-10 minutes until golden brown.
Remove from oven and let cool.
Mix your icing. Add vanilla to the powdered sugar and mix. Add 1 Tbsp. of milk and mix well. Add more milk to get to the desired consistency. You want to be able to pour it over your pies but not too thin that it just runs down the sides.
Add sprinkles, if desire.
Enjoy!
http://makingmemorieswithyourkids.com/2015/01/homemade-heart-pop-tarts/
We're linking to the parties found HERE.