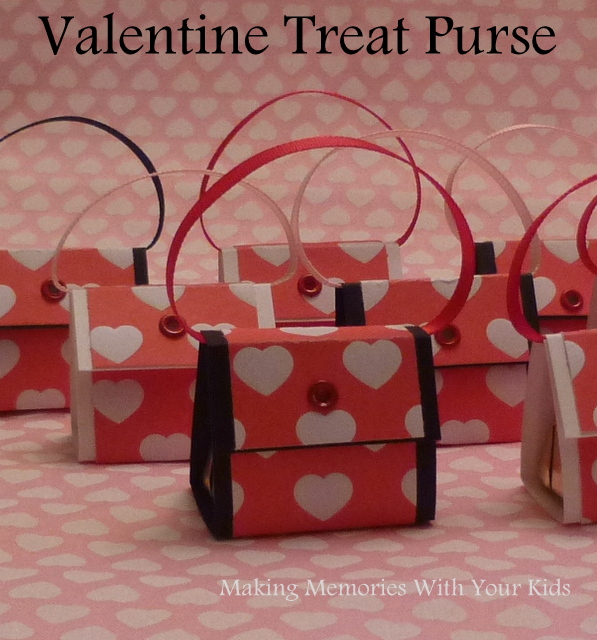 Yep, we've gone from Christmas to Valentine's Day.  There's no "in between" in our house.
Our first Valentine's creation of the year are these little Treat Purses.  I love paper crafts.  They make sure cute little gifts to give to co-workers or teachers or class mates.  Add in Hershey's Nuggets Chocolates and I'm in.  Yum.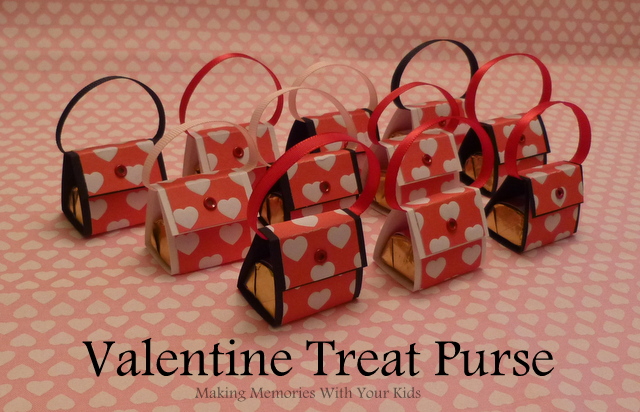 My daughter had fun making these with me.  She was in charge of taping and adding the eyelets.  Perfect for little helpers.
What you will need:
* Colored card stock
* Coordinating patterned paper
* 1/4″ ribbon
* Double sided permanent tape
* Hershey's Nugget Chocolates
* Brads or eyelets
Here's how you do it:
Cut your cardstock.
Base: 4″ x 1 1/2″
Top Layer: "4 x 1 1/4″
Tape your top layer to your colored card stock.
Score card stock at 1 3/16″, 2 3/16″ 3 1/2″, and 3 3/4″ and fold along the score lines.
Add a brad or eyelet to the shortest end.
Apply adhesive between score lines 3 1/2″ and 3 3/4″ on the inside of the purse.
Adhere both ends of the ribbon to the inside along the adhesive.
Overlap the edges to form the purse.
Cover nugget with remaining 3″ x 1" decorative paper and slide into the purse.
Tape the purse flap down.
Ta da!  Valentine Treat Purses!