If you haven't figured it out yet, I am a huge s'mores lover.  Love, love, love them!  And I love that there are so many s'more recipes out there that are more than just the traditional graham cracker, chocolate and marshmallow.  And this one?  Yep, delicious!  It's like a s'more on steroids because it also adds in the deliciousness of a rice krispie treat (and who doesn't love those?!?!)
 I think this is so much better looking than "regular" s'mores.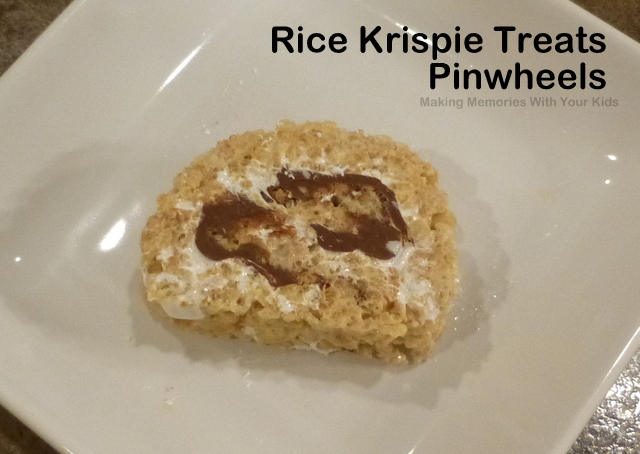 First we made our rice krispie treats.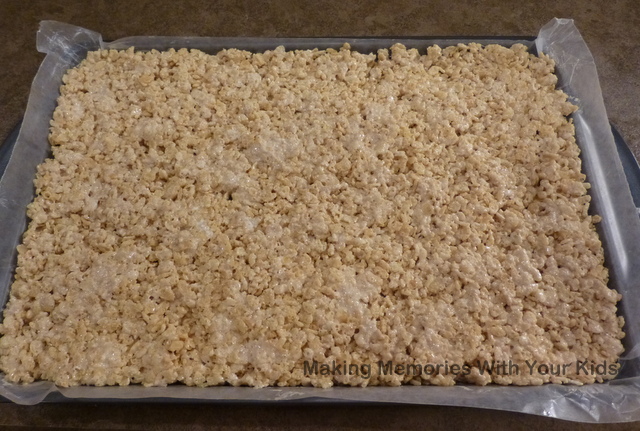 Here's the great part – now cover it with a jar of marshmallow cream.  Holy heck!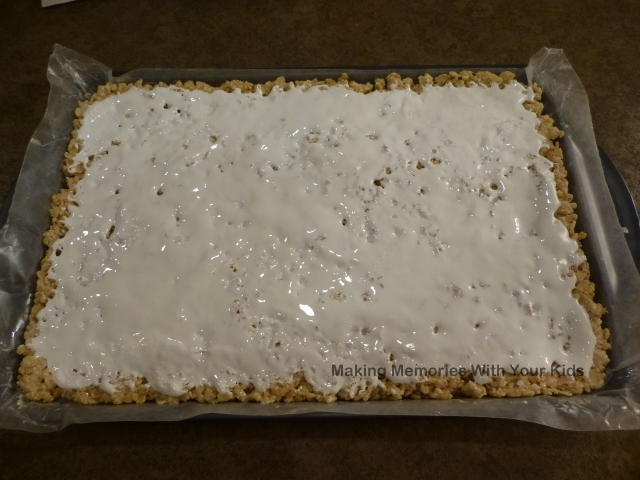 Then cover with Hershey bars.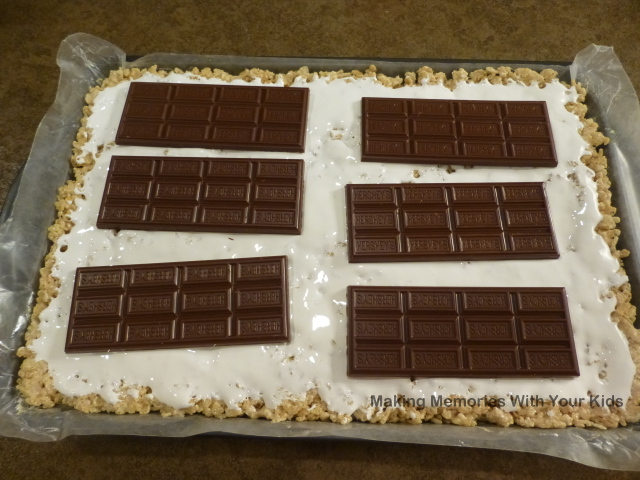 We put them in the oven for a few minutes to melt the chocolate, then spread it over the top.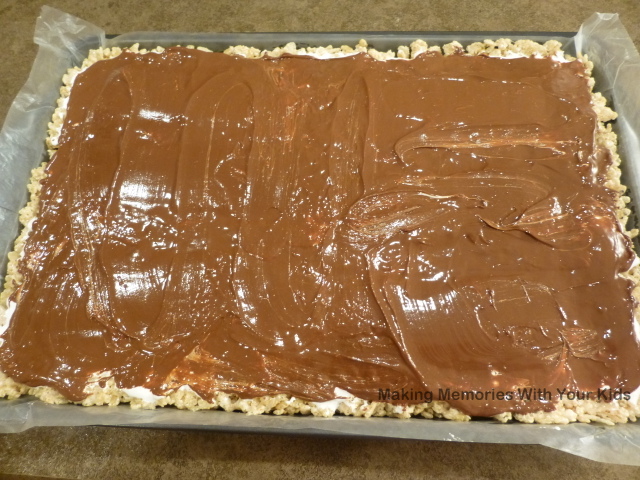 Delicious!  Let it cool for just a bit and then roll.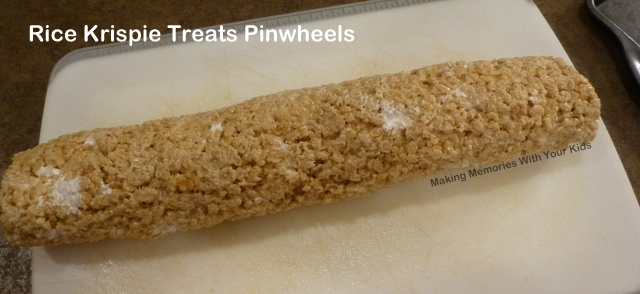 It's a log of deliciousness!
Now slice and enjoy!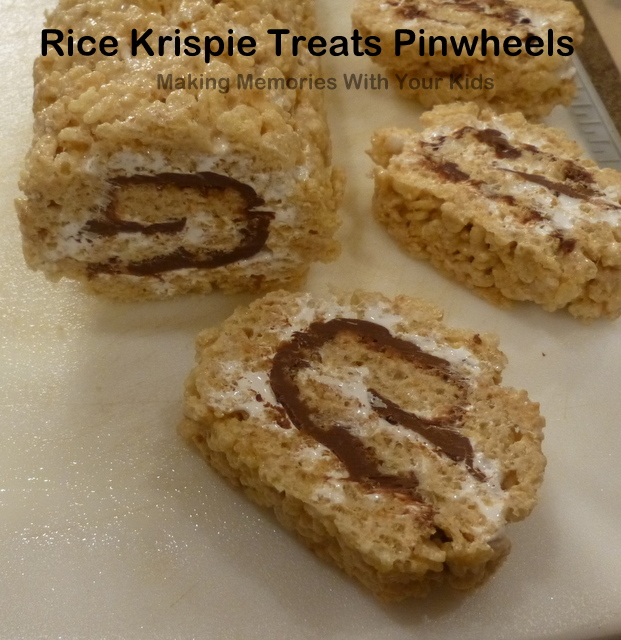 Fun, right?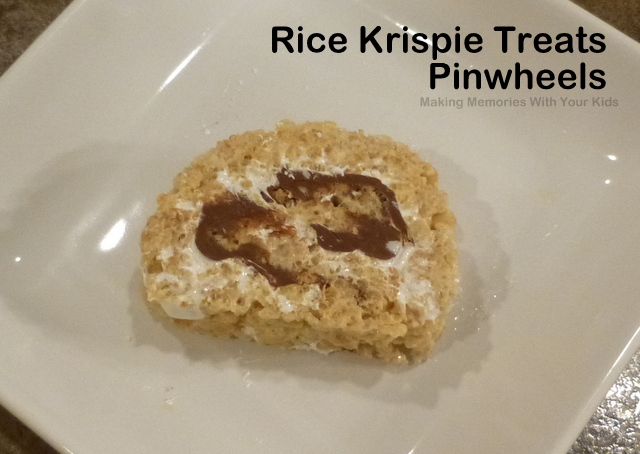 A huge thank you to Mom on Timeout for this amazing recipe!
S'mores Rice Krispies Treats Pinwheels
Ingredients
10 oz miniature marshmallows
¼ cup butter (plus more for greasing)
5 cup Rice Krispies cereal
¾ cup graham cracker crumbs
7 oz jar marshmallow creme
6 Hershey's chocolate bars
Instructions
Preheat oven to 200 degrees.
Line a 10x15 jellyroll pan with waxed paper. Butter the waxed paper and set aside.
Combine marshmallows and one quarter cup of butter in a microwave-safe bowl. Cover and heat on high for 30 seconds, stir. Repeat until completely blended.
Stir in cereal and graham cracker crumbs.
Press mixture into prepared pan.
Spread marshmallow creme on top using an offset spatula.
Place Hershey's bars on top of the marshmallow creme.
Place in oven for two minutes. Use a spatula to spread the softened chocolate.
Let cool for 10 minutes.
Roll up jellyroll style (like a cinnamon roll), starting on the long side. Peel away the waxed paper as you roll. Pinch the seams together.
Place seam side down and refrigerate for 30-45 minutes or until chocolate has set.
Slice and serve!
http://makingmemorieswithyourkids.com/2015/02/smores-rice-krispies-treats-pinwheels/
 The best of both worlds!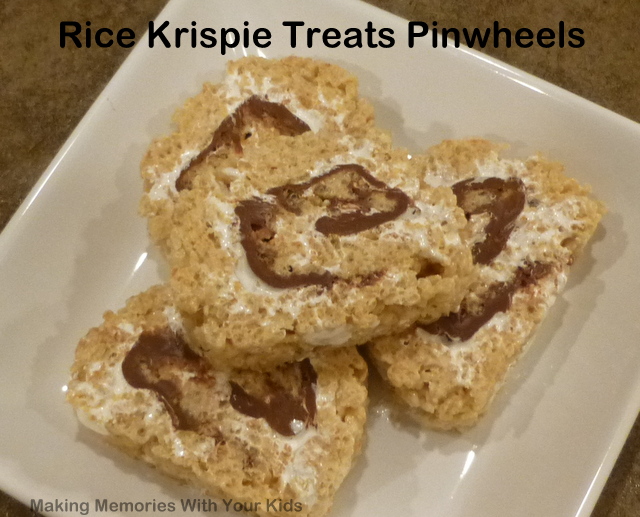 We're linking to the parties found HERE.