See.  I told you we loved lip balm.  And because we do, we assume every one else does.  (See how we work?)  So when we saw this idea and free printable over on The Cards We Drew, of course I was going to use it.  It's adorable!
The Super Hero theme is perfect for us right now.  We're right in the thick of planning a community dance.  Yes, you read that right.  My kids and I are organizing and sponsoring a community dance for middle school kids.  No, we're not crazy.  (Well, maybe just a little.)  We're raising money to go on a volunteer quest this June and what better way than to have a dance…. with hundreds of hormonal pre-teen students.  Yep.  It's perfect.  So we're going to make some of these for the prizes.  (You can read about upcoming adventure HERE.)
Okay, back to these cute Valentine's Day gifts.  We used EOS because we're hooked on it, and because it was on sale at the store (which makes it a double win!)
They are so easy to make.  Print out on heavy card stock the free printable found HERE.  Cut a hole in the middle of the large heart.  We were making these the same time we made these EOS Valentine's so we used the red circle from the Panda bear as a template.  Put in the EOS and you're done.
We finished them off by putting them in cello bags and tied a heart ribbon to the top.  (Don't cello bags make everything look better?!?!)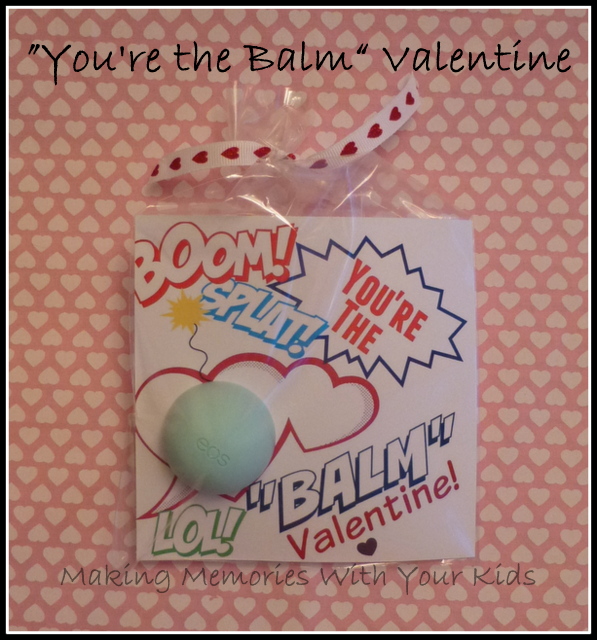 Oh yeah, and they make perfect teacher gifts.  Don't forget about your teachers this Valentine's Day.  Or the School Counselor.  They need a Valentine too.