It's hard to believe I've been a part of the Secret Recipe Club for 3 1/2 years.  Holy smokes!  Where has the time gone?!?!  My first official Secret Recipe Club post was back in August, 2011, where I posted Mt. Bachelor Bars.  It's been so much fun discovering new blogs and recipes.  Over the years I've switched "groups" (which means a different set of bloggers and a different posting date.)  It's good to switch things up a bit, right?  So I did it again.  This is my first week with group A and I'm so excited to see all the bloggers I get to post with.
My assignment this month was Food Ramblings.  Elizabeth is the magic behind this fun blog.  She started blogging in 2012 for a little accountability on some New Year's resolutions.  How cool is that?!?!  Her goal?  To eat healthier, cook more, lose some weight for her wedding, and get in shape.  She made her goal and has been blogging ever since.
She has quite a few recipes I was super excited about trying and after lots and lots of searching, I decided to make Elizabeth's Zebra Bundt Cake.   It looked delicious and I knew my kids would love it.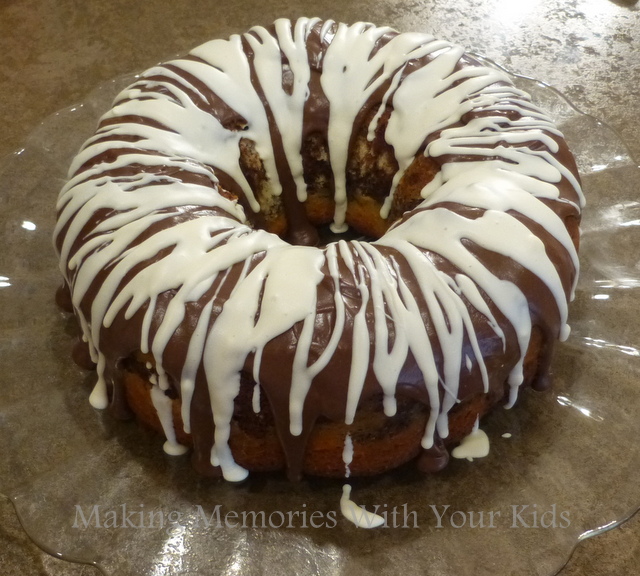 Let me tell you – I was not disappointed!  This cake was moist and delicious!  And look how cool it looks… bonus!
The only thing I changed was the frosting on top.  I used milk chocolate and cream cheese store bought frosting to add the zebra look to the top.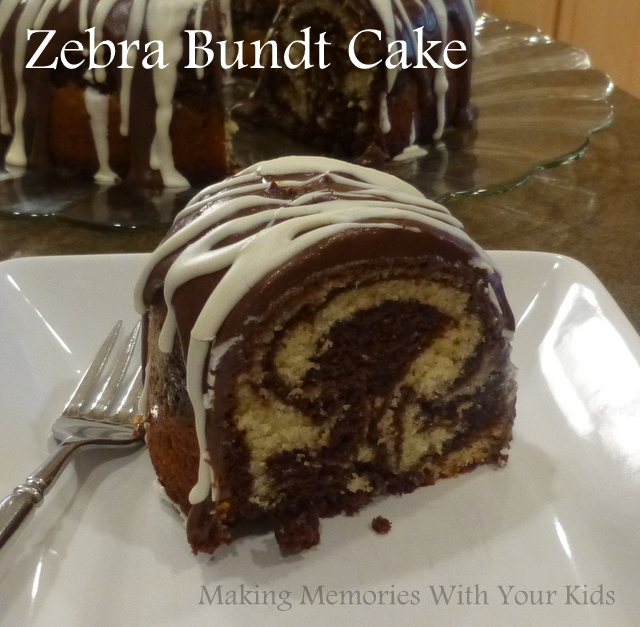 Ingredients
For the Cake

2 1/2 cups plus 2 Tablespoons all purpose flour
2 tsp baking powder
1/2 tsp salt
2 1/2 cups sugar, divided
1/2 cup cocoa powder
6 Tbsp. water
1 1/2 cups (3 sticks) butter, melted and cooled
1 1/2 tsp vanilla extract
5 eggs
1/2 cup milk

For the frosting

1/2 tub cream cheese frosting
1/2 tub milk chocolate frosting
Instructions
Preheat oven to 350 degrees.
Grease and flour your bundt pan and set aside.
In a small bowl, mix together the flour, baking powder and salt. Set aside.
In another bowl, mix together 1/2 cup sugar, the cocoa powder and the water. Stir until a smooth paste forms. Set aside.
In the bowl of your mixer, cream together the cooled melted butter and the remaining 2 cups sugar. Add vanilla and beat until combined. Add the eggs, one at a time, beating well after each addition.
With the mixer on low, add 1/3 of the flour mixture, then half of the milk, then repeat until all the milk and flour have been incorporated.
Measure out two heaping cups of the mixture and mix into the bowl with the chocolate mixture. Stir to combine.
To make the zebra look - Spoon a heaping tablespoon of the white batter into the bundt pan. Spoon an equal amount of the chocolate mixture directly in the middle of the white. Next, spoon some white into the center of the chocolate. Repeat until all of the batter has been used.
Bake for 50-60 minutes, until a toothpick inserted in the center comes out clean.
Remove from oven and let cool.

To frost

Microwave the milk chocolate frosting for 15 seconds. You want the frosting thin enough to pour but not liquid. Pour over cake and let sit for about 15 minutes.
Repeat with the cream cheese frosting.
http://makingmemorieswithyourkids.com/2015/02/zebra-bundt-cake-secret-recipe-club/