I know, don't judge.  When you get past the grossness of these cookies you gotta admit, they're pretty dang funny, right?  Come on!  It's almost April Fool's Day.  Live it up!
My daughter and her friend were a riot making these.  We don't have a cat so her friend was the "expert".  Oh my gosh.  I was laughing so hard as I heard "you have to make them smaller.  Cat poops are smaller" and a plethora of cat poop critiques.  Funny!
Don't they look gross?  (In a totally cool, April Fool's Day sort of way.)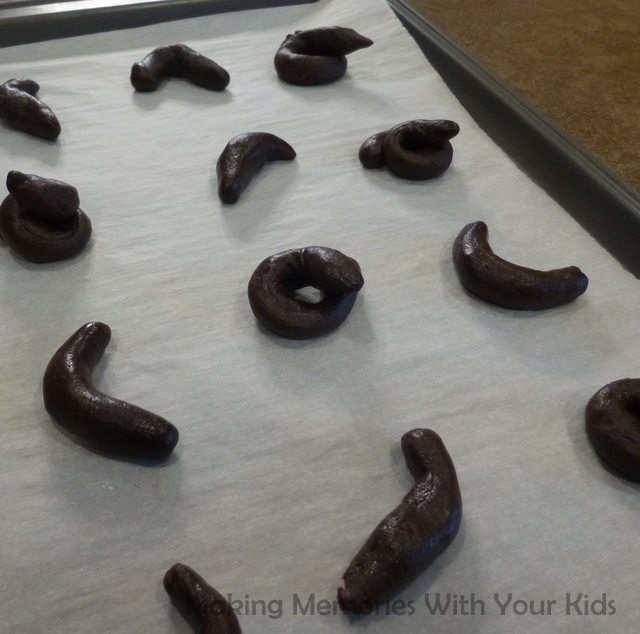 I was a little disappointed with how much they "spread" when they baked.  So I strongly suggest refrigerating the dough for at least 2 hours.  Maybe that will help.  Or cut the butter down a little.  Regardless, the cookies were delicious!  They were moist and chocolatey and oh, so, good.  If you can get past what they look like.
 We found this fun idea and recipe over on Sweet Dreams.
Cat Poop Cookies for April Fool's Day
Ingredients
1 box chocolate cake mix
1/4 cup butter
3 oz. cream cheese
1 egg
Graham cracker crumbs for the kitty litter
Instructions
In a mixing bowl, mix together cake mix, butter, cream cheese and egg.
Shape your cookie dough into "poops" and place on a parchment lined cookie sheet.
Refrigerate for at least 2 hours.
Bake for 7-9 minutes in a pre-heated 350 degree oven.
Allow to cool completely.Sprinkle graham cracker crumbs in pan. Arrange cookies and voila! Cat Poop Cookies.
http://makingmemorieswithyourkids.com/2015/03/cat-poop-cookies-for-april-fools-day/
Isn't April Fool's Day about having fun?  So make a batch of these and take them to work.  I can't wait to put these in the office.
Are you looking for other fun April Fool's Day Ideas?  Check out our April Fool's Day fun HERE.  But here are some of our favorites.