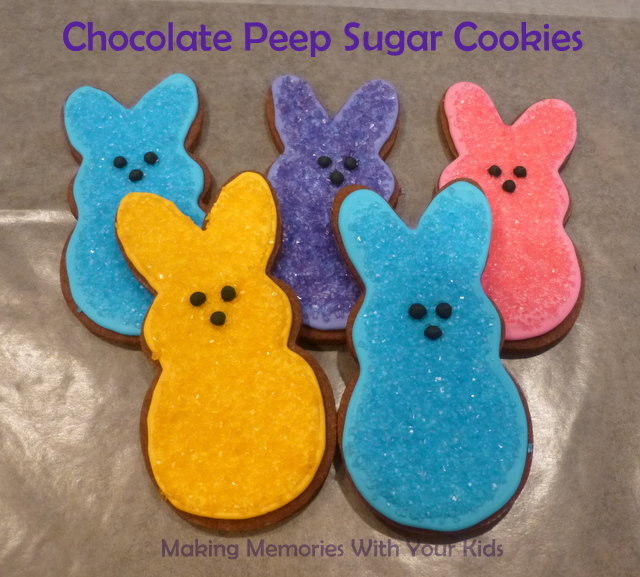 I am not a fan of marshmallow Peeps, but I love how they look.  They just scream Easter to me.  They're so colorful.  So when I saw this Peeps bunny cookie cutter, I had to buy it.
I always use this recipe for my sugar cookies.  It's by far the best and is so easy to make.  But I wanted to make chocolate sugar cookies.  (Something different.)  So I went over to Sue's blog, Munchkin Munchies, because she is my cookie go to for recipes and ideas.  Sue uses Lila Loa's recipe and swears by it.  So, of course, that's the one I chose to use.
After your cookies have cooled, pipe a line of frosting around the edge of the cookie.  Allow to dry (at least 1 hour.)
Fill cookies, making sure you thin your frosting so it will "pour".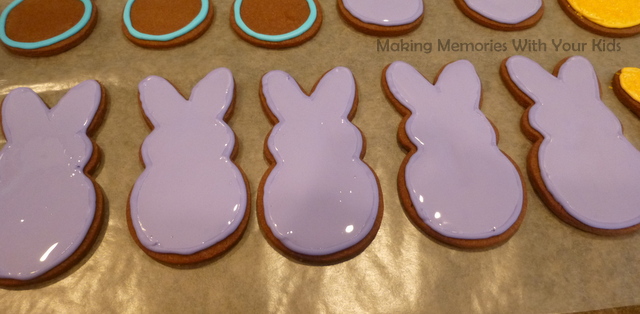 At this point you can sprinkle your cookies with sanding sugar, if you want.  I thought they looked more like the marshmallow Peeps with the sugar on them.  (But yikes on matching the colors.)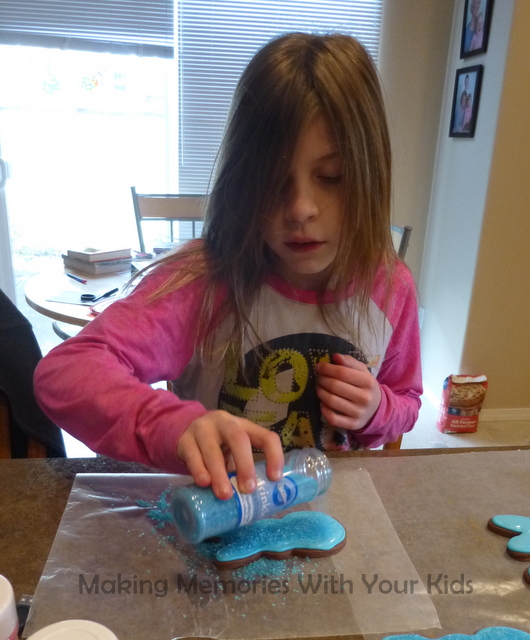 Allow the icing to harden completely before adding dots for the eyes and nose (Otherwise the colors will bleed.)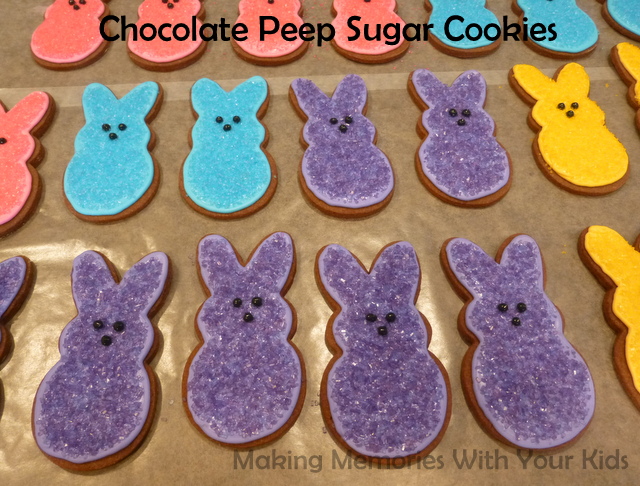 Aren't they cute?  And the taste?  Delicious!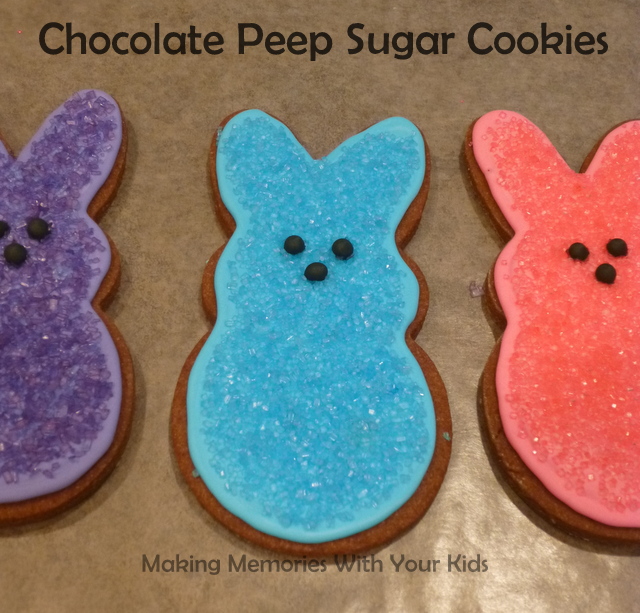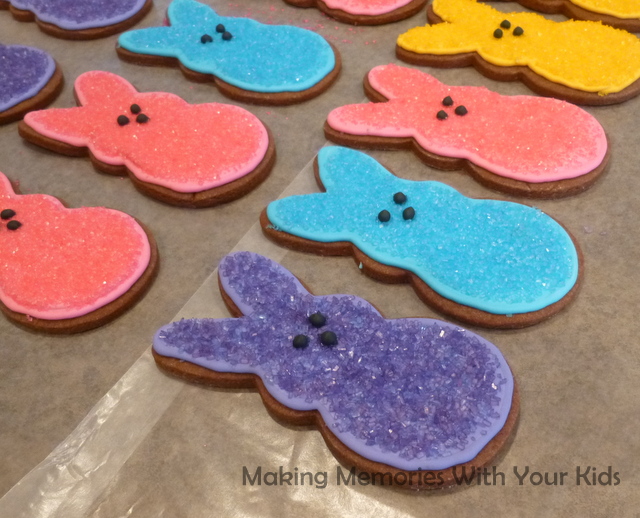 Chocolate Peep Sugar Cookies
Ingredients
For the Cookies

1 cup butter
1/4 cup shortening
1 1/2 cups granulated sugar
2 eggs
1 teaspoon vanilla
1 teaspoon salt
3/4 teaspoon baking powder
2/3 cup cocoa
3 or 3 1/2 cups flour

For the Icing

3 3/4 cups sifted powdered sugar
3 T meringue powder
6 T warm water
fool color gel
sanding sugar
Instructions
For the Cookies

Preheat oven to 375 degrees.
Cream butter, shortening and sugar together. Add eggs and vanilla. Mix well. Add baking powder and salt and mix again. Stir in the cocoa until well blended. Add flour 1 cup at a time. IF YOU ARE GOING TO MAKE COOKIES RIGHT AWAY, ADD 3 1/2 cups flour. If you are going to "chill" the dough, or just wait for another day to make your cookies, STOP AT 3 cups. It will be totally soft and look all wrong, and you will want to ignore me completely and add more flour, but I'm telling you -- DON'T DO IT.
Roll out on lightly floured surface and cut into shapes.
Bake for 7-10 minutes.
Cool completely on a cooling rack.

For the Icing

Beat powdered sugar, meringue powder and water until smooth. Add more or less water to get the consistency that you want.
http://makingmemorieswithyourkids.com/2015/03/chocolate-peep-sugar-cookies/
We're linking to the parties found HERE.