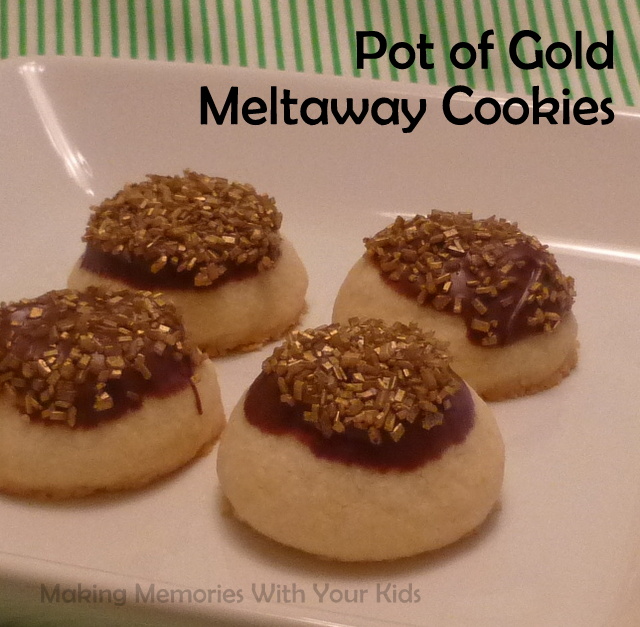 This is a hybrid of two different recipes.  I saw the idea for Pot of Gold Cookies over on Your Southern Peach.  I loved how they looked but I'm not a fan of raw cookie dough.  (I know, don't hate me.)  So I used the idea but changed up the recipe.
I love how they turned out!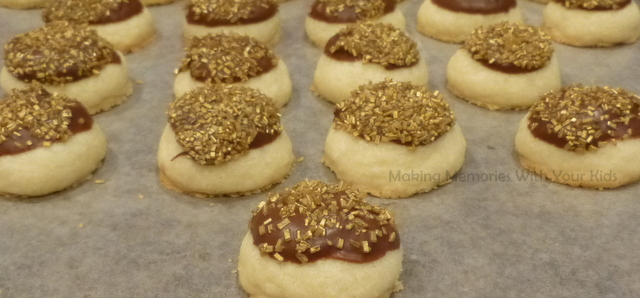 We used my favorite recipe for Russian Tea Cakes (aka: snowball cookies or Mexican Wedding Cakes.)
Pot of Gold Meltaway Cookies
Ingredients
1 cup butter, softened
1/2 cup powdered sugar
1 tsp. vanilla or almond extract
2 1/4 cups all purpose flour
1/4 tsp. salt
1 cup milk chocolate chips
Gold Sugar Crystals
Instructions
Preheat over to 400 degrees.
Mix butter, 1/2 cup powdered sugar and vanilla.
Stir in flour and salt.
Shape into 1 inch balls.
Place on ungreased cookie sheet, 1 inch apart.
Bake 10-12 minutes or until slightly golden brown.
Cool in a wire rack.
Place chocolate chips in a bowl. Microwave in 30 second burst, stirring after each.
Dip each cookie in the chocolate and then dip in the gold sugar crystals.
Set on waxed paper until chocolate has set.
Enjoy!
http://makingmemorieswithyourkids.com/2015/03/pot-of-gold-meltaway-cookies/
 When the cookies were cooled I dipped them in melted chocolate and then gold sugar crystals.  My kids loved them!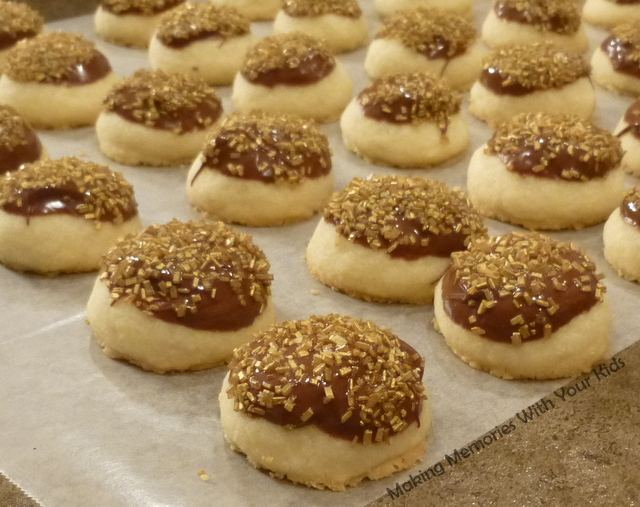 We're linking to the parties found HERE.