I'm still trying to get used to posting my Secret Recipe Club post on the first Monday of the month.  This is only my second month in group A and my brain just isn't used to it yet.  March – bam!  Secret Recipe Club – bam!  Ahhhhh!
My blog assignment this month is BC Mom's Kitchen.  Anna has been blogging for quite awhile, since 2007.  She blogs wonderful, easy recipes… exactly what I like!  Her blog has become her recipe book, so to speak.  It's become her way of documenting (blogging) recipes that she loves so she always knows where they are.  Genius!
Who doesn't love a delicious, cinnamon-y Snickerdoodle?!?!  They are one of my son's favorite cookies, so, when I saw Anna's Snickerdoodle Bars post, it was decided.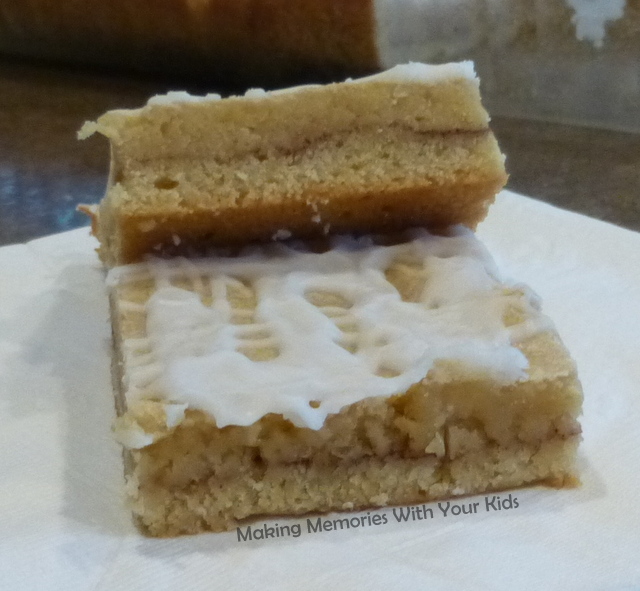 We've made Snickerdoodle Cookie Bars before but when I saw the pictures of Anna's bars, I dang near drooled.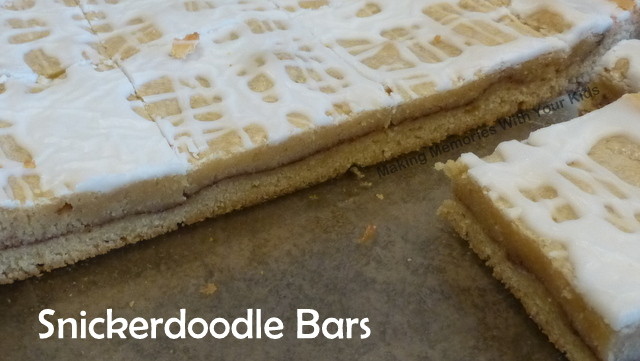 Ingredients
For the Bars

3/4 cup butter, softened
1 1/4 cup sugar
1/2 cup packed brown sugar
3 eggs
1 tsp. vanilla
2 1/3 cups flour
1 1/4 tsp. baking powder
1/2 tsp. salt

For the Filling

1 Tbsp. sugar
1 tsp. cinnamon

For the Glaze

1 cup powdered sugar
1 to 2 Tbsp. milk
1/4 tsp. vanilla
Instructions
Preheat oven to 350 degrees.
Spray the bottom of a 9x13 pan with non-stick spray.
In large bowl, beat butter on high until creamy. Beat in sugars. Gradually beat eggs and vanilla into sugar mixture until combined.
Combine flour, baking powder, and salt. On low speed, beat in dry ingredients until combined.
Spoon half of the batter into pan and spread evenly. Sprinkle the cinnamon filling mixture on top, and drop the rest of the batter by teaspoons on top of the cinnamon filling mixture.
Bake 20-25 minutes, until golden brown or until toothpick inserted comes clean.
Let cool for about an hour and then drizzle the glaze over the bars.
Enjoy!
http://makingmemorieswithyourkids.com/2015/03/snickerdoodle-bars-secret-recipe-club/