We're taking a little break from all of our holiday desserts to bring you a dinner idea.  Crazy, right?  Not so much if you know me.  I just love making fun foods for my kids and with Easter coming up, I thought these Sloppy Joe Baskets would be fun to serve for dinner.
They look like little Easter baskets, right?  Kind of?
They are so easy to make.  The thing you want to remember – divide each biscuit in half to cut the thickness.  Otherwise they will be a thick cup of dough with no filling.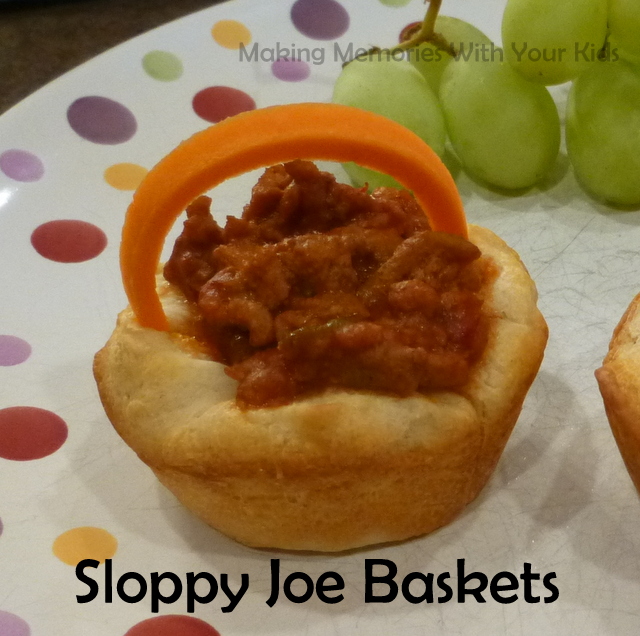 Ingredients
1 pound ground beef or turkey
1 can Sloppy Joe sauce
1 can biscuit dough
1 carrot
Instructions
Brown your ground beef or ground turkey. Drain. Add the sloppy joe sauce and heat through.
Lightly spray a muffin pan with cooking spray.
Separate each biscuit into two biscuits (you want them thinner!)
Add dough to each muffin cup and stretch so it comes up the sides.
Add a scoop of sloppy joe mix to each cup.
Bake in a 350 degree oven for 12 - 15 minutes, or until golden brown.
Cut your carrot into a thin strip.
Add to your sloppy joe cups to make them into baskets.
Serve with a smile.
http://makingmemorieswithyourkids.com/2015/04/sloppy-joe-baskets/
We're linking to the parties found HERE.