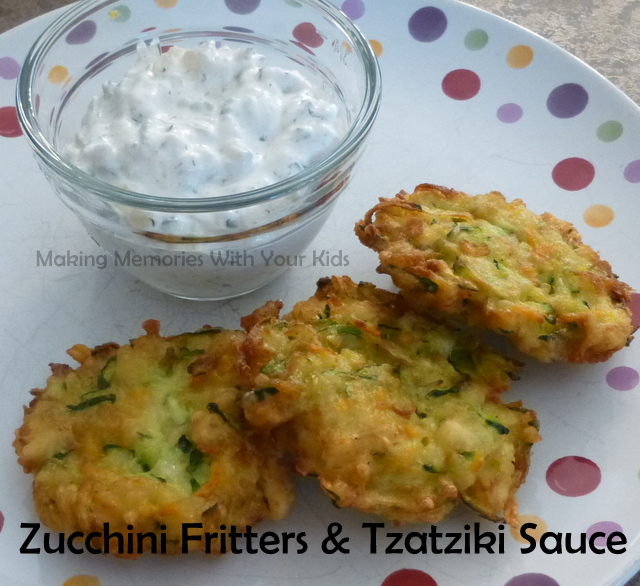 Don't fall over.  I know, a recipe that's not dessert.  Strange, right?
It's Secret Recipe Club time again.  Yeah!  My assigned blog this month was Adventures In All Things Food.  How could you go wrong with a name like that?!?!  I'm all about food, and, yes, more than just desserts.  That's where this is strange.  I always gravitate towards the desserts when I'm doing my Secret Recipe Club post.  And believe me, Andrea had some great desserts recipes!  But she also has a ton of other recipes that I couldn't help but peruse.  And, man oh man, was I happy I did.   As soon as I saw her Zucchini Fritters post I was already planning dinner.  Fried and zucchini?  I'm in!  They looked wonderful.
Not to get sidetracked, but one thing you need to know about me (and my family) is that we are huge condiment people.  I mean, huge!  I love sauces and dips and the like.  I had every intention of making our Garlic Aioli Sauce to dip these fritters in but then I figured Andrea probably had an amazing dip on her blog that I could make.  And yep, she did!  Tzatziki Sauce.  My absolute favorite condiment!
Make sure you read through the recipe.  You want to make your Tzatziki Sauce a few hours before dinner because it needs to sit for awhile.
Thank you, Andrea for these fantastic recipes.  They were both delicious!
I love how colorful the veggies are.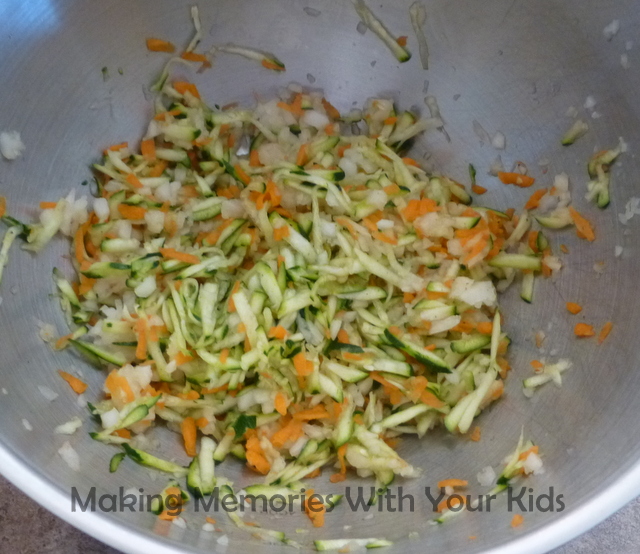 And this kicks it over the top.  Frying them.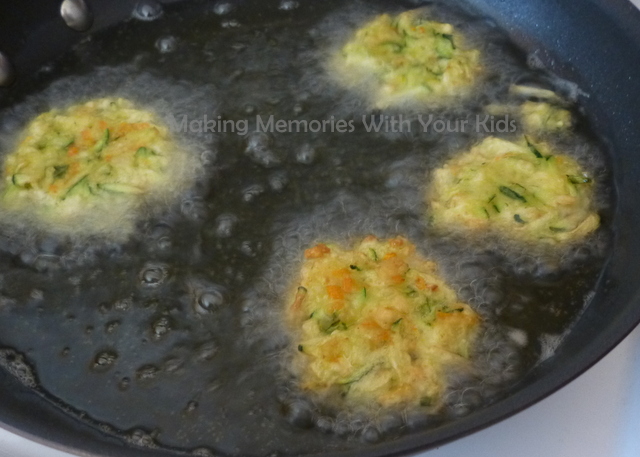 Make sure you get them nice and crispy on the outside.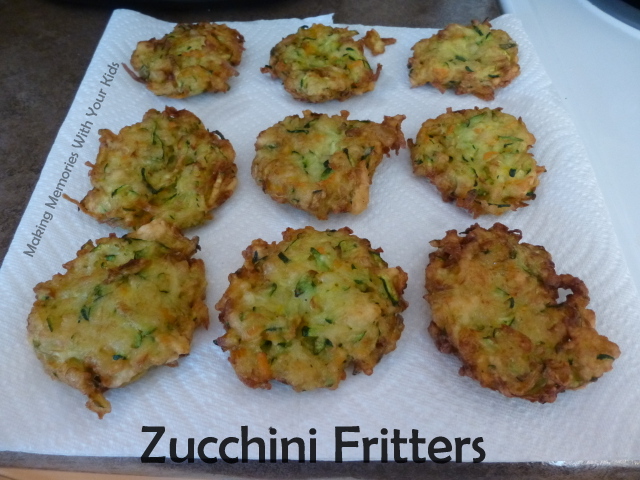 The Tzatziki Sauce was amazing!  A fantastic condiment choice for these fritters.
Zucchini Fritters and Tzatziki Sauce
Ingredients
For the Fritters

1 Zucchini
1 Carrot
Onion (as much as you would like) I used a sweet onion
1 egg
1/2 c. flour
1/2 tsp. baking powder
Salt & Pepper to taste
Oil for frying

For the Tzatziki Sauce

1 small container of greek yogurt
1 cucumber
1/2 lemon, juiced
2 cloves garlic grated or pressed
dash of cumin
dash of salt & pepper
Instructions
For the Fritters

Grate the zucchini. Place grated zucchini in a bowl. Salt it slightly and let sit for 10 - 15 minutes. This will pull some of the moisture out of it (which is good.) Drain the liquid.
Grate the carrot and onion and add to zucchini.
Mix the egg, flour and baking powder in a separate bowl. Add the veggies to it. Add salt and pepper.
Heat up your oil. You will need 1/2 - 1 inch of oil in the bottom of your pan. Get it hot enough that the batter bubbles when added.
Scoop out some of the "batter" and flatten it a bit to shape it more like a pancake than a ball.
Gently drop into the hot oil and fry until they are golden brown.
Place on a paper towel to absorb any excess grease.
Serve warm with dipping sauce.

For the Tzatziki Sauce

Finely grate the cucumber. Place in a colander, sprinkle with salt and let sit for about 30 minutes. This will pull some of the liquid out of the cucumber, which you want.)
Place cucumber in a bowl and add other ingredients and mix well.
This should sit in the fridge for at least 1-2 hours before serving.
http://makingmemorieswithyourkids.com/2015/04/zucchini-fritters-and-tzatziki-sauce-secret-recipe-club/