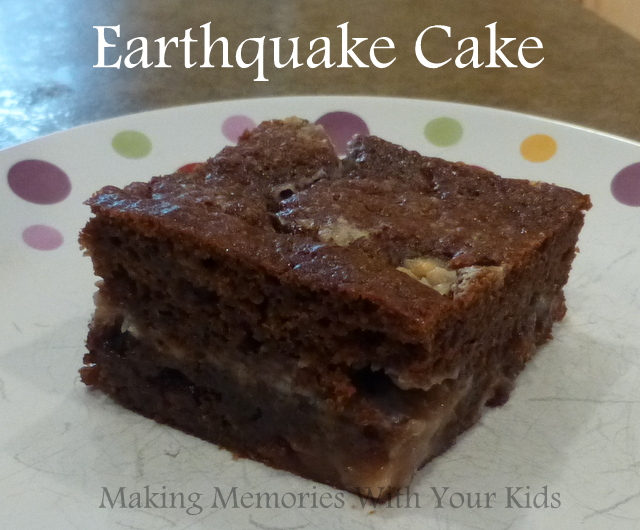 Have you ever heard of an Earthquake Cake?  It's an amazing combination of chocolate cake, cheesecakey gooey goodness, chocolate chips and, in the original version, coconut and pecans.  It's like an ooey gooey German Chocolate Cake.  Yes, please!
I had to change it up a little bit because I'm not a pecan person (gasp, I know.)  And because I'm taking this to work to try to earn money for our upcoming volunteer trip (which you can read more about here if you would like), I wasn't sure about the coconut.  So….. I left out the pecans and coconut and added Heath Toffee Bits.  Yuuuu-uuuummmm!
Ours didn't turn out like the pictures on South Your Mouth.  Not sure what we did differently but the cream cheese mixture kind of all melted into the cake.  Don't get me wrong, it was deeeeeelish!  But there weren't chucks of a cheesecake mixture like I thought it would be.
Here's how it looked before it went into the oven.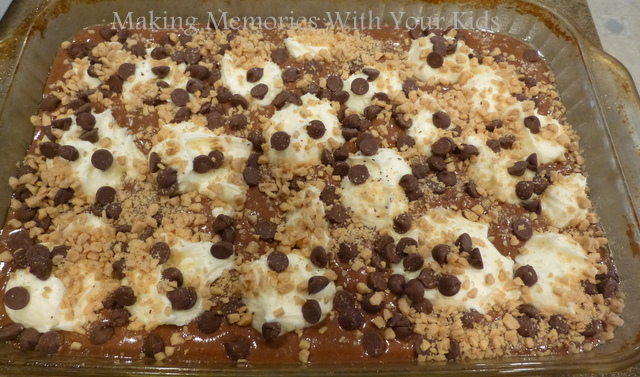 And after the oven.
This cake was even better the next day.  The cream cheese mixture made it gooey but not soggy (if that makes sense.)  It was goooooooo-ooood!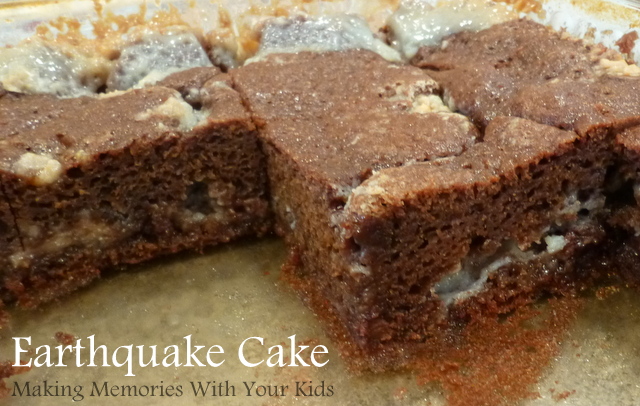 I found the recipe over on South Your Mouth.
Earthquake Cake – A little Different
Ingredients
1 box chocolate cake mix
eggs, oil and water to make the cake
8 oz. cream cheese
1/2 cup melted butter
3 cups powdered sugar
1 cup milk chocolate chips
1/3 cup Heath Toffee Bits
Instructions
Preheat oven to 350 degrees.
Make the cake mix according to the box directions.
Pour into a greased 9 x 13 pan.
In a stand mixer, beat the cream cheese and melted butter until smooth. Slowly add the powdered sugar and beat until smooth.
Drop spoonfuls of cream cheese mixture over the cake batter.
Sprinkle with chocolate chips and Heath bits.
Bake for 40 - 45 minutes or until set.
Allow to cool before slicing.
http://makingmemorieswithyourkids.com/2015/05/earthquake-cake-a-little-different/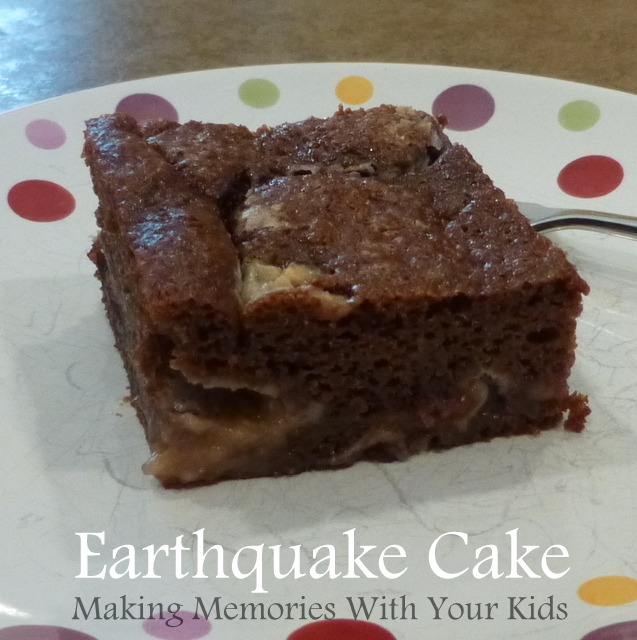 Enjoy!