Are these called Butter Mints or Dinner Mints?  Either way, they are delicious and one of my daughter's favorite mints.  They are the kind that melt in your mouth and have a wonderful hint of peppermint.  And I'm warning you now, they are totally addictive.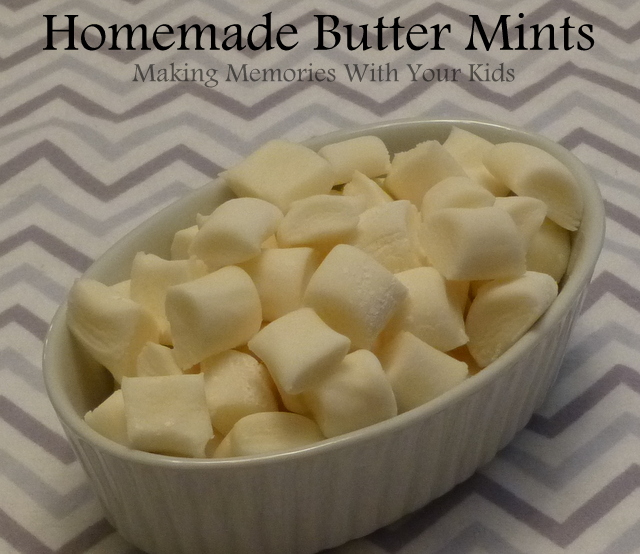 These are kind of like the Homemade Peppermint Patties that we made awhile back and totally different at the same time.  Different taste, texture and consistency.  But both amazing.
Thank you to Barefoot in the Kitchen for this recipe.
Ingredients
1/4 cup butter, softened
1/4 teaspoon salt
1/3 cup sweetened condensed milk
3 1/4 cups powdered sugar
1/2 teaspoon peppermint extract
Instructions
In a mixing bowl, combine the soft butter and salt. Beat for a moment to combine. Add the condensed milk and beat again to combine. Add the powdered sugar a cup at a time, beating to combine thoroughly. Add the peppermint, taste and adjust as needed. The dough will be mostly crumbs, but should stick together when squeezed into a ball. It should not be sticky at all. I had to add about 3/4 cup more powdered sugar than the recipe said.
Remove the dough from the mixer and pull off golf ball size sections. Roll each ball out into a long skinny strip about 1/2" in diameter. Slice the strips into tiny mint-size pieces. I used a pizza cutter to easily roll back and forth and slice them quickly.
Spread the soft pieces across a baking sheet and allow them to sit at room temperature overnight. You could speed up the process and put them in the refrigerator uncovered.
When they have hardened enough to store, transfer the mints to an airtight container.
Enjoy!
http://makingmemorieswithyourkids.com/2015/05/homemade-butter-mints/
We're linking to the parties found HERE.