Who hates it when you make something and it turns out nothing like the picture on the internet?  My hand is raised.  When we attempted to make Marshmallow Fondant?  Total fail.  Well, here's another one for you.  Total fail.
We saw this on Pinterest (because isn't that where we find everything these days?!)  It took me to this site but the link to where it originated didn't work.  So maybe, because I'll give them the benefit of the doubt, we did something that we shouldn't have – like used a too thick Solo cup.
What you'll need:
Sharpie Markers
Clear Solo cups
Directions:
Color your cups with the Sharpie Markers.
Preheat oven to 350 degrees.
Put cups on a cookie sheet lined with foil and bake for 3-5 minutes until melted.
Immediately press down to flatten.
Well, at least that's what the directions said.  We followed them.  The girls colored the cups.
We put them on a cookie sheet (lined with parchment because I didn't have any foil).
And then we baked them in the oven.
But this is what they turned out like.
I tried to push them down to flatten but the plastic wasn't going to budge.  So I turned up the oven to 400 degrees and baked them again.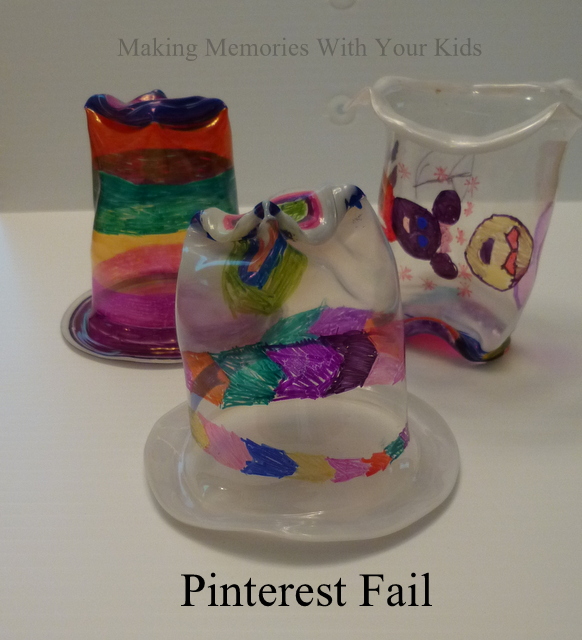 Nope.  Didn't work.
This is what they were supposed to look like.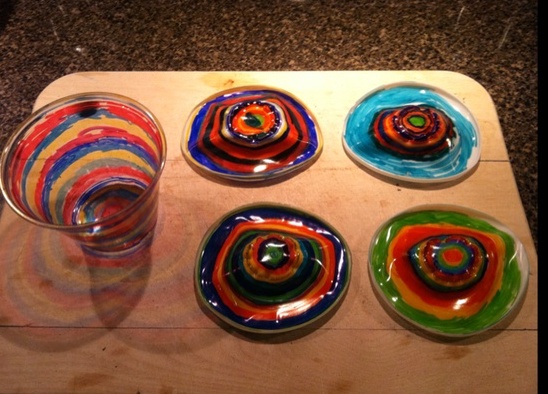 The girls thought they were still cool to use as cups.  I'm so glad the kids don't get as disappointed as me when crafts don't turn out.  Thank goodness for kids!