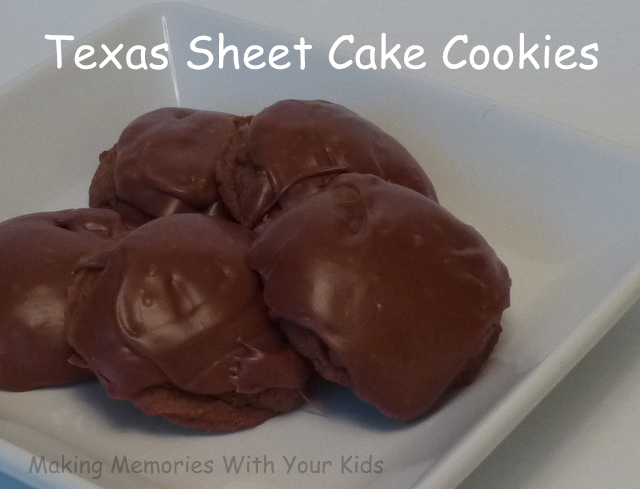 I think a Texas Sheet Cake is about the best cake ever invented.  The chocolatey cake covered in a fudgy frosting?  Oh man, sign me up.  I'll eat it every time.  But, as you may have noticed, I don't make a lot of cakes.  See, the problem with cake is that I'll eat…. all.  And that's not a good thing.  Cookies?  I can take those to work.  Cake?  My downfall.
Then I saw this on Pinterest.  Holy criminy!  Texas Sheet Cake Cookies?  As if this wasn't enough.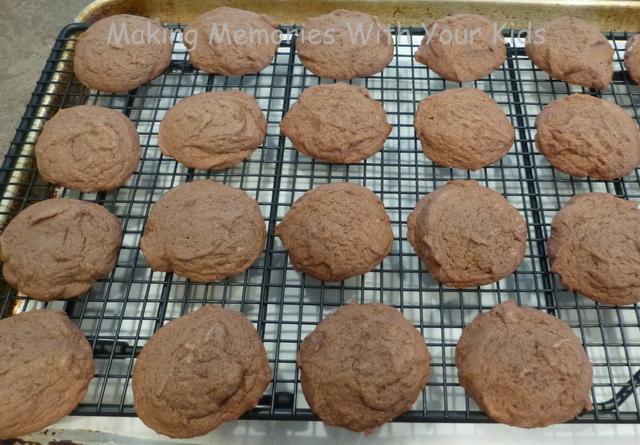 But then add a fudgy layer of frosting?
My cookies don't look as fancy.  My disclaimer is that my frosting was a little too thick to pour.  But it sure didn't take away from the taste.
I have to tell you, these cookies are AMAZING!!!!  They are beyond delicious and yes, now I can add cookies to my "yikes, I'm going to eat them all" list.  Ugh, but yeah.
Thank you to Cookies and Cups for this amazing recipe!
Ingredients
Cookies

1/2 cup butter, room temperature
1/3 cup granulated sugar
1 egg
1 tsp vanilla
1 tsp baking powder
½ tsp salt
1 1/3 cup flour
1/2 cup semi-sweet chocolate chips, melted

Icing

1/2 cup butter
2 Tbsp cocoa powder
3 Tbsp milk
2½ cups powdered sugar
Instructions
Cookies

Preheat oven to 350°
Line baking sheet with parchment paper, set aside.
In bowl of stand mixer beat butter and sugar together until light, scraping sides frequently.
Add in egg and vanilla and continue mixing until incorporated. Mix in baking powder and salt.
Turn mixer to low and slowly add in flour. Dough will be thick.
In a microwave safe bowl heat chocolate chips on high in 30 second increments until melted, stirring after every 30 seconds.
Mix melted chocolate directly into cookie dough until evenly mixed.
Drop dough by a measured tablespoon sized mounds onto baking sheet. Bake for 7-8 minutes until cookies just appear set. They will still be very soft on the inside. DO NOT overbake!!
Transfer to a wire rack to cool.

Icing

In a medium saucepan combine butter, cocoa powder and milk over medium heat, whisking until melted together. Remove from heat and whisk in powdered sugar.
Pour icing over cookies and allow icing to set before serving.
http://makingmemorieswithyourkids.com/2015/06/texas-sheet-cake-cookies/
Enjoy!