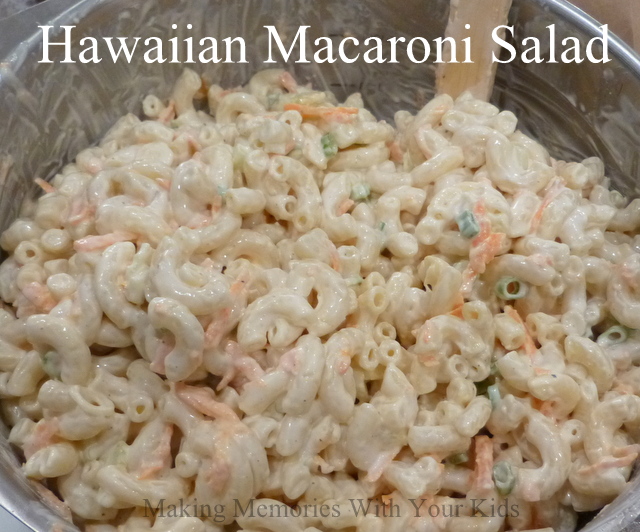 A Hawaiian restaurant opened up where I live and I can't seem to get enough of their Macaroni Salad.  People have asked me, doesn't it taste just like regular macaroni salad?  And the answer is "heck no!"  It's much better!  I think it's because it's made with apple cider vinegar and doesn't have mustard in it.
This recipe makes a big batch so it's perfect to take to a summer BBQ.  Or you could do what I did and eat most of it yourself.
It takes a little while to make, only because you have to let things cool before you can continue.  It's totally worth it!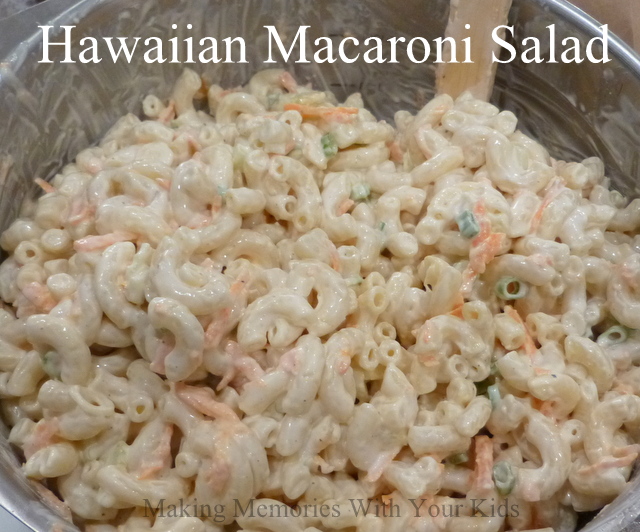 Thank you to I Believe I Can Fry for this recipe.
Ingredients
1 lb elbow macaroni
1/2 cup apple cider vinegar
2 cups whole or 2% milk, divided
2 cups mayonnaise, divided
1 Tbsp brown sugar
4 green onions, thinly sliced
1 large carrot, peeled & grated
1 celery stalk, minced
Salt & pepper
Instructions
Bring 4 quarts of water to a boil. Add 1 Tbsp salt and the macaroni; cook until VERY soft, about 15 minutes. Drain and return to pot.
Add the cider vinegar and toss until absorbed. Let cool for 10 minutes.
Meanwhile, whisk together 1 1/2 cups of the milk, 1 cup of the mayonnaise, the brown sugar, 1/2 tsp of salt and 2 tsp pepper.
Once the cooked pasta has cooled for 10 minutes, mix in the dressing. Let cool completely.
Add the remaining 1/2 cup milk and 1 cup of mayonnaise, along with the scallions, carrot and celery. Stir to combine, then season to taste with salt & pepper. Chill for at least one hour before serving.
Enjoy!
http://makingmemorieswithyourkids.com/2015/07/hawaiian-macaroni-salad/
Enjoy!  And happy BBQing!