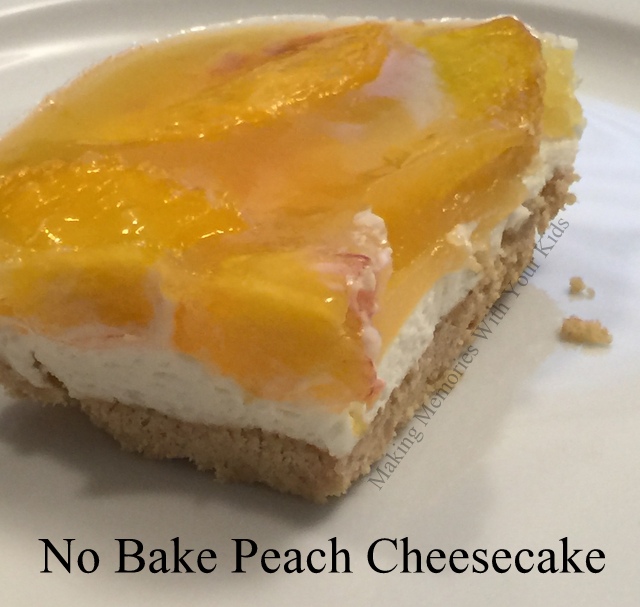 For Father's Day I wanted to make a dessert for my Dad that would knock his socks off.  There are two things I know that my Dad absolutely loves, and that's pound cake and peaches.  I made him a Peach Pound Cake awhile back so I so I wanted to come up with something different.  So what to do, what to do?  When in doubt, go big.  So I decided to make two desserts – a pound cake and a peach dessert.
My Dad said this No Bake Peach Cheesecake was delicious!  I'm so glad I chose this recipe to make for him.  It was fresh and tasty and perfect.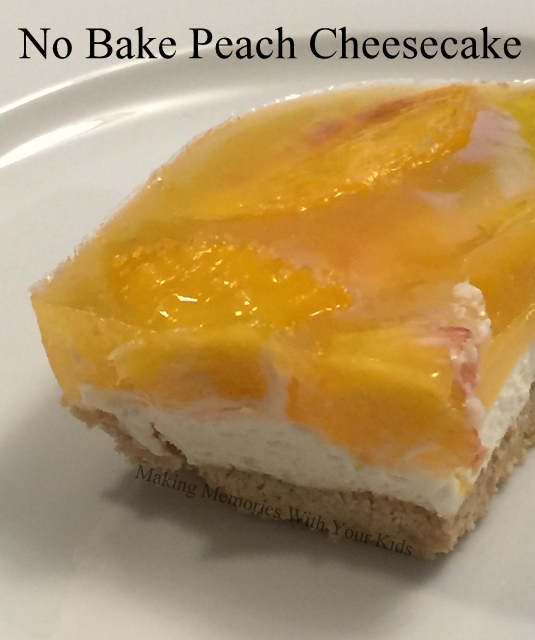 It's been stinkin' hot here in the Pacific Northwest.  (Like, unnaturally hot!)  So I love that this is a no bake dessert.
Make your cookie layer.
Add your cheesecake layer.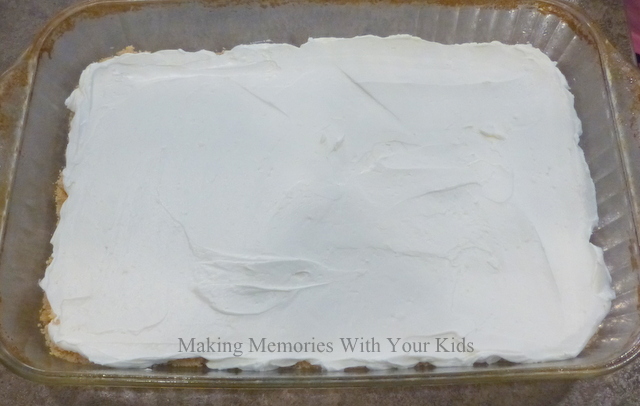 Now make your sauce.  Mine wasn't thickening up at all so I added a packet of unflavored gelatin.  That seemed to do the trick.  Pour the sauce over the cheesecake layer and place in the fridge.  Please note – my peaches were ripe and yummy.  For some reason they look green in this picture.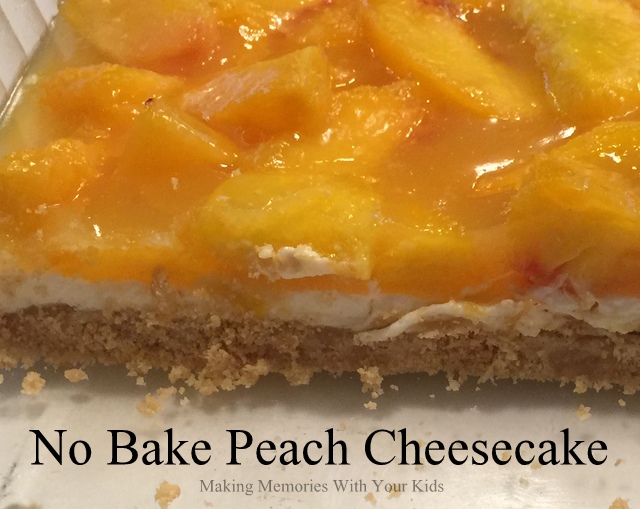 I wish my pictures were better.  I took this dessert to my brother's house and didn't think it would be good to cut a square out of it first.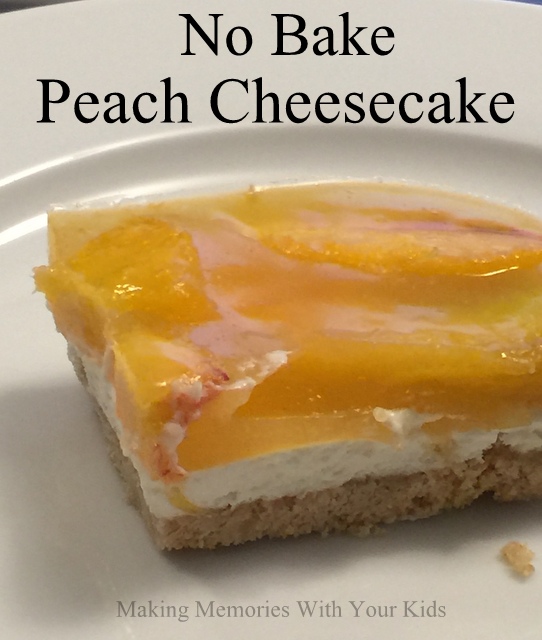 Thank you to No Biggie for this amazing recipe!
No Bake Peach Cheesecake with a Cookie Crust
Ingredients
For the Cookie Crust

25 Golden Oreo cookies, crushed
25 vanilla wafer cookies, crushed
1/2 stick butter (1/4 cup), melted

For the Cheesecake Layer

1 8oz. package of cream cheese, softened
1 cup cool whip
1 cup powdered sugar

For the Peach Layer

1/2 cup orange juice concentrate from a can
2 cups water
1 cup sugar
1 tablespoon cornstarch
1/2 teaspoon almond extract
1/2 teaspoon vanilla extract
6 cups of sliced peaches
Instructions
Mix the melted butter with all of the crushed cookies, and press into a 9 x 13 pan.
Mix the cream cheese with the powdered sugar and cool whip. Spread over the crust layer.
Bring to a boil the orange juice, water, sugar, cornstarch, and both extracts. Make sure your sauce thickens! You may need to add more sornstarch (or a packet of unflavored gelatin).
Mix the cooled sauce with the 6 cups of sliced peaches and put all of it on top of the cream cheese layer.
Chill for 3 hours or overnight.
Serve chilled.
http://makingmemorieswithyourkids.com/2015/07/no-bake-peach-cheesecake-with-a-cookie-crust/
Happy summer!