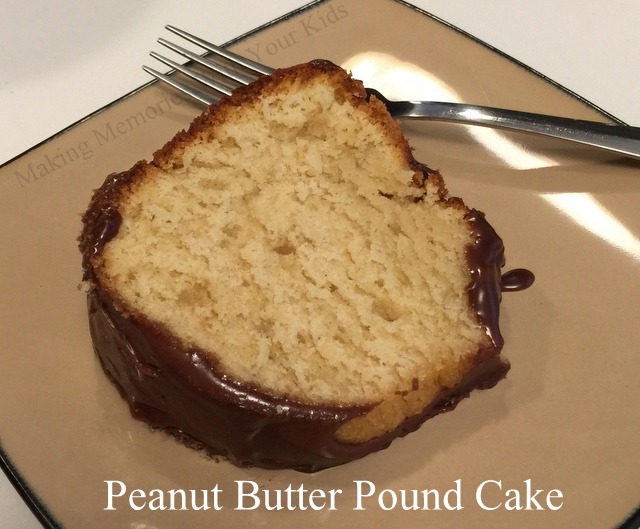 Is there anything better than peanut butter and chocolate together?  Yes, when you add pound cake to the mix.  So when I saw this recipe for Peanut Butter Pound Cake over on Call Me PMC, I knew I had to make it.  I made a different glaze because I wanted to add some chocolate to the recipe.  I'm so glad I did.  It was amazing!!!!  A-MAZE-ING!!!!
The pound cake was moist and had the perfect amount of peanut butter flavor to it.  But then add on the chocolate, peanut butter glaze and man, oh, man.  I could eat it for breakfast!  (Oh wait, I did eat it for breakfast.)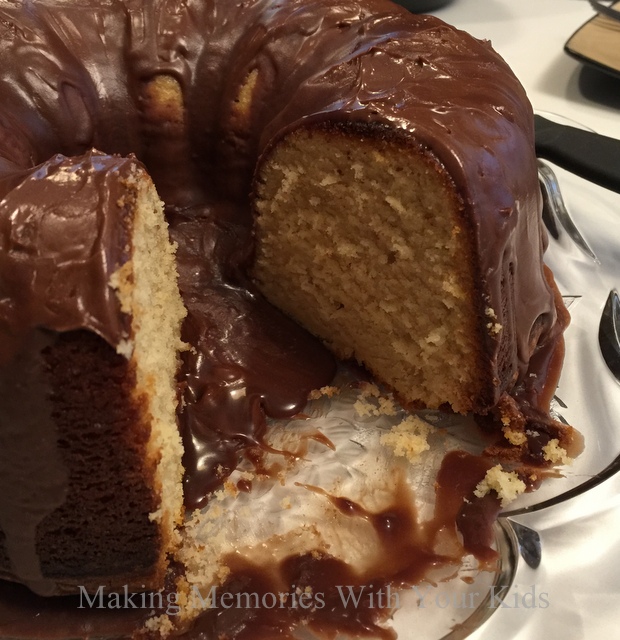 Peanut Butter Pound Cake with a Chocolate Peanut Butter Glaze
Ingredients
For the Cake

1 1/2 cups butter, softened
3 cups sugar
1/2 cup creamy peanut butter
6 eggs
3 cups flour
1/2 tsp. baking powder
1/2 tsp. salt
1 cup buttermilk
1 tsp. vanilla

For the Glaze

8 ounces chocolate chips
8 ounces peanut butter chips
1 cup heavy cream
Instructions
Preheat oven to 350 degrees.
Spray your bundt pan with non-stick spray and set aside.
In a stand mixer, beat butter until smooth. Add the sugar and beat until creamy.
Add eggs, one at a time.
In a separate bowl, mix flour, baking soda and salt.
Add flour mixture alternately with buttermilk, mixing after each addition.
Add vanilla and combine.
Pour into your prepared bundt pan.
Bake for 75-85 minutes or until toothpick comes out clean.
Let cool for 20 minutes before removing from pan.
Let cool completely before frosting.

To make the frosting

Heat heavy cream in the microwave until scalding. Make sure it doesn't boil.
Pour over peanut butter and chocolate chips and let sit for 5 minutes and then whip until smooth and creamy.
Pour over cake.
http://makingmemorieswithyourkids.com/2015/07/peanut-butter-pound-cake-with-a-chocolate-peanut-butter-glaze/
What do you think?  Amazing, right?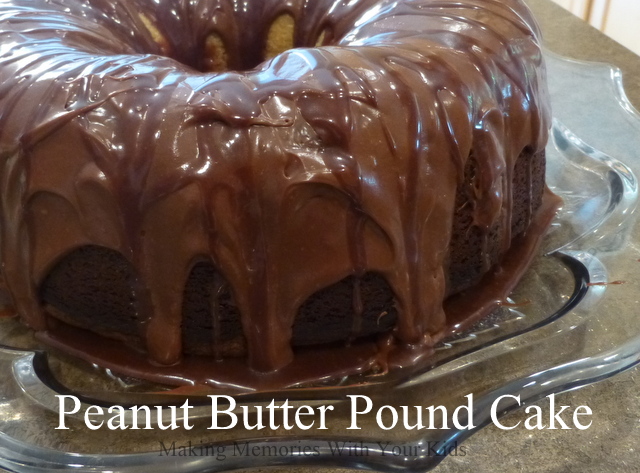 Have you noticed we kind of have a thing for pound cake?  Here are some of our other delicious pound cake recipes.
 I told you we kinda like pound cake.
Enjoy!