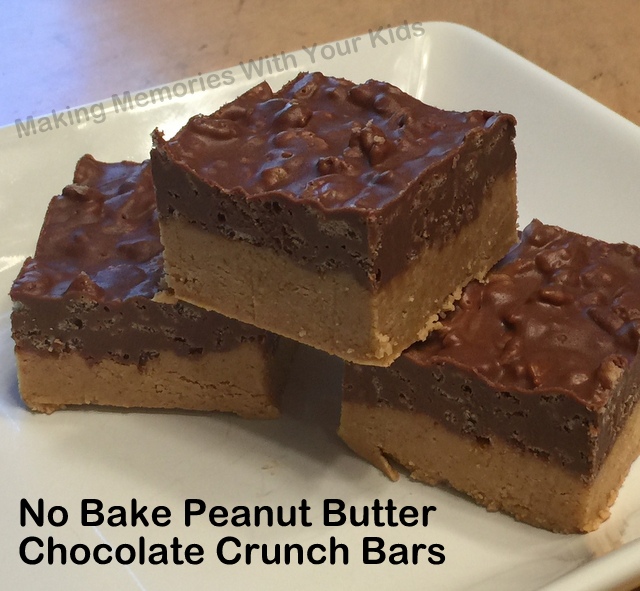 How can you go wrong with peanut butter and chocolate?  You pretty much can't in my book.  It's my step-Mom's favorite dessert combination so when I saw this recipe I knew it was something I was going to make for her.  We have a yearly beach trip every summer and I bring the desserts.   This was one of the desserts I brought this year, along with a 7 Up Pound Cake and Carmelitas (which will post on Monday.)
We've made No Bake Peanut Butter Bars before but I wanted to try a recipe with the rice crispies in the chocolate layer.  I love that crunch!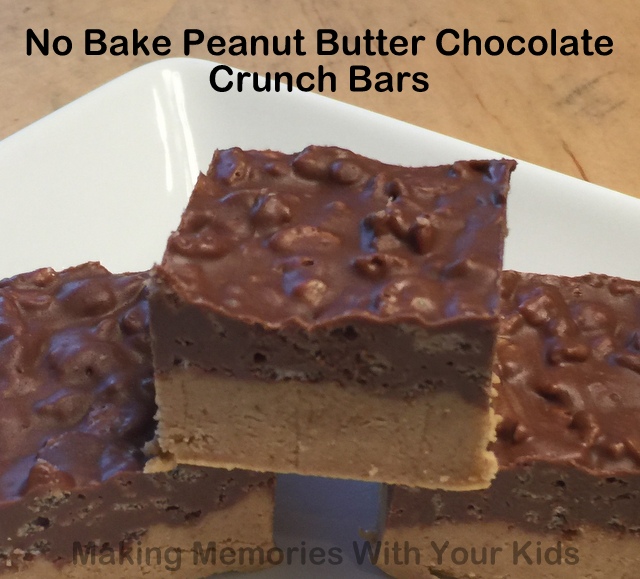 I think they were a huge hit and they were delicious!!!
Thank you to The Girl Who Ate Everything for this delicious recipe.
No Bake Peanut Butter Chocolate Crunch Bars
Ingredients
1 cup unsalted butter, melted
2 cups graham cracker crumbs
2 cups powdered sugar
2 cups creamy peanut butter, divided
½ teaspoon salt
2 cups semisweet chocolate chips
1½ cups rice crispy cereal
Instructions
Line an 9x13 pan with parchment paper or spray with cooking spray.
In a large mixing bowl beat together the melted butter, graham cracker crumbs, sugar, 1 cup peanut butter, and salt. Spread into the pan. Refrigerate at least 15 minutes to firm up.
In a microwave safe bowl melt together the chocolate chips and remaining 1 cup peanut butter in the microwave in 30 second intervals, stirring in between until smooth (a double boiler can also be used). Remove from the heat and stir in the cereal. Spread on top of the chilled peanut butter layer.
Refrigerate until chocolate is firm before serving.
Store in an airtight container for up to 1 week in the fridge or at room temperature depending how you like them.
http://makingmemorieswithyourkids.com/2015/08/no-bake-peanut-butter-chocolate-crunch-bars/
 Enjoy!