It's been forever since I've written a blog post.  We were gone for most of the summer in Peru and after coming back, I've been in kind of a slump.  I've been baking and cooking, but writing?  Not so much.
We spent our summer in Cusco, Peru volunteering in the Juan Pablo II Orphanage.  I can't even begin to describe what an amazing experience it was for me and my kids.  The kids at the orphanage were absolutely adorable.  It was heartwarming and heartbreaking all at the same time.
One of the things my kids and I quickly discovered (and loved) is Chicha Morada.  It's a delicious drink made from Peruvian purple corn.  The flavor is very different from anything we have here in Oregon and I don't even know how to describe it.
It's served room temperature in Cusco, I think because right now it's winter time and they said it's too cold to drink anything cold.  The length of time that it sits out definitely changes the taste of the drink.  Probably because it starts to ferment.  But it will develop a foamy froth on top.
The main ingredient for this drink is purple corn.  It's a dark, beautiful purple color and they use this corn for this drink (and for other Chicha dishes like a warm jello pudding and candy).  They also use the corn to dye wool.
Isn't it cool looking?
You'll also need a pineapple.  The crazy thing about this recipe is that you use the outside skin of the pineapple, not the inside fruit.  No waste at all.
You add the corn, pineapple and water to a large pot.  Then add your cinnamon and cloves.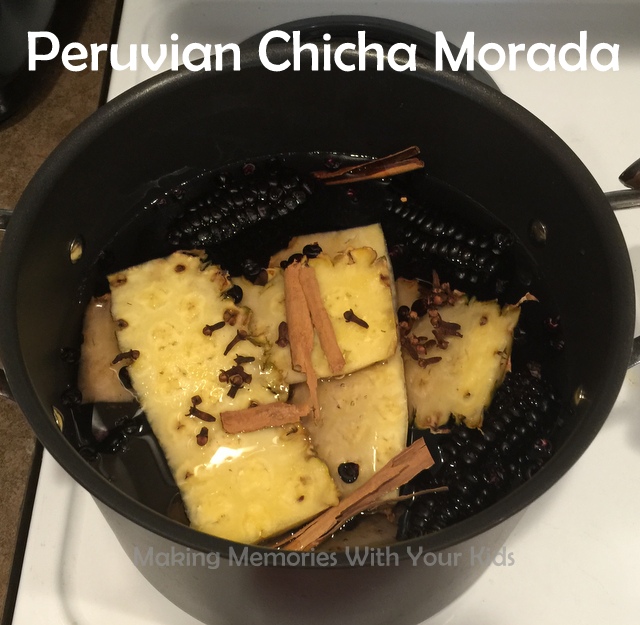 Bring it to a boil and then let it simmer for about an hour (until it's a deep, rich purple color.)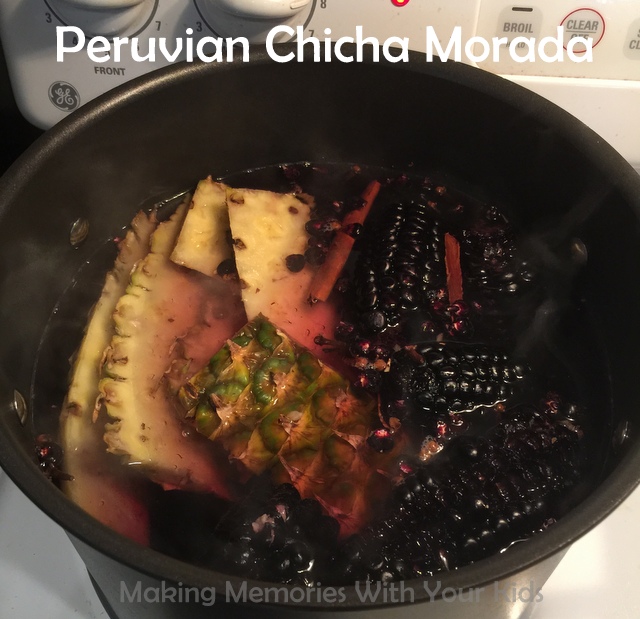 Add the lime juice and sugar and stir.  Then strain it and put it in the fridge to cool.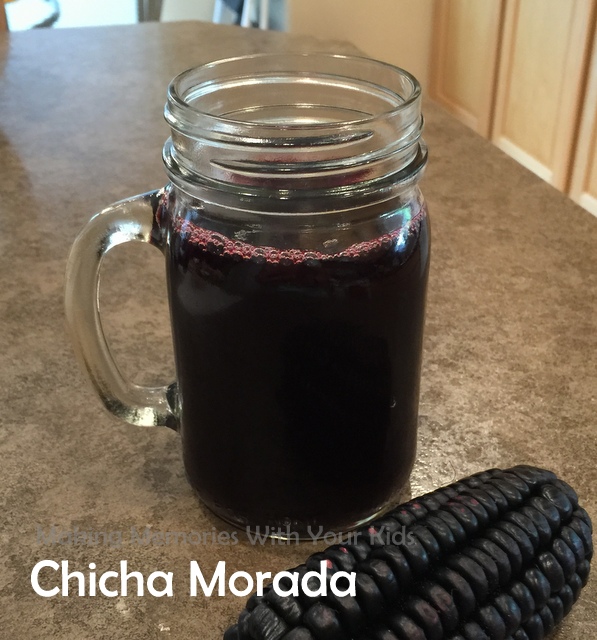 If you're able to find purple corn you definitely should give this drink a try.  It's delicious (and makes your house smell so good when it's cooking.)
The measurements are just a guess since I just added things the way I was taught in Peru.
Ingredients
4 ears of dried Purple Corn
15 cups of water
1 pineapple
3 cinnamon sticks
1 Tablespoon whole cloves
1 1/2 cups sugar
juice of 1 lime
Instructions
Wash your purple corn and add to the water in a large pot.
Peel the pineapple, add the peels to the water and corn.
Add cinnamon and cloves and bring to a boil. Reduce the heat and simmer for about 45 minutes until it's a deep purple color.
Remove the chicha from the heat and pour in the sugar and fresh lime juice.
Place a strainer over a large bowl and pour mixture through it, catching the large corn ears, pulp and pineapple.
Refrigerate until cold.
Can be serves with apple and pineapple chunks in the glasses.
http://makingmemorieswithyourkids.com/2015/08/peruvian-chicha-morada-and-a-trip-to-the-san-pedro-market/
You can also serve this drink with cut up chunks of pineapple and apples.  None of the restaurants that we went to served it this way but our host family said it was delicious this way.
The San Pedro Market is located in Cusco, Peru and is huge.  It's where the Peruvians shop for everything from spices and meat to fruits and cheeses.  Here are some of our pictures from the market.  Enjoy!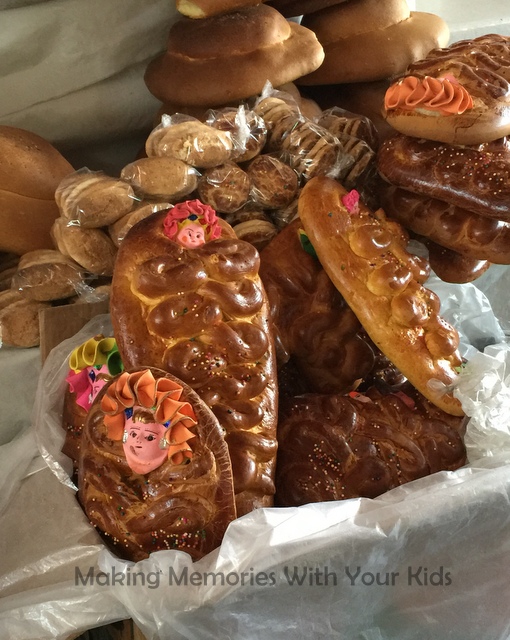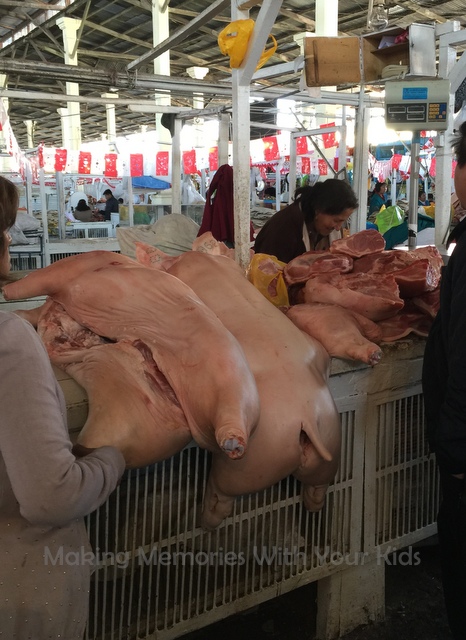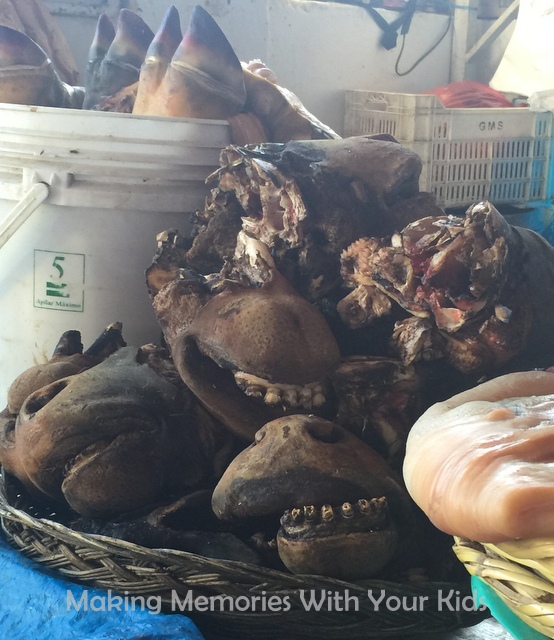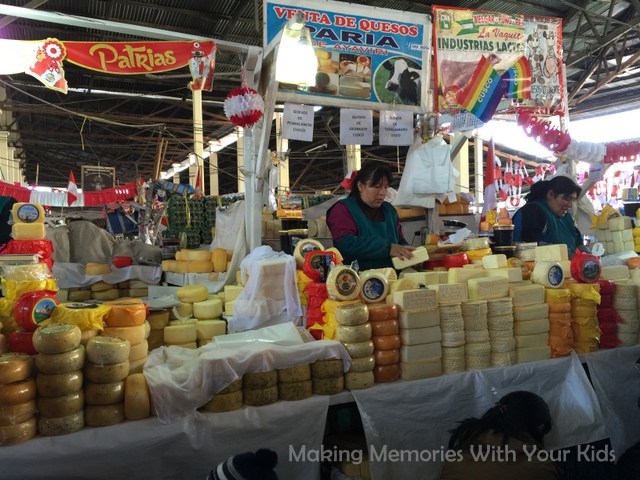 Amazing and jaw dropping at the same time, right?
We have quite a few amazing Peruvian recipes to share with you and a ton of stories and pictures about our time there, so come back to see what we were up too over the summer.