It's been forever since we've had a giveaway so I'm super excited to bring you this one.  Not just because it's a giveaway (BTW, I love giveaways!) but because it's a super cool giveaway!
Lunchbox Love sent me a half year supply of lunchbox notes (volumes 81 – 88) to try out.  A half of a year!  That's a ton of lunch box notes!  They have different packs for every season and reason.  There are jokes, inspirational sayings, notes for every holiday and so much more.  But the best part?  On one side there is a joke or saying.  On the other side there is a fun fact.  I love that!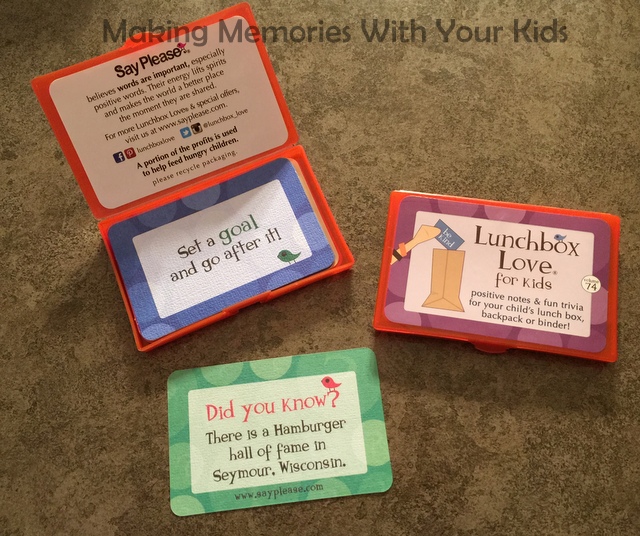 The different Holiday notes.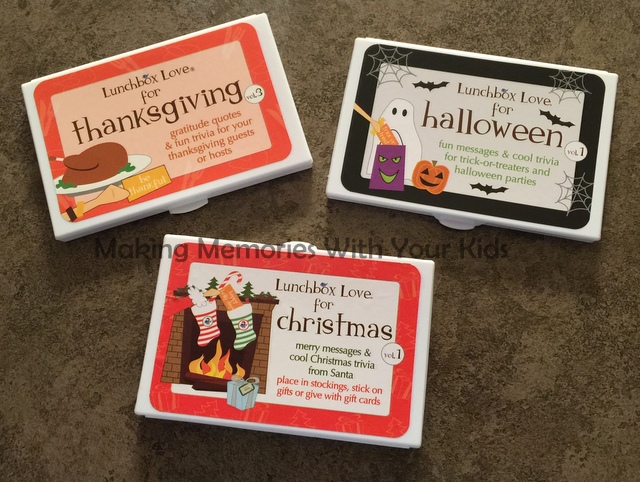 My daughter loves them!
This is what they sent to me.
You can find Lunchbox Love on Facebook, Twitter, Instagram and Pinterest.  Just click the links and it'll take you there.
If you don't want to wait to see if you've won, head on over to Lunchbox Love and enter the code MMWYK for a 20% discount.
If you would like a chance at winning a half year set, volumes 81 – 88, of Lunchbox Love notes, all you have to do is leave a comment on this post telling me why you like putting notes in your child's lunch.  That's all.  Easy, right?  Make sure you leave me your email address so I can notify you if you are the winner.
For another chance to win, comment on any other post on this blog.  Make sure you leave a comment on this post telling me which post you commented on.  
It doesn't get any easier than that, right?  Two chances to win!
Drawing will be held on October 18th and the winner will be announced/notified on October 19th.
Good luck!