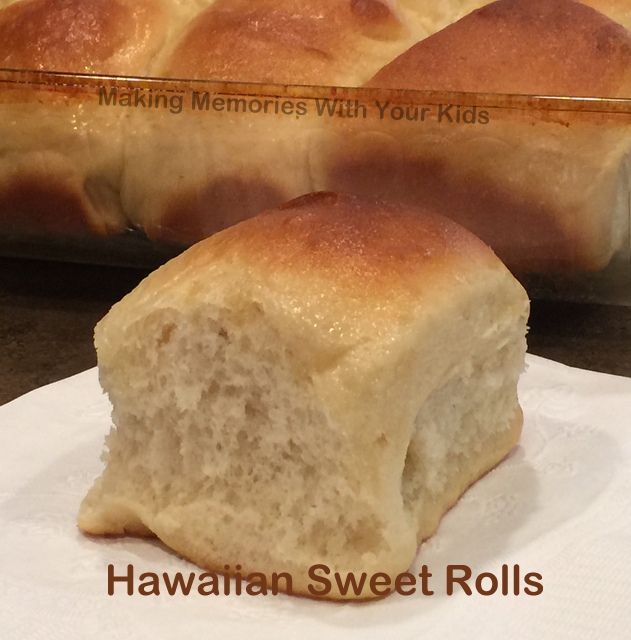 After making our other Hawaiian Sweet Bread recipe, we're on a hunt for the perfect Hawaiian Sweet Bread recipe.  I love the deliciousness of those darn rolls and could eat about 6 of them in a single sitting.
This recipe is definitely an easy one.  You just add the ingredients listed in order and turn on your bread machine.  Easy peasy.  But I'm not so sure they tasted like the Kings Hawaiian Sweet Rolls we buy in the grocery store.  (Cue the sad face.)  I know.  That's two recipes that, although they've been good, just aren't a true Copycat recipe.
I took some to work to see what my co-workers thought.  I've been told I'm way too critical on my own cooking.  Well, my co-workers said they were incredible.
I made 15 rolls, three rows of five.  Next time I'm going to make smaller rolls and more of them.
They looked pretty darn good when I took them out of the oven.
But after brushing them with melted butter?  Oh man!  Yes, please!
I found this recipe over on 52 Ways to Cook.
Homemade Hawaiian Sweet Rolls (Bread Machine)
Ingredients
1 Cup Pineapple Juice (Room Temperature)
1 Large Egg (Room Temperature)
1/3 Cup Milk (Room Temperature)
4 TBS Butter
2 tsp Coconut Extract
1 tsp Ground Ginger
1 tsp Salt
1/3 Cup Sugar
1/2 Cup Mashed Potato Flakes
3-1/2 Cups Flour
1 packet (2-1/4 tsp) Yeast
Instructions
Make sure all of your ingredients are room temperature! This is super important if you want this to rise properly.
Add the ingredients to the bread machine in the order listed.
Run the bread machine on "Dough" setting. This should take you through the first rising of the dough.
Grease a 9 x 13 casserole dish . Slice the dough into 16 equal size portions. Roll into balls and set them in the pan.
Cover with a towel and allow the final rise for about an hour until the rolls have filled the bottom of the pan and are all touching.
Bake rolls in pre-heated 350 degree oven for 20 minutes.
Remove from the oven and brush with melted butter.
Cool slightly and serve.
Enjoy!
http://makingmemorieswithyourkids.com/2015/09/homemade-hawaiian-sweet-rolls-bread-machine/
Definitely a recipe that I'll be making again!