After spending the summer in Peru we were in the mood for a big salad.  It's winter in Peru so they don't eat a lot of salads right now.  (Or so I was told.)  The food was amazing there but my daughter kept saying "I just want a big salad."  So, when we got home that's what we ate – a big salad.  We've been eating big salads for a few weeks now and we're still not tired of them.
This recipe isn't for a "traditional" big salad, but man oh man, is it a delicious one.  I typically add sour cream or ranch dressing to my taco salads so this, with Catalina dressing, was definitely different and added a whole new flavor to it.  I loved it!
Thank you to Scattered Thoughts of a Crafty Mom for this recipe.
Ingredients
8 to 10 cups of romaine or iceberg lettuce, chopped
1lb of lean ground beef (or turkey)
package of taco seasoning
1 can of black or pinto beans, drained
1 cup of corn
2 tomatoes, chopped
1 1/2 cups of shredded cheese
2 cups of Fritos
Catalina Dressing
Instructions
Brown the ground meat, adding the taco seasoning in towards the end. Remove from heat and drain if needed. Add your beans and corn to the meat, mix well.
In a large bowl, mix everything together, adding the Fritos and dressing last. Combine well, making sure everything is coated with the dressing.
Enjoy!
http://makingmemorieswithyourkids.com/2015/09/taco-salad/
 Look at all the deliciousness in there!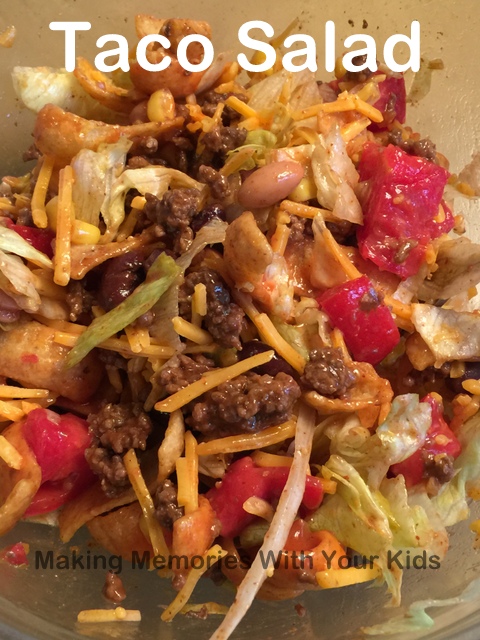 If you're looking for other salad recipes, check out our salads tab to see other delicious recipes.