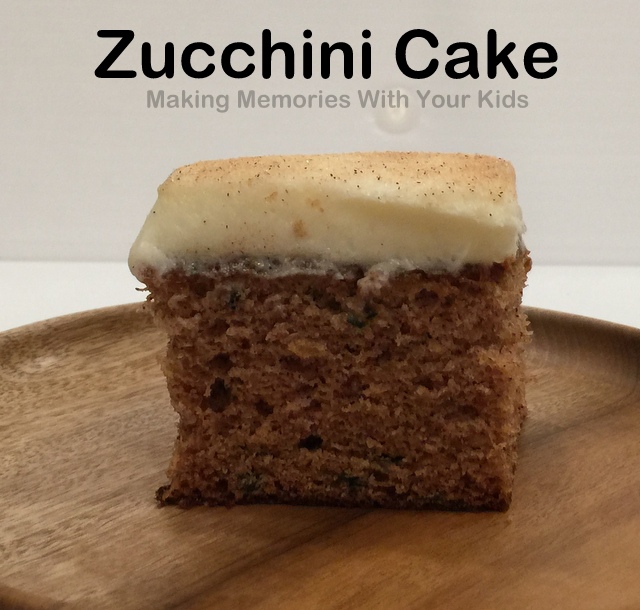 I am a huge Zucchini Bread fan!  If I had to chose between pumpkin and zucchini bread, it would always be zucchini!   Plain Zucchini Bread, Chocolate Zucchini Bread, it doesn't matter.  I love it all.  So it was a no brainer when I saw this Zucchini Cake with Cream Cheese Frosting on Pinterest.  Zucchini bread and cream cheese frosting???  Heck yah!  And it was goooo-oood!
The thick layer of cream cheese frosting kicked this cake into a whole different level.  It was delicious!

Thank you to Six Sisters' Stuff for this delicious recipe!
Cinnamon Zucchini Cake with Cream Cheese Frosting
Ingredients
For the Cake

3 eggs
½ cup vegetable oil
½ cup applesauce
¾ cup white sugar
¾ cup brown sugar
2 teaspoons vanilla
2½ cups all-purpose flour
¼ teaspoon baking powder
2 teaspoons baking soda
1½ teaspoons cinnamon
1 teaspoon salt
½ teaspoon nutmeg
2 cups shredded zucchini

For the Frosting

1 (8 oz) package cream cheese
¼ cup butter, softened
3 cups powdered sugar
1 teaspoon vanilla
Instructions
Preheat oven to 350 degrees. Spray a 9x13" baking pan with non-stick cooking spray.
Beat eggs, vegetable oil, applesauce, white sugar, brown sugar, and vanilla together in a large bowl. Add in flour, baking powder, baking soda, cinnamon, salt, and nutmeg and mix well. Fold in zucchini and stir until completely mixed in. Pour batter into prepared 9x13" pan.
Bake for 35-40 minutes or until toothpick inserted into the center comes out clean.
While the cake cools, mix together frosting ingredients and spread over the top of the cake. If desired, sprinkle the top of the cake with cinnamon and sugar.
Enjoy!
http://makingmemorieswithyourkids.com/2015/10/cinnamon-zucchini-cake-with-cream-cheese-frosting/