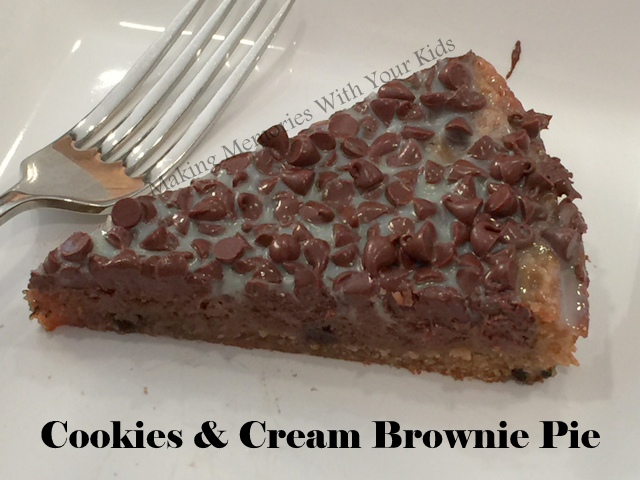 When I saw this on Pinterest it was called Condensed Milk Brownie Pie.  When I found the original post over on Fahrenheit 350 it was titled Sans Macadamia Nuts because the original recipe was called White Chocolate Brownies with Macadamia Topping.  That's a lot of different names.  And now, of course, I'm changing it again.  None of the names really captured the deliciousness of this brownie/cake/pie.
I didn't take pictures while I was baking this because, to be honest, I didn't think it was going to turn out very well.  The batter was runnier than I thought it was supposed to be and it was just making me nervous.  Dumb, dumb, dumb.  After it was done and I cut into it?  Holy smokes.  It was delicious!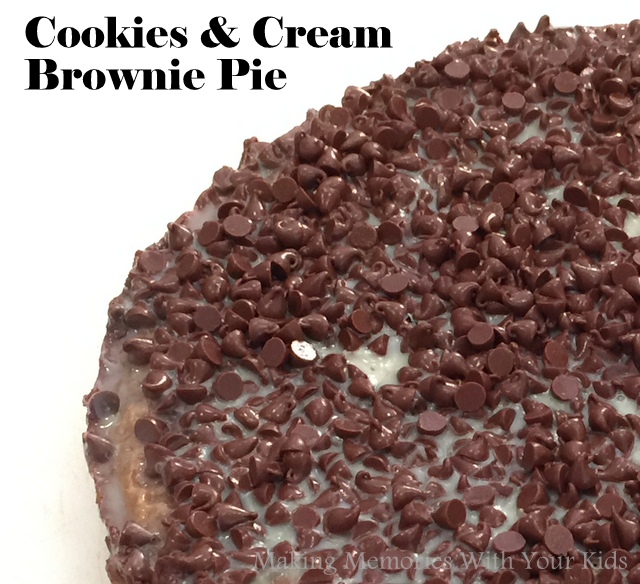 I'm not sure what it was: the light, chocolatey cake or the sweetened condensed milk and chocolate chip gooeyness on the top, or maybe it was all of it together that made this so darn good.  Definitely a keeper!
Cookies and Cream Brownie Pie
Ingredients
For the Brownie

6 oz. Hershey's Cookies and Cream Candy Bar
1/2 cup butter
1/2 cup sugar
1/2 tsp. vanilla
2 eggs
1 cup flour
1/2 tsp. baking powder
7 oz can sweetened condensed milk
3/4 cup mini chocolate chips
Instructions
In a medium saucepan, combine butter, candy bar and sugar and heat on low until melted. Stir.
Whisk in the eggs and vanilla.
Add flour and baking soda and mix until incorporated and smooth.
Pour into a greased 9" springform pan.
Bake at 350 degrees for 20 minutes.
Remove from oven and immediately pour the sweetened condensed milk over the top. Sprinkle with the mini chocolate chips.
Allow to cool completely before serving.
Enjoy!
http://makingmemorieswithyourkids.com/2015/10/cookies-and-cream-brownie-pie/