Something's wrong with me.  Seriously, seriously wrong.  Ever since returning from our summer long adventure in Peru my sweet tooth has been, well, gone.  I still crave a little something sweet every once in awhile but not like before we left.  What the heck?  Should I go see a doctor about it?  I probably should.  I want my sweet tooth back!
So this month for my Secret Recipe Club assignment I was assigned A Taste of Madness.  Cathleen is the woman behind the blog and I'm amazed at how much we have in common.  Cathleen is a math teacher and dessert lover.  (I know my sweet teeth will come back!)  She lives in Canada and loves to travel (me too) and anything dipped in chocolate (me too!)  Immediately I went to her desserts section and looked through them all.  There are so many delicious looking sweets!  She's made every single microwave mug cake flavor known to man, I think.  I narrowed it down to her Starbucks Copy Cat Oat and Fudge Bars.  Those used to be my absolute favorite and really, the only reason I ever went to Starbucks.  But they discontinued them (at least where I live.)  But, like I said, my sweet tooth (or teeth because my daughter said we have 24 sweet teeth) is letting me down.  So I searched a little more and holy moly, macharoly!  I came upon her Pierogie Casserole and I knew I hit the mother load.  It looked amazing!
What's the Secret Recipe Club, you ask?  It's a group of bloggers who all get together to cook/bake and share.  It's a ton of fun and I've been a part of this group for over three years now.  (Holy smokes!  Where has the time gone???)  Each of us are assigned a blog each month to find and make a recipe and post about it.  If you want to find out more about it, you can read about it here.
Anywho…… to get back on track…. Pierogie Casserole….  Yum!
I changed the measurements just a little.  I added only half of the onion (and used a sweet onion) and added more mushrooms and broccoli.  And I also added a big plop (yes, a plop.  I didn't measure it.) of sour cream.  Why?  Well, because I love sour cream and I wasn't sure if I had enough sauce to cover the casserole completely.
It's pretty simple to make.  Just add your layer of Pierogies.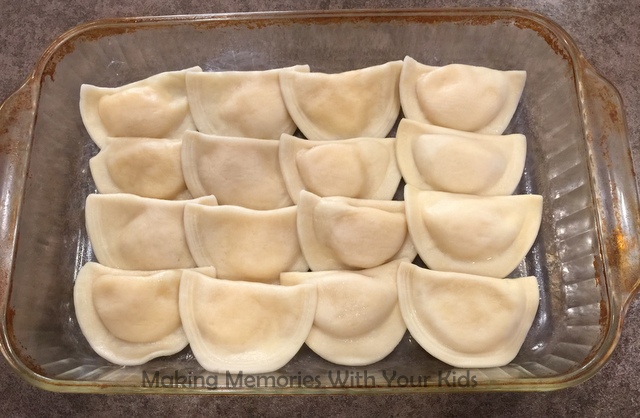 The veggies in the sauce was delicious.  As I said, I added more but I think next time I'll add even more.  Cook them up so they aren't super crunchy.
Add the veggies to your other sauce ingredients and pour over the Pierogies.  Top with cheese and your crushed potato chips.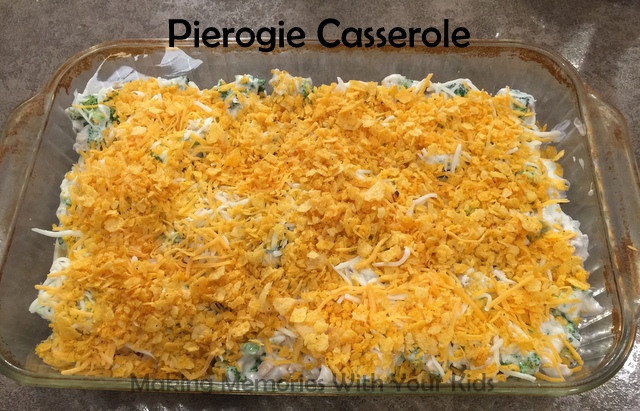 I used Lay's Bacon Cheddar Mac and Cheese Potato Chips for the crunchy topping.  Have you seen these chips yet?  YUM!
And bake until it's pure deliciousness.
Oh my heck!  This casserole is delicious!  I love the crunchiness of the potato chips on top and the rest?  Pure comfort food.  I will definitely be making this dish again!
Ingredients
14 to 18 perogies, frozen
1 tablespoon oil
1 large onion, diced
3/4 cup broccoli, chopped
1/2 cup white mushrooms, chopped
1/3 cup milk
1 10oz can cream of mushroom soup
3/4 cup grated cheese
3/4 cup potato chips, crushed
Instructions
Bring a large saucepan of water to a boil. When the water is boiling, drop the frozen pierogies in the water and remove when they are soft all the way through.
In a small skillet, heat up the oil. When the oil is hot, fry the onions, broccoli and mushrooms until the onions are golden. Remove from heat, and set aside.
Preheat oven to 350 degrees.
In a medium bowl, combine the vegetables, milk and mushroom soup until fully combined. Pour the mixture on top of the pierogies.
Sprinkle the top with cheese and potato chips.
Bake for 30 minutes.
Enjoy!
http://makingmemorieswithyourkids.com/2015/10/pierogie-casserole-secret-recipe-club/