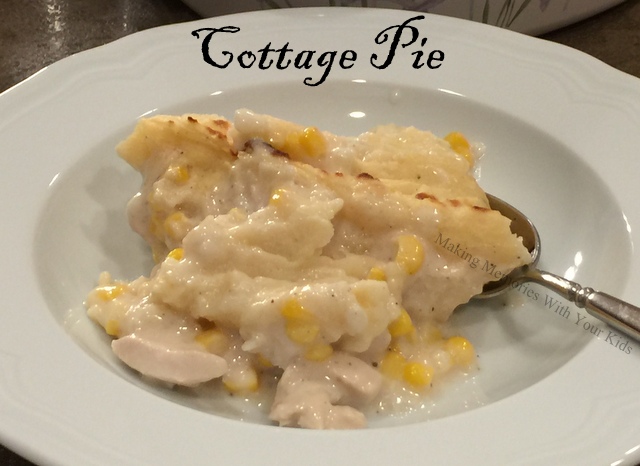 It's officially November and I know Thanksgiving is still weeks away, but I'm so dang excited for Christmas I can hardly stand it.  It's my absolute favorite holiday and every year I love it.  But this year?  I'm even more excited.  My kids and I spent our summer in Peru and not only did we have an amazing time, but we shopped like pros.  Yes, like pros!  Almost all of my Christmas shopping is done so this year I get to sit back, decorate and relax.  I'm so giddy I can hardly stand it.  That also means I will have oodles of time to make delicious Christmas cookies.  I can't wait!
But… until it's officially acceptable for me to start decorating my house, I'll try to concentrate on Thanksgiving.  And this month's Secret Recipe Club reveal.  Yep, it's the first Monday (Sunday night actually) of the month and that means I get to post about my super secret blog assignment.  (Want to learn more about The Secret Recipe Club?  You can read about it here.)
My assignment this month was Chit Chat Chomp.  At first I was a little intimidated by Leigh's blog.  It's so fancy and the recipes are delicious looking but a tad out of my comfort zone.  I mean, have you looked at my blog?  It's filled with Monster Face pasta and Puking Pumpkins and things that I would never call fancy or sophisticated.  But, I pushed down the feelings of inadequacy and started looking through Leigh's recipes.  
Leigh lives in Australia (super cool) and loves to cook.  She writes "the longer the list of ingredients the more complicated the instructions, the better."  But then in 2013 she was diagnosed with Hashimoto Thyroiditis (hypothyroidism) and now she leans towards recipes that "lean towards recipes and food that inspire, heal and nourish."  I love that!
I really, really wanted to make her recipe for Croissants but it was way too intimidating for me and I knew I'd screw it up.  Boy did they look delicious!  But then I saw it.  Her recipe for Madeleines which are my absolute favorite cookies/cakes.  Why haven't I made these in years?!?!?  That was the recipe and then, I'm not sure what happened to change my mind, maybe hunger for comfort food, but I decided to make Leigh's Cottage Pie.  I'd never heard of Cottage Pie but it looked and sounded delicious.
This recipe was easy to make and was pure comfort food.  Perfect for these stormy, rainy days that make me want to stay inside and curl up on the couch with a good book.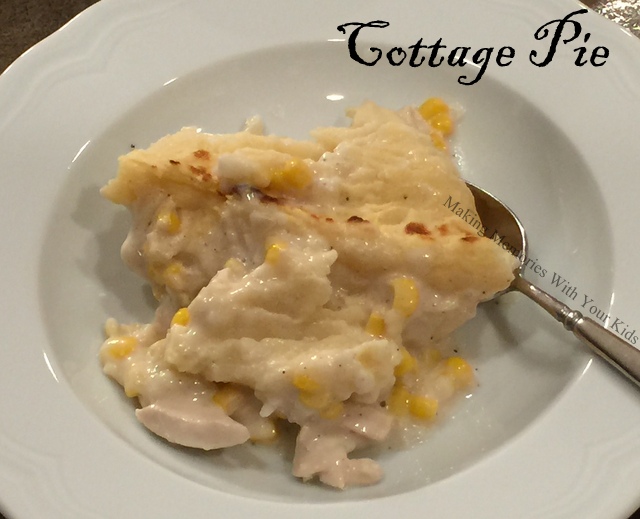 The bottom layer consists of chicken, corn, sweet onion, broth and sour cream.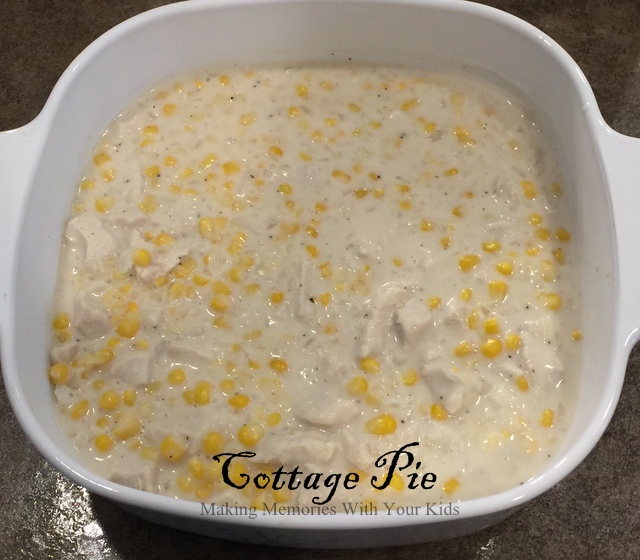 Topped with a creamy layer of mashed potatoes.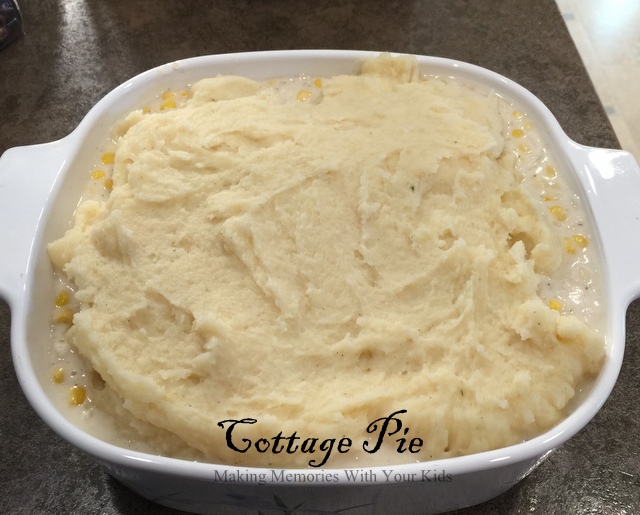 Bake until it turns golden brown.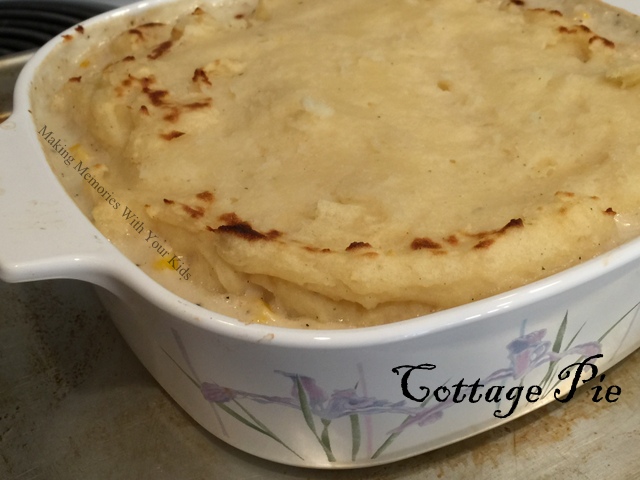 Absolutely perfect!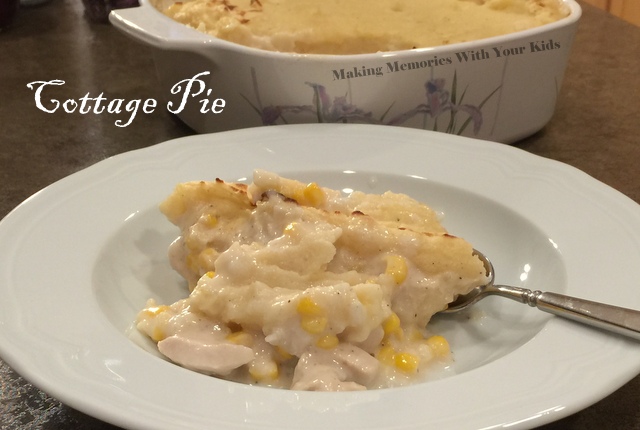 Ingredients
olive oil
1 large onion, finely chopped (I used a sweet onion)
3 skinless, boneless chicken breasts, cut in chunks
1 cup chicken broth
1 cup sweet corn (frozen or canned)
1/2 cup sour cream
3 tbsp coarsely chopped parsley
salt and pepper
6-8 laarge potatoes, peeled and cut into chunks
2 tbsp butter or extra sour cream
Instructions
Heat the oil in a large fry pan and cook onion and chicken over a medium-high heat for 6-8 minutes, until the onion is soft and the chicken is lightly browned. Pour in the stock and simmer gently for 15-20 minutes until the chicken is cooked through. Stir in the sweet corn, sour cream and parsley and season with salt and pepper.
In a saucepan of lightly salted water, boil the potatoes until tender. Drain and mash with the butter and/or sour cream. Season with salt and pepper.
Spoon the chicken mixture into a medium pie dish. Top with the mashed potato and bake in a 350 degree oven for 15-25 minutes until golden brown.
http://makingmemorieswithyourkids.com/2015/11/cottage-pie-secret-recipe-club/