When I was going to graduate school in Seattle we used to drive up to Whistler, BC often to go skiing.  Back then it was amazing and beautiful (just like it is now) but also still a little "undiscovered".  There weren't nearly the crowds of people which made it perfect.  One of the things I always bought when I was there were Nanaimo Bars.  They were the perfect treat and one I couldn't find anywhere around Seattle.  
The Nanaimo Bar is named after the west coast city of Nanaimo, British Columbia. It consists of a wafer crumb-based layer topped by a layer of custard flavored butter icing and then a layer of melted chocolate.  Sound delicious?  Well, it is!  
The Secret Recipe Club is doing a special reveal day today focused around Holiday Treats.  Holiday Treats?  Yes, please.  I'm all about baking most days but around the holidays it's a must for me.  I'm not sure if it's the smells in my house or giving plates of baked goodies to friends but I love it.  
My blog assignment for this reveal day was Sid's Sea Palm Cooking.   Sid has all sorts of amazing recipes on her blog from Bacon Wrapped Water Chestnuts (yum!) to Fish and Chips (another yum!)
When I saw her recipe for Nanaimo Bars, I knew that was the holiday treat I was going to make.  It was a no brainer.  I've made these in years past but not for quite awhile.  And, believe it or not, when I was telling my friends about Nanaimo Bars, they had never heard of them.  Gasp!  I needed to fix that ASAP.
Nanaimo Bars consist of three layers.  The bottom layer is a chocolate, coconut, pecan cookie layer that is delicious!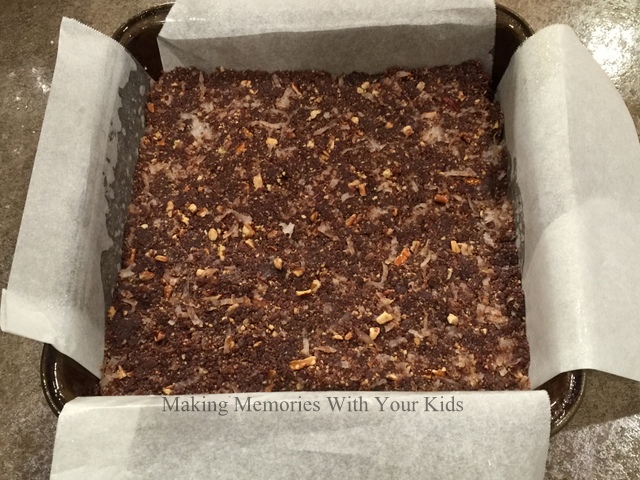 Then there's a layer of…. it's like a custard and buttercream frosting mix.  (Marriage made in heaven!)
And topped with a dark chocolate layer.  I have to say that I am not a dark chocolate person and everything I make normally has milk chocolate in it.  But these bars are rich (not that that's a bad thing!) but I thought that milk chocolate would make them too sweet.  So I stayed with the dark chocolate.  Excellent choice.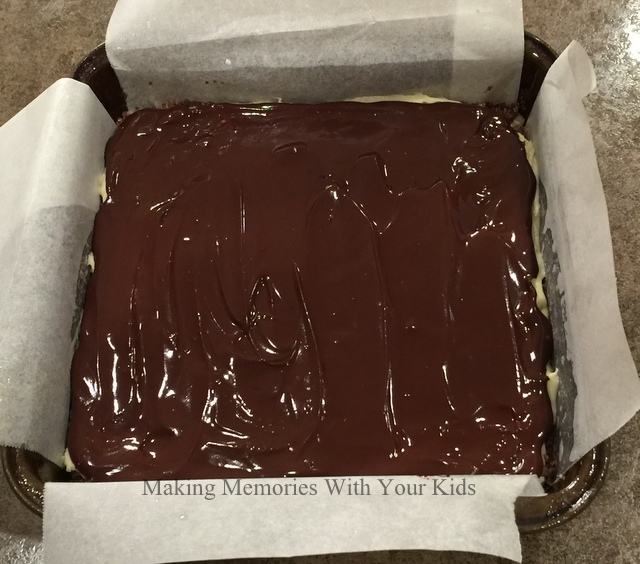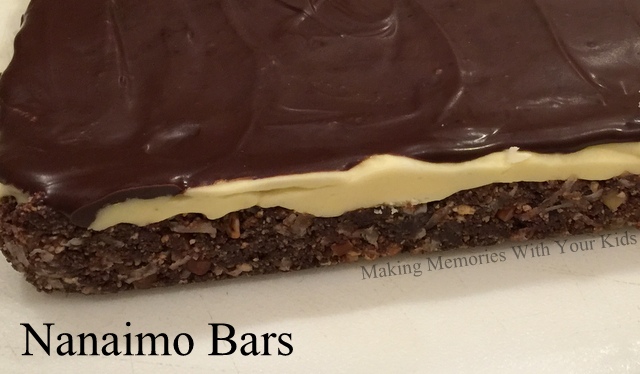 Let them cool and then cut into squares.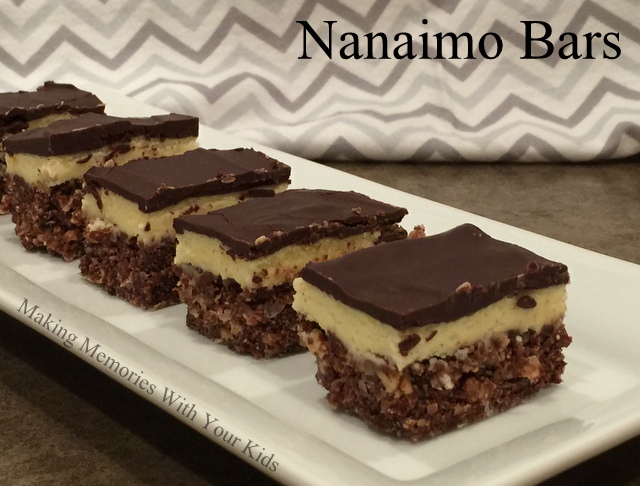 My co-workers loved them!  Definitely a recipe that you should make and add to your Christmas cookie platter.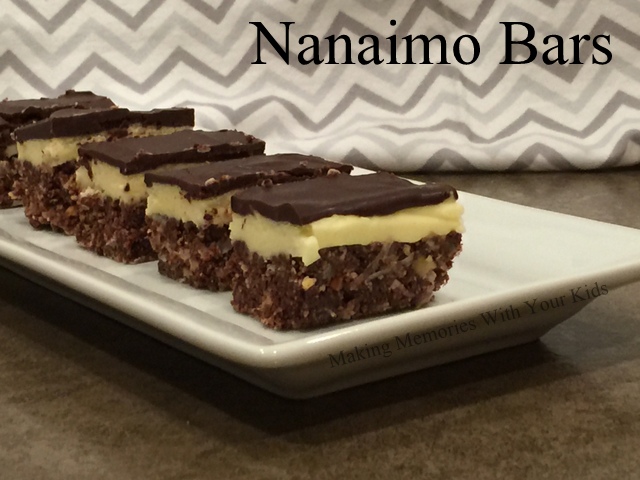 Ingredients
For the Cookie Layer

1/2 cup butter
1/4 cup powdered sugar
5 Tbsp. Cocoa Powder
1 tsp. vanilla
1 egg
2 cups Graham Cracker crumbs
1 cup Coconut (sweetened)
1/2 cup chopped Walnuts

For the Filling

1/4 cup butter
3 Tbsp. milk
2 Tbsp. Vanilla Custard powder (you can use vanilla pudding mix).
2 cups powdered sugar

For the Chocolate Layer

4 squares Bakers Semi-Sweet Baking chocolate
1 Tbsp. butter
Instructions
For the Cookie Layer

Melt first 3 ingredients in top of double boiler. Add egg and vanilla and stir to cook and thicken (Roughly 3 minutes). Remove from heat. Stir in crumbs, coconut, and nuts. Press firmly into an ungreased 9 x 9 pan. (Use an 8 x 8 pan if you want a thicker cookie.)

For the Filling Layer

Cream butter, milk, custard powder, and icing sugar together well. Beat until light. Spread over bottom layer.

For the Chocolate Layer

Melt chocolate and butter over low heat. Cool. Once cool, but still liquid, pour over second layer and chill in refrigerator.
Enjoy!
http://makingmemorieswithyourkids.com/2015/11/nanaimo-bars-secret-recipe-club-holiday-treats/