I'm pretty sure I ate my weight in alfajores this past summer.  These delicious cookies were everywhere in Cusco and I couldn't get enough of them.  The flaky, shortbread type cookie with dulce de leche inside and then covered in powdered sugar were amazing.  When I found them covered in chocolate in Aguas Calientes I thought I was in heaven.  Yes, they were that good.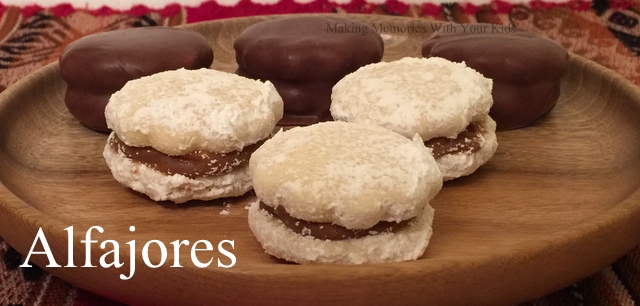 It's hard to believe it's only been a few months since we were in Peru.  Life has been crazy but my kids and I love to talk about our trip and remember the amazing times we had.  And what better way to bring back good memories than with food?
Afajores were everywhere in Cusco.  They are flaky shortbread type cookies and are filled with dulce de leche.  Dulce de leche is not caramel.  Let me say that again… it's not caramel.  Dulce de leche, or manjar, is a sweet, thick cream made with milk.  It's not the sticky caramel that we have here in the States.  We brought some back with us from Peru and man, oh man, I could eat this stuff all day.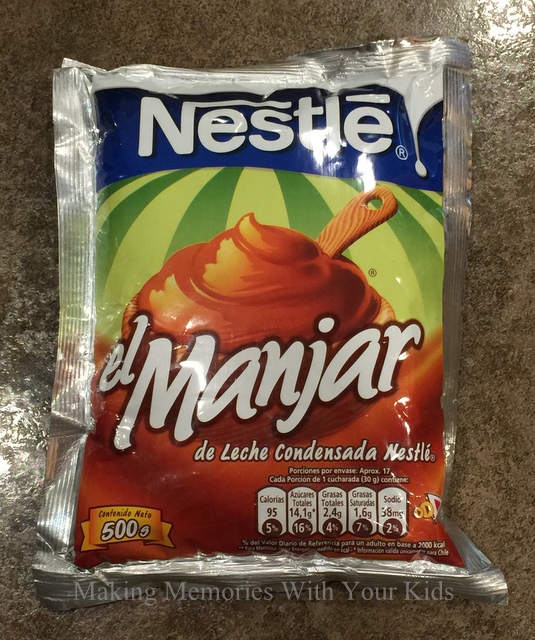 Our host family served this to us for breakfast with bread.  Now that's my type of breakfast!
The cookie is a cross between a sugar cookie and a shortbread.  You can make them as big as you want.  We made them about 1 1/2 inches because we were taking them to a presentation my kids and I were making to the local Kiwanis group.  They asked us to come and talk about our volunteer trip so we wanted to take something delicious that represented a true Peruvian dessert.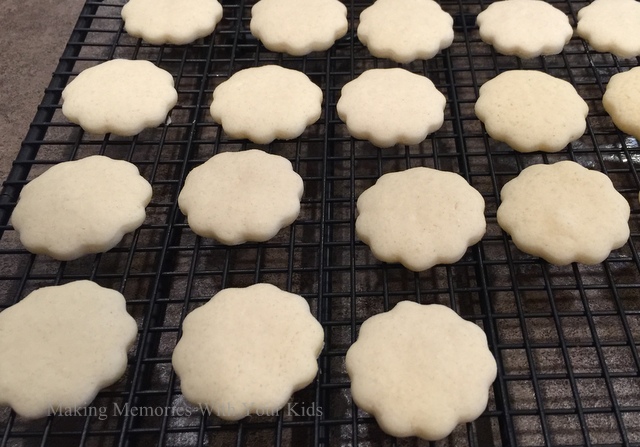 Spread on a thick layer of Manjar (dulce de leche) and top with another cookie.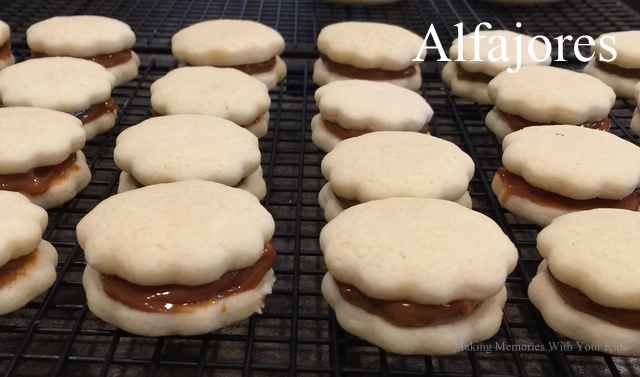 You can go a couple of different ways at this point.  You can roll them in powdered sugar to cover them completely.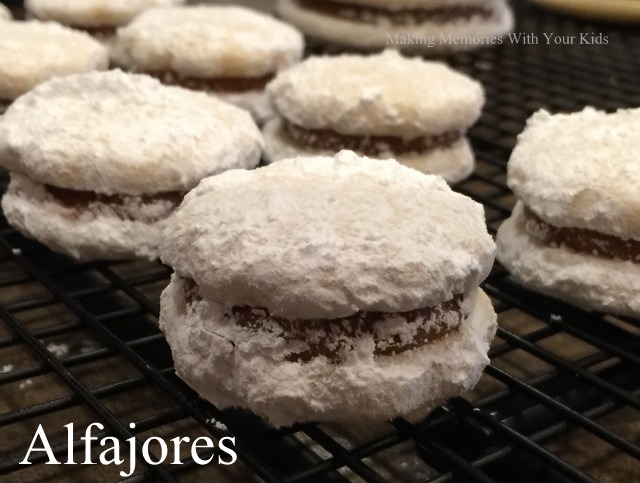 This is a pretty good way to go!  Covered in powdered sugar is goo-ood!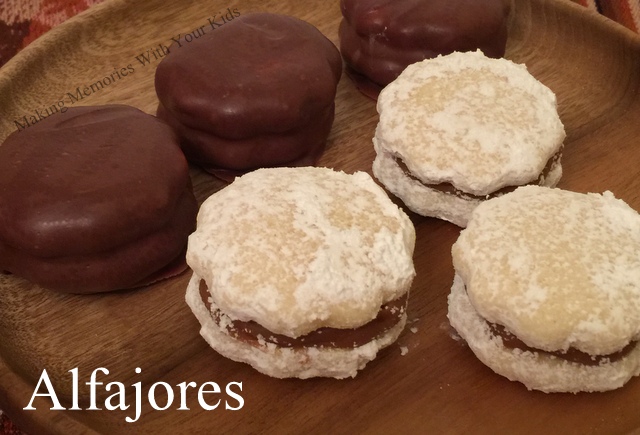 Or you can sift powdered sugar over the top.  This way looks pretty (but I kinda like more powdered sugar.)
But this is my favorite way to serve them.  Cover them in chocolate!
Let's look at that again, shall we?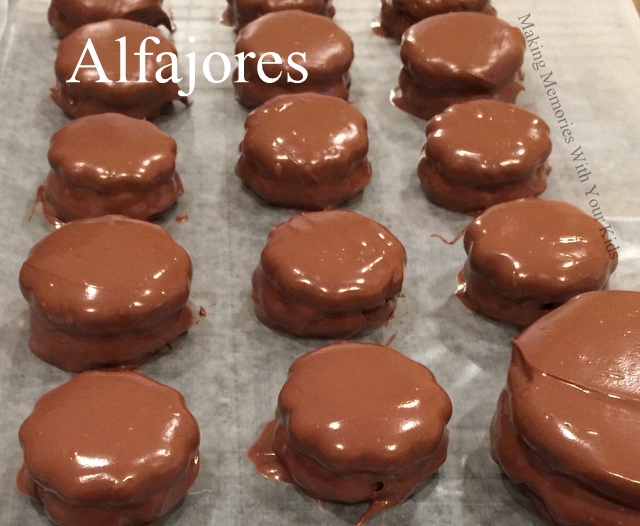 Does it just want to make you lick your computer screen?  Well, it should.  They are amazing!  Take a look at what they look like inside.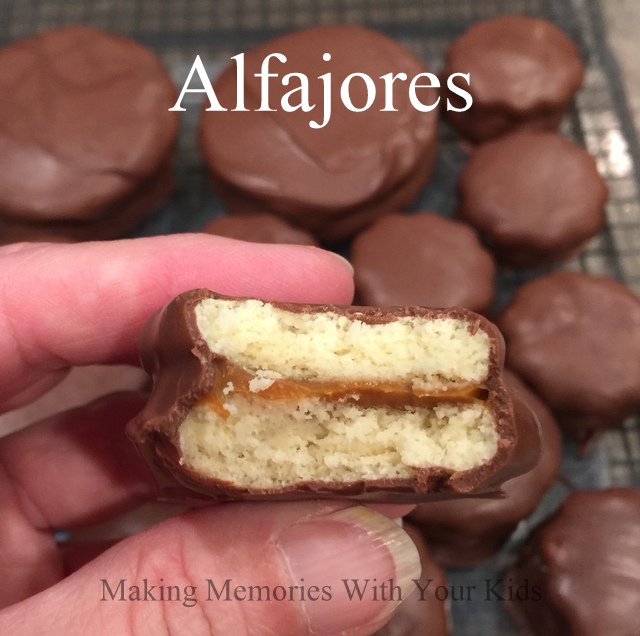 Ingredients
6 Tbsp. unsalted butter, room temperature
1/2 cup sugar
1 egg
1 egg yolk
1 tsp. vanilla
1 cup flour
3/4 cup cornstarch
1 tsp. baking powder
Dulce de Leche
Powdered sugar for dusting (optional)
Milk chocolate (optional)
Instructions
Cream the butter and sugar until fluffy.
Add the egg and yolk and mix well. Add vanilla and combine.
Sift together the flour, cornstarch and baking powder. Add to butter mixture and mix well.
Cover with plastic wrap and refrigerate for 1 hour.
Preheat oven to 325 degrees.
Roll dough out on a lightly floured surface about 1/4" thick.
Cut with a round cookie cutter.
Place on a cookie sheet lined with parchment paper.
Place the cookie sheet bake into the fridge and chill for about 15-20 minutes.
Bake for 8-10 minutes just until the edges start to turn golden.
Remove from baking sheet and cool on a wire rack.
When completely cooled, pipe dulce de leche over one cookie. Top with another cookie.
Dust with powdered sugar, if desired.
Another option, dip cookie in melted chocolate. Place on waxed paper and allow chocolate to harden.
http://makingmemorieswithyourkids.com/2015/11/peruvian-alfajores/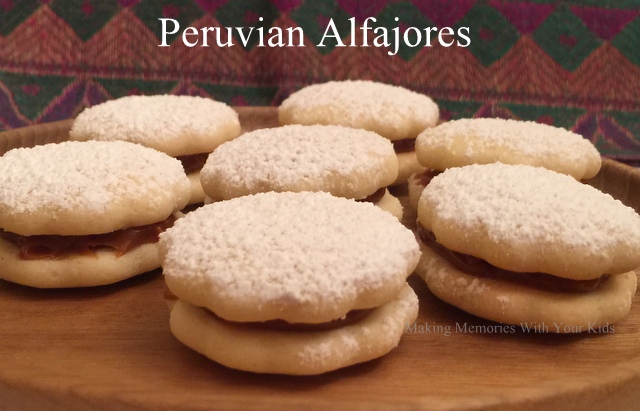 Here's a picture of what an alfajor looked like in Peru.  The little market on the corner sold these for less than $1. 
And this is what the chocolate covered ones looked like in Aguas Calientes.
We didn't do too bad of a job, I think.
Looking for other delicious Peruvian recipes?
Make sure you come back often.  We have a lot of amazing Peruvian recipes that we'll be posting!
Gracias por leer!