It's time for December's Secret Recipe Club post.  It seems strange to be posting again since we just posted last week, but that was for our Holiday Themed reveal.  So it's even stranger (or is it a coincidence???) that this month's blog assignment is the same blog I had for the Holiday Treats post – yep, Sid's Sea Palm Cooking.
I at first thought I was going to make Sid's Beef Stroganoff because I love Beef Stroganoff!  (And I was looking through her blog when we were at the beach for the weekend and it was cold and stormy outside.  I really wanted comfort food.  I really wanted to make her Gyro recipe but it was an SRC recipe for Sid so that was a no no.  Then I remembered that the last couple of SRC reveals I've made non-sweet recipes.  (Gasp!)  So I switched gears and went to her Sweet Stuff page and there it was.  
Sid's recipe for Danish Pastries was calling my name.  They looked absolutely wonderful and this is something I haven't tried to make before.
I'm not very good with yeast dough.  I used to make bread all the time but then I stopped for some reason.  (I'll think more about that later.)  Now when I make yeast dough, it' doesn't really turn out.  I'll keep trying because I'm definitely going to make these again.  They were delicious!  I took them to work and my co-workers said they were amazing.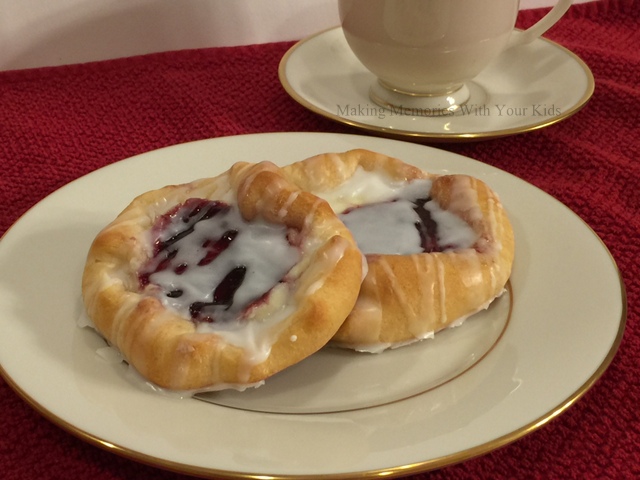 I used the cream cheese filling in the recipe but I also put a plop of homemade raspberry jelly too.  I think that helped make these delicious.  Homemade jelly is so, so, so much better than anything you could buy in the store. 
The icing is a must on these.  It keeps the dough a little moist and adds a bit of sweetnedd to them.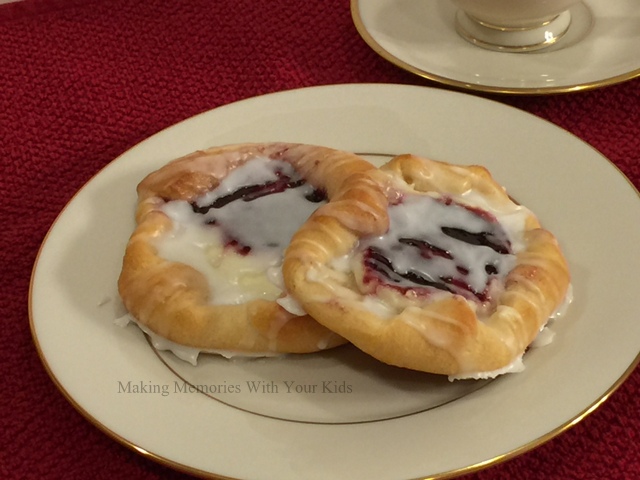 Raspberry and Cream Cheese Danish
Ingredients
1/4 cup warm water (105-115 deg. F)
2 1/2 teaspoons Active Dry Yeast
1/2 cup milk at room temperature
1 large egg, room temperature
1/4 cup sugar
1 teaspoon salt
2 1/2 cups unbleached all purpose flour
2 sticks (8 ounces) cold unsalted butter

For the Cream Cheese Filling

4 oz. cream cheese
3 teaspoons sugar
1 tsp. vanilla
Homemade jelly

For the Glaze

1 cup confectioners sugar
1-2 teaspoons milk
1 tsp. vanilla
Instructions
Pour the water into a large bowl, sprinkle the yeast on top, let it 'bloom', then add the sugar, milk, egg and salt and whisk it together. Set aside while you process the rest.
Put the flour into bowl of the food processor which has a metal cutting blade. Cut the cold butter into 1/4 inch slices and drop them into the flour. Pulse about 8-10 times, just until the butter has been cut into pieces no smaller than 1/2 inch. You want big chunks of butter. Don't overdo it.
Empty the contents of the food processor into the bowl with the yeast and then working with a rubber spatula, very, very gently turn the mixture over. Scrape the bowl as needed, but just mix it until the dry ingredients are moistened. You'll still see some chunks of butter in there, that is a good thing. The butter must remain in small pieces, to make a nice flaky dough. Otherwise, you've just made cookies or bread dough.
As soon as you've mixed this, cover the bowl with a piece of plastic wrap and place in the fridge. Leave it overnight.
Lightly flour your work surface. If you've got a marble slab, great, if not, well make sure your work surface is cold. (I work on a stainless steel island and put a bowl of ice right where I want to roll out the dough, and chill it that way, removing the ice before I start rolling.) Turn the dough out, in other words, dump it out of the bowl and using your hands, pat it into a rough square. Roll it into a square about 16 inches by 16 inches. You don't need to be exact, but try to get as close as possible.
Fold the dough into thirds, just like a business letter. Then turn it so that the fold is to your left. Anytime the dough starts getting too soft to roll out, stick it in the fridge or the freezer for a quick chill.
Roll the dough out again, this time into a long rectangle, roughly 10 inches by 24 inches. Fold the rectangle into thirds again, turn it so that the fold is to your left, then roll it into a 20 inch square. Repeat this action one more time. Fold into thirds again, divide into two and wrap well and stick it into the fridge for a couple of hours or overnight.
Cut it into thirds, then cut each of the thirds into three pieces each one about 4x4 inches. Rolled up the edges and pressed down a little on them. Just to hold their shapes.
Place on a cookie sheet lined with parchment paper.
Make the cream cheese filling by mixing the ingredients.
Plop a scoop of cream cheese mixture and a plop of jelly in the center of the dough.
Brush with an egg wash and let sit at room temperature for about 30 minutes.
Bake in a 400 degree oven for 20 minutes.
Mix up the glaze.
Drizzle over the danish and enjoy!
http://makingmemorieswithyourkids.com/2015/12/raspberry-cream-cheese-danish-secret-recipe-club/