This whole ugly Christmas sweater thing makes me laugh.  Do you know how many Christmas sweaters I used to own but got rid of?  Because they weren't "in style" anymore?  Way too many.  Heck, I would have won every ugly Christmas sweater contest out there.  I had that many.  (Is that sad???  We'd better not dwell on that one right now.)
When I found a sweater cookie cutter I was pretty dang excited.  Decorated sugar cookies are my absolute favorite cookies but for me to decorate them?  It's typically not very pretty.  I try, but I'm not very good. 
We used my favorite sugar cookie recipe that I got from Sue over at Munchkin Munchies.  (She is amazing at decorating cookies.)  Royal Icing is a must for these cookies.
They were so much fun to decorate and the possibilities are endless.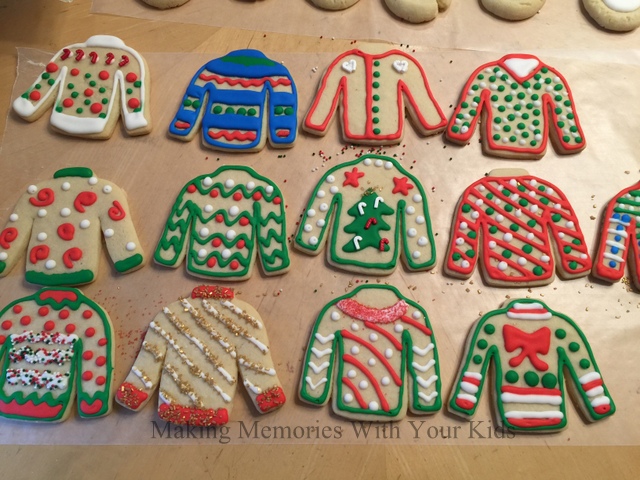 Here's one of the cookies that my daughter decorated.  (It was delicious.)
Ugly Christmas Sweater Cookies
Ingredients
For the Cookies

6 cups flour
3 tsp. baking powder
2 cups butter
2 cups sugar
2 eggs
2 tsp. vanilla extract
1 tsp. salt

For the Icing

3 3/4 cups powdered sugar
3 Tbsp. meringue powder
6 Tbsp. warm water
food color gel or paste
Instructions
For the Cookies

Preheat oven to 350 degrees.
Cream butter and sugar. Add eggs and vanilla. Mix dry ingredients and add to butter mixture.
Mix well. I never chill my dough because I'm too impatient, but it would be good to chill it for an hour or so.
Roll to desired thickness and cut into shapes.
Bake on a cookie sheet lined with parchment paper for 8-10 minutes or just until beginning to turn brown around the edges.
Remove to a wire rack and cool completely.

For the Icing

Beat ingredients 4-5 minutes, until smooth.
Add food coloring until it's the color you're looking for.
Add more or less water, depending how thick you want it. Thicker for piping and thinner to fill.
http://makingmemorieswithyourkids.com/2015/12/ugly-christmas-sweater-cookies/
What do you think?  Pretty ugly, but perfect for an Ugly Christmas Sweater Cookie!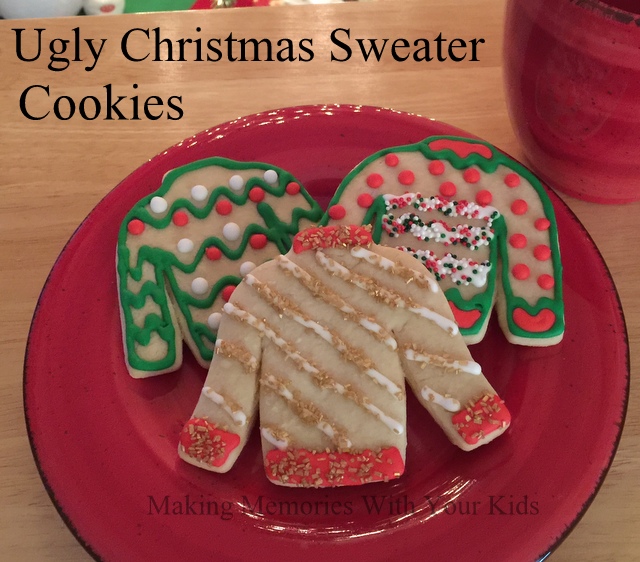 Merry Christmas!