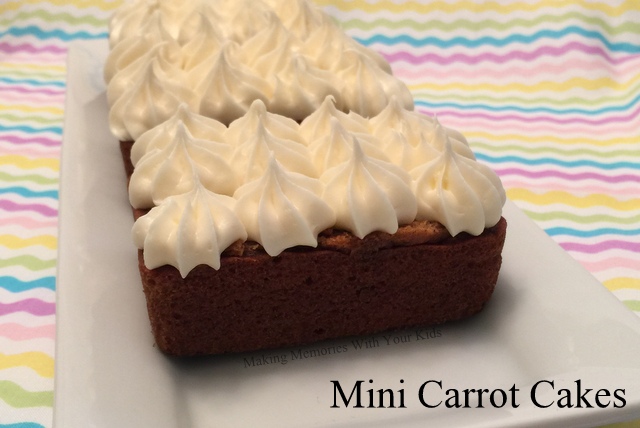 If you know me at all, you know I love holidays!  I love making fun food on April Fool's Day, green food on St. Patrick's Day and absolutely anything Spring-y or colorful for Easter.  So when the Secret Recipe Club put out an all call for and extra reveal day to help celebrate St. Patrick's Day or Easter, I was all in.  (I'll use any excuse to bake!)
My assigned blog (because that's how the SRC works.  You get assigned a secret blog each month and have to make a recipe from it.  Then we all post it on the same day and ohh and ahh over them all.  Yes, that's how we roll.)  Anywho… my assigned blog for this Holiday themed reveal was Thyme for Cooking.  Katie is the author of this wonderful blog and it's filled with delicious looking recipes like her Apple Crisp or her Double Chocolate Zucchini Bread.
Sadly, there weren't really any St. Patrick's Day or Easter recipes except for Corned Beef Hash with Poached Eggs or Carrot Cake with Cream Cheese Frosting.  So… Carrot Cake with Cream Cheese Frosting was the winner.
I decided to make mini cakes (since I was going to take these to friends.)  They rose more than I thought they would.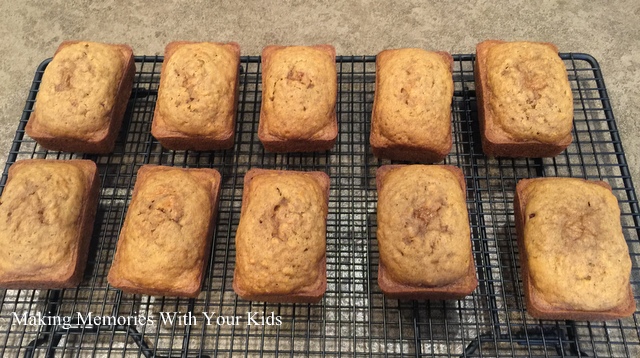 So I decided to cup off the tops to level them out.  That way they could hold more frosting (which is always a plus.)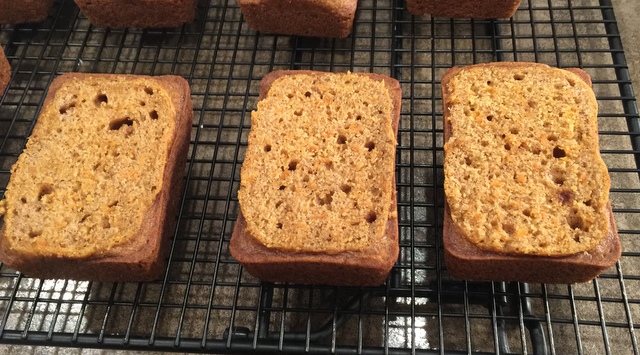 Then the best part… the cream cheese frosting.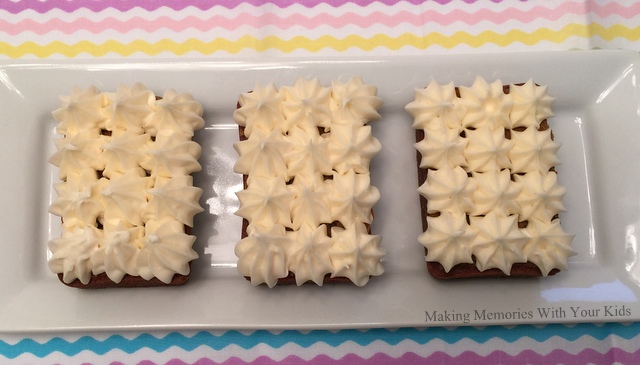 Yum!
Carrot Cake with Cream Cheese Frosting
Ingredients
For the Cake

1 cup dark brown sugar, packed
3/4 cup vegetable oil
1/4 cup Greek yogurt
3 eggs
2 cups flour
1 tsp baking soda
2 tsp vanilla
2 tsp cinnamon
1/2 tsp nutmeg
1/2 tsp salt
2 cups grated carrot, packed

For the Frosting

8 oz cream cheese, softened
4 oz butter, softened (1 stick)
3-4 cups powdered sugar
2 tsp vanilla
Instructions
Preheat oven to 350 degrees.
Cream oil and brown sugar.
Add yogurt and mix well.
Add eggs, one at a time, mixing well after each egg.
Combine dry ingredients and add to wet ingredients, folding in with a spatula.
Add carrots, folding gently.
Pour into greased and floured pan and bake for about 40-50 minutes or until a toothpick comes out clean.
Remove and cool for 10 minutes, then remove from pan and allow to cool completely.
Make the frosting: Combine cream cheese, butter, vanilla and sugar and beat until smooth.
Add more powdered sugar if too thin / a tsp. of milk if too thick.
Frost the cake when completely cooled.
Enjoy!
http://makingmemorieswithyourkids.com/2016/02/carrot-cake-with-cream-cheese-frosting/

I'm not a big Carrot Cake person so I'm not sure what it "normally" tastes like.  What I can tell you, though, is that this recipe is super moist and delicious.  Who knew???  Carrot Cake.  Yum