Life has been super stressful around here lately and what better to serve than delicious comfort food.  That makes everything better, right?  Anyone?  Well, it's either that or a 1 pound box of chocolates.  
This recipe is an amazing cross between a delicious, cheesy lasagna and the ease of spaghetti.  It's perfect!
Cook your spaghetti noodles, drain them and toss them with the butter.  Add them to your 9×13 pan.
Mix up all the cheesy deliciousness and spread it over the top.  Then cover it with your favorite spaghetti sauce.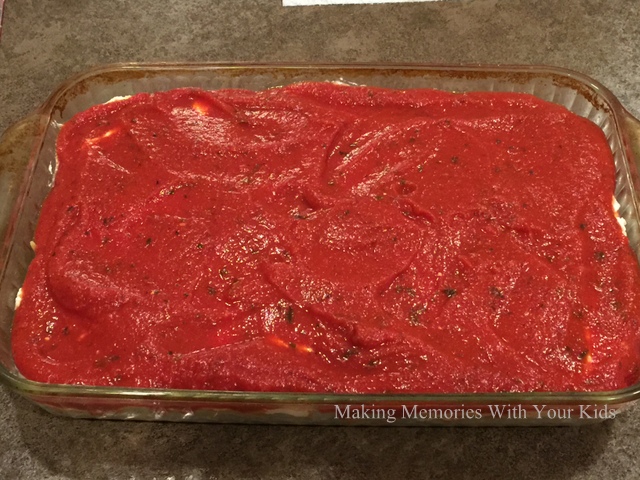 Bake it until it's heated through and your house smells wonderful.  It's that simple!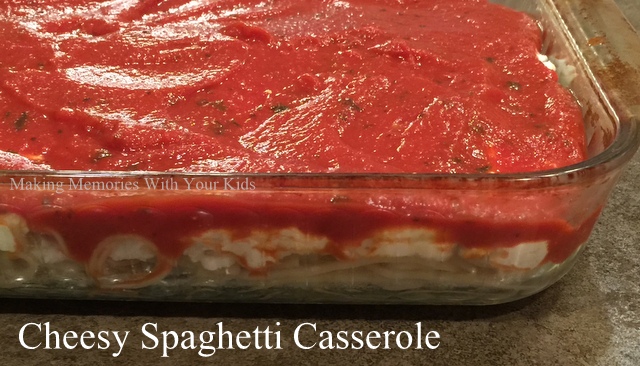 I took this over to my brother's house for his birthday dinner.  If you don't let it sit for just a bit when you take it out of the oven you get this.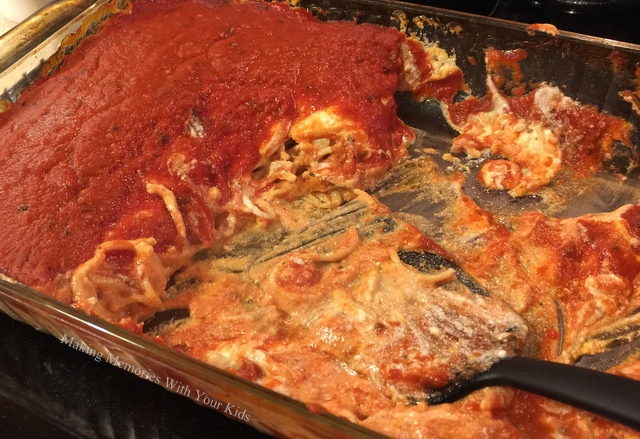 It was delicious, but kind of a pile of lasagna-spaghetti.  If you let it sit for just a bit, it cuts more like lasagna and looks a little prettier.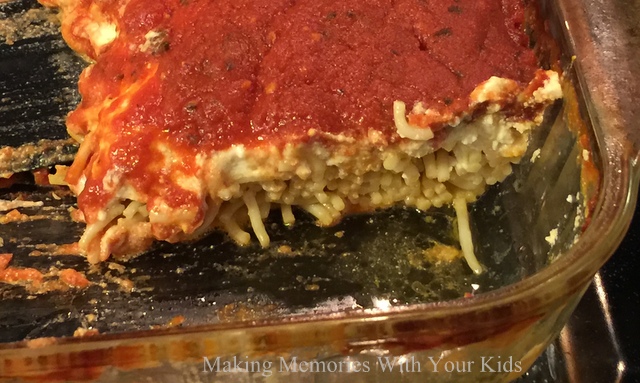 Thank you to Back for Seconds for this delicious recipe!
Cheesy Spaghetti Casserole
Ingredients
12 oz spaghetti (cooked and drained)
1/4 cup butter
1 1/2 cup ricotta cheese
8 oz cream cheese (softened)
1 teaspoon garlic powder
1/3 cup grated parmesan cheese
28 oz favorite pasta sauce
Instructions
Preheat oven to 375 degrees.
Place the cooked spaghetti in a bowl with the butter and toss until melted and evenly distributed. Place spaghetti in a 13"x9" pan. Set aside.
In a mixing bowl beat the cream cheese, ricotta, parmesan, and garlic powder until smooth. Spread over the spaghetti.
Pour sauce over the top and bake for 30 minutes.
Top with more parmesan cheese (if desired) and let sit for about 5-10 minutes.
Serve.
http://makingmemorieswithyourkids.com/2016/02/cheesy-spaghetti-casserole/
This recipe is definitely a keeper!  And it freezes perfectly.