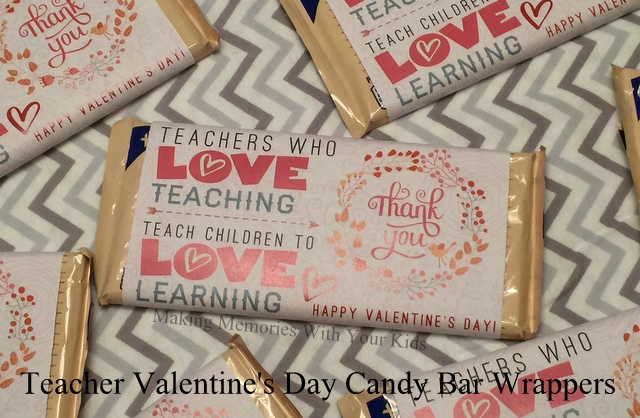 Valentine's Day kind of snuck up on us this year.  Every year we try to make our own Valentine's for my daughter's class.  (My son is in middle school now and said he's too old for Valentine's.  Sigh.)  But, on the plus side, that's 30 less Valentine's that we have to come up with and make.  Yeah for us.  This year?  Not gonna happen.  I went out and bought the store bought kind.  My daughter said "but Mom, every year I give the best Valentine's.  This year I won't."  Sorry sweetie.  Mom's pooped!
We did have time to make some teacher gifts, though.  We have to give teacher gifts.  I mean, those teachers have my kids for hours each day.  They deserve a little thank you.  (They deserve a huge thank you!)  
I saw the free printable for this candy bar wrapper over on Chica Circle.  I'm all about grabbing someone else's creativity, especially when I'm short on time.  Click on the link and then print out the wrappers on regular, printer paper.  You could use card stock, but you don't need to on this one.  
You'll need king sized candy bars.  Those are the big, giant ones that you can usually find on sale for $1 each.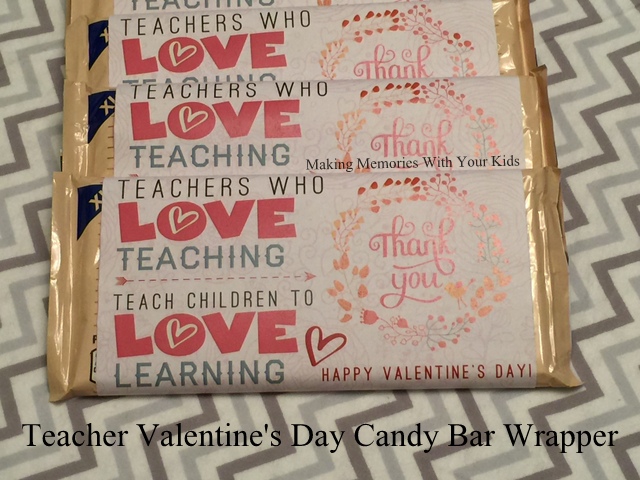 Wrap each candy bar with a wrapper and voila!  Teacher Valentine gift. 
If you're looking for other Valentine's Day ideas, click HERE.