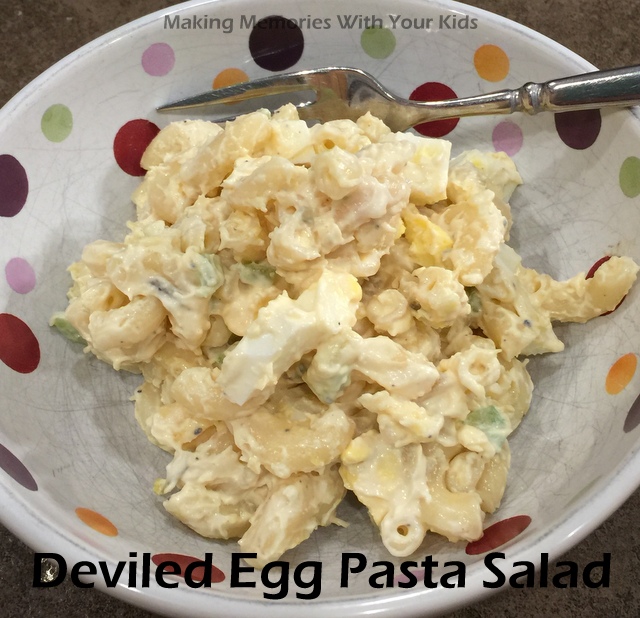 If you love Deviled Eggs and Pasta Salad, this is a delicious combination of both.  I'm pretty sure I ate almost the entire batch – it was that good.
I changed the recipe a little bit.  Last summer we made Bread and Butter Pickles that are amazing.  We sliced up Walla Walla Sweet onions and pickled them with the cucumbers to add to the flavor.  I used them in place of the sweet pickles and onions.  And then rather than use the apple cider vinegar and sugar, I just used the liquid from the pickles.
Thank you to Happier Than a Pig in Mud for this delicious recipe.
Deviled Egg Macaroni Pasta Salad
Ingredients
1/2 C thinly sliced red onion
1/4 C cider vinegar
1 tsp sugar
8 oz large elbow macaroni
12 hard-cooked eggs
1/2 C mayonnaise
3 Tbsp Dijon mustard
1/2 tsp salt
1/2 tsp smoked paprika
1/4 tsp cracked black pepper
1/2 C chopped sweet pickles
1 1/2 C thinly sliced celery
Instructions
In small saucepan combine onion, vinegar and sugar. Bring to a simmer, stirring occasionally. Remove from heat and cool. Reserve liquid. NOTE - I didn't do this step. Instead I used the bread and butter pickles I made that had thinly sliced Walla Walla Onions in them. Delicious!
Cook macaroni per box instructions or to desired doneness. Drain and cool under running cold water, drain well.
Coarsely chop one egg, set aside.
Halve the remaining eggs and pop yolks into large bowl. Coarsely chop the whites and set aside.

For dressing: Mash yolks, add mayo, mustard and reserved vinegar mixture from pickled onions (again, I didn't do this. I used the liquid from our pickles), mix well. Gradually stir in salt, paprika and pepper, set aside.

Add everything to the dressing bowl and gently mix well.
Sprinkle with additional paprika and pepper.
Chill and serve cold.
http://makingmemorieswithyourkids.com/2016/03/deviled-egg-pasta-salad/
Enjoy!