Deviled Eggs are one of those things that I make all the time.  My son loves them and couldn't probably eat them every day.  I just assume everyone knows how to make them since I've been making them since… forever.  But over the years I've discovered not everyone feels the same about deviled eggs.  I have friends who have never eaten them.  Gasp!  I can't imagine!
Over the years I've changed my recipe up some.  I switched honey mustard for plain mustard.  I went through a Miracle Whip phase and used that for awhile.  I go back and forth between thinking pickles should be in deviled eggs and thinking they shouldn't.  Right now?  I'm on an apple cider vinegar kick.  It gives a little bite to the eggs that's wonderful.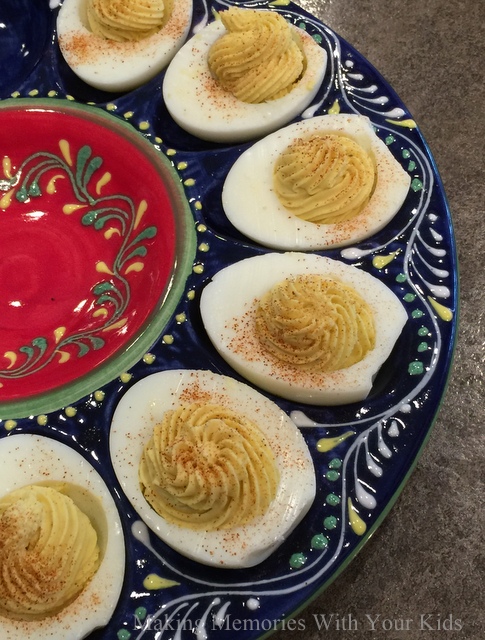 Either way, they are delicious!
Ingredients
6 hard-boiled eggs
salt and pepper to taste
2 tablespoons mayonnaise
1 tablespoon honey mustard
2 tablespoons sweet pickle relish
1 tsp. apple cider vinegar
paprika
Instructions
Peel shells off of the hard boiled eggs and slice in half (lengthwise).
Using a spoon, gently remove the yolks from the whites and place all the yolks in a small bowl. Using a fork, mash the yolks into small pieces. Add the mayonnaise, mustard, vinegar and relish to the yolks and mix until well combined and creamy.
Using a spoon, carefully scoop some of the yolk mixture into the white of each egg half. Repeat until all egg whites are filled.
Lightly sprinkle with paprika and keep in the fridge until ready to serve.
http://makingmemorieswithyourkids.com/2016/03/easy-deviled-eggs/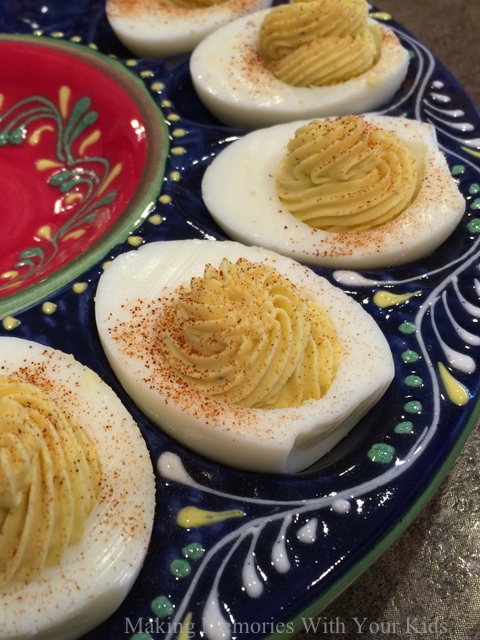 Enjoy!