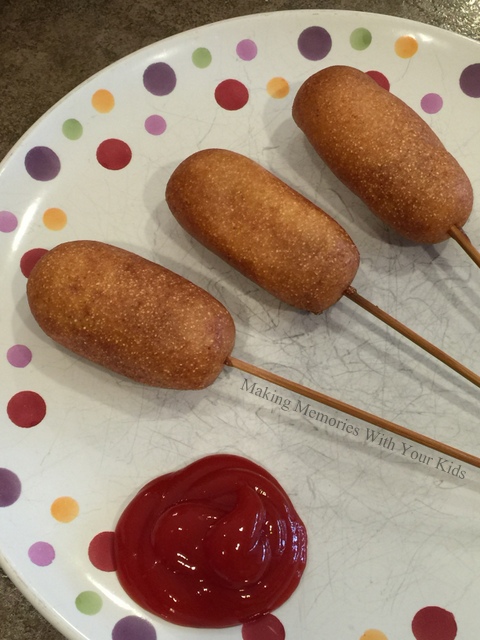 It's hard to believe it's the first Monday of March.  I know I've said this before, but seriously, where has the time gone?  On Thursday my baby girl turns 11.  ELEVEN!  It feels like just last week that I was holding her in my arms and rocking her to sleep.  Now, at 4′ 8″ tall, it's a little hard to fit her on my lap and rock her to sleep.  I still try, though.
Okay, back to the first Monday of the month.  That means it's time to post my recipe for the Secret Recipe Club.  SRC has been a fun "club" to be a part of for the past 5 years.  My first SRC post was in August of 2011 and ever since we've blogged monthly about a new recipe from a blog that we've been assigned.  This month my blog assignment was My Hobbie Lobbie.  I was super excited to get Trisha's blog because I've been following her blog for years!  I love it.  She has some pretty amazing recipes and I couldn't wait to pick one to make.
Trisha was in the corporate world until she decided to quit and follow her passion of baking and crafting.  Her blog is her way of keeping track of her recipes and crafts that she's done.
I didn't think I would have such a hard time picking a recipe.  There are so many from Trisha's blog that I want to make (and plan too!)  Her Chicken Empanada's sound amazing.  So does her Shepard's Pie.  But then add in the Zucchini Fritters or the Cream Cheese Swirled Brownies and I couldn't decide.
After much internal debate (because it was so hard to choose), I decided to make her Homemade Corn Dogs.  I can't believe I haven't made them before and it was the perfect thing to pick for my daughter's sleep over.
They were easy to make and fun for the kids to eat.  I loved the idea of cutting the hot dogs in half and making mini corn dogs.  Trisha skewered her after she cooked them but I decided to skewer them first.  I wasn't sure about handling hot food right out of the deep fryer.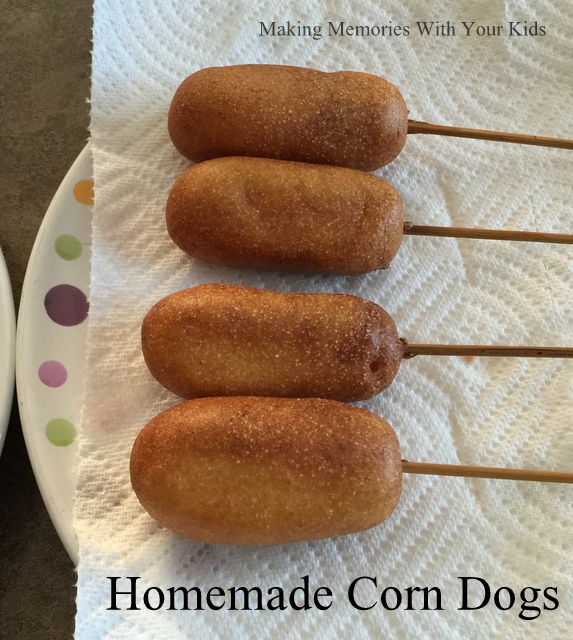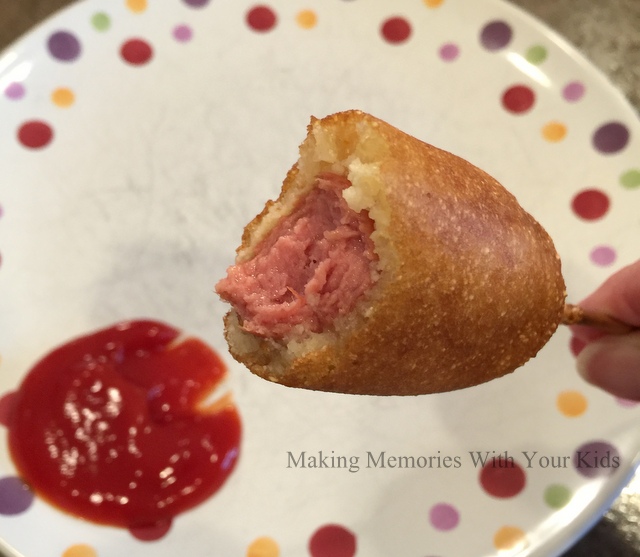 Thanks, Trisha, for this fun recipe.  Definitely a keeper!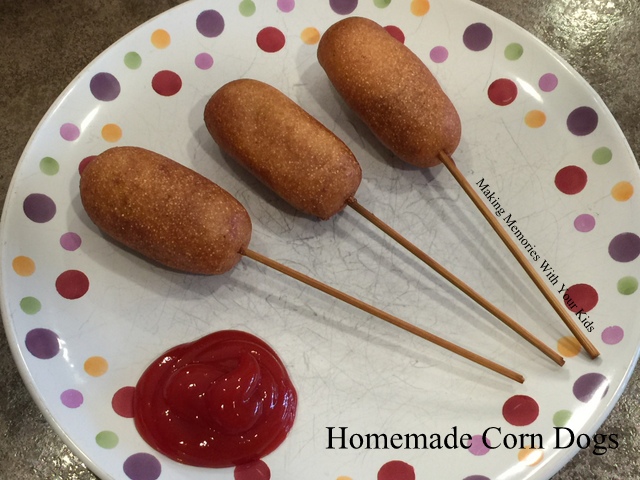 Ingredients
1/2 cup cornmeal
1/2 cup all-purpose flour
1/4 tsp salt
2 tsp baking powder
1/8 cup sugar
1 egg, beaten
1/4 - 1/2 cup milk
1/8 cup oil
1/4 tsp red chilly powder (optional)
1/4 tsp black pepper powder (optional)
6 hot dogs (I cut them up into 2)
12 wooden skewers
Oil for deep frying
Instructions
Mix all the ingredients for the batter (leaving out the last 3) and that includes 1/8 cup of oil. Start with 1/4 cup milk and mix well. You need to gradually add more milk if needed till you get a thick batter like a pancake batter. If the batter is too thin, it'll fall off the hot dog. Mix well making sure there are no lumps in the batter.
Pat the hot dogs dry with a paper napkin. Insert the skewers.
Dip the hot dogs into the batter and carefully deep fry them in hot oil. Fry them on medium flame till golden brown on all sides.
Take them out of the oil and place on a plate covered with paper towels.
Serve with ketchup and mustard.
http://makingmemorieswithyourkids.com/2016/03/homemade-corn-dogs-secret-recipe-club/