Last year Camilla at Culinary Adventures with Camilla rallied some blogging friends to help her celebrate her 15th wedding anniversary. She was only looking for fifteen cheesecake recipes. But we posted waaaaaay more than #FifteenCheesecakes.
It was such a hit and we all had so much fun that she decided to see if she could get enthusiasm for another round of cheesecakes. Yep. This is an encore performance by some of her favorite foodie bloggers.
We actually made two of these cakes.  I wanted to take one over to my brother's house for his birthday and one for work.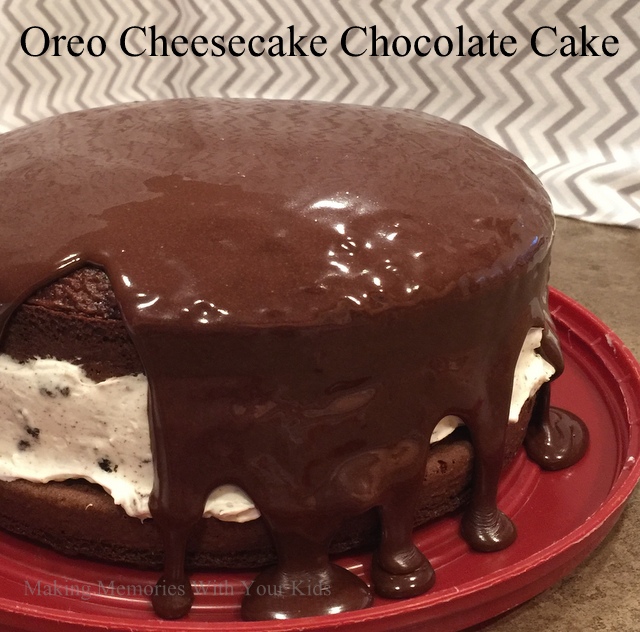 The cheesecake layer was huge and wonderful!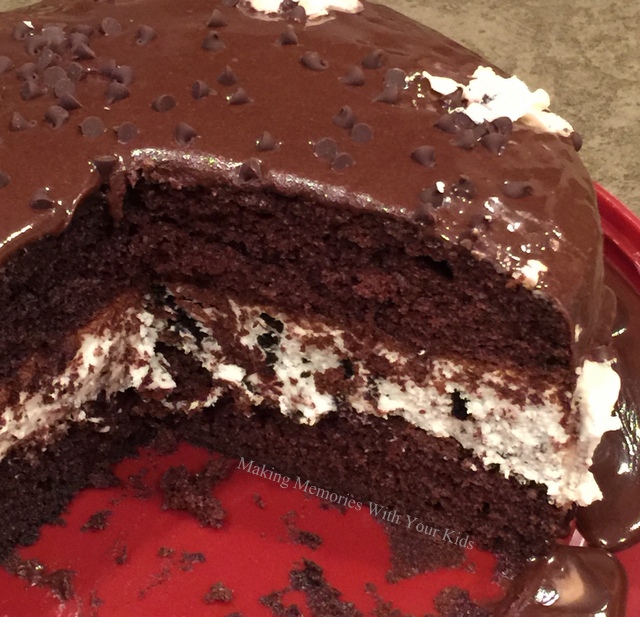 You can top your cake with mini chocolate chips or whipped cream or just keep it plain.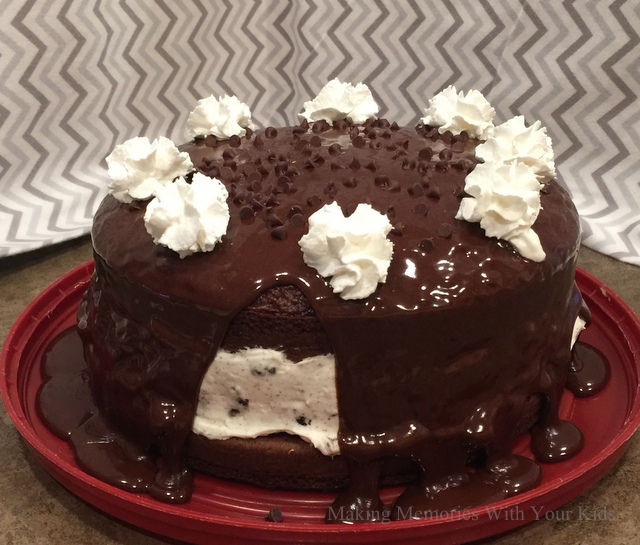 This recipe is definitely a keeper.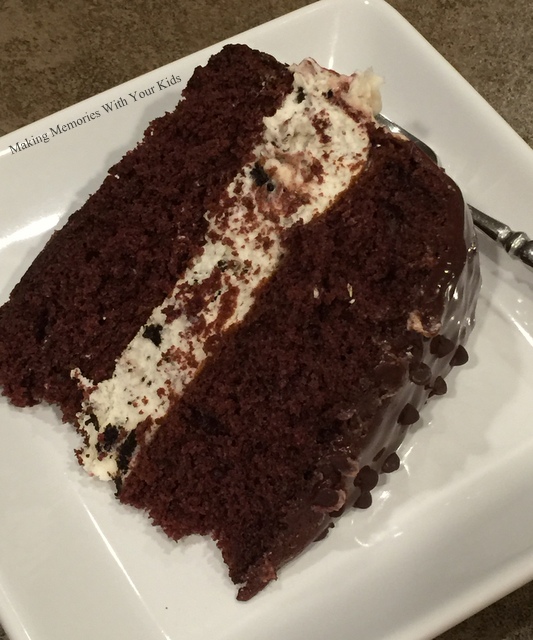 More than #SixteenCheesecakes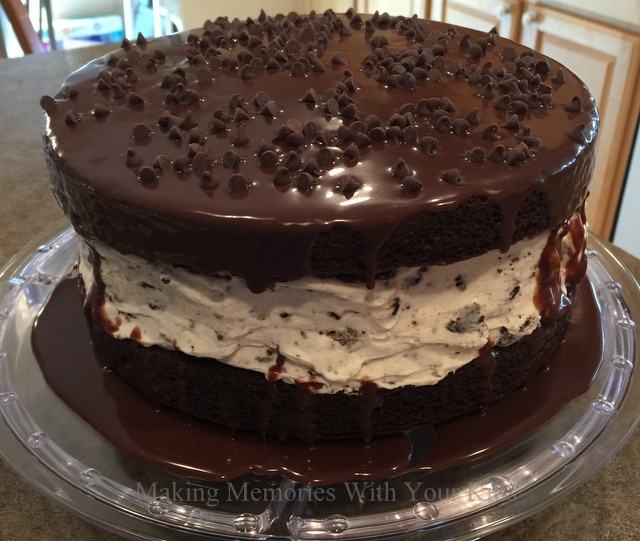 Oreo Cheesecake Chocolate Cake
Ingredients
For the chocolate cake:

2 cups sugar
1-3/4 cups all-purpose flour
¾ cup cocoa
1-1/2 teaspoons baking powder
1-1/2 teaspoons baking soda
1 teaspoon salt
2 eggs
1 cup milk
½ cup vegetable oil
2 teaspoons vanilla extract
1 cup boiling water

For the no-baked Oreo cheesecake filling:

1½ cups heavy whipping cream
8 oz. Cream Cheese-softened
¾ cup powdered sugar
12 Oreo Cookies- coarsely crushed

For the milk chocolate ganache:

8 oz. milk chocolate-finely chopped
1 cup heavy whipping cream
Instructions
To make the cake:

Preheat the oven to 350°F and grease two 9 inch round baking pans and line the bottom with parchment paper.
In a large bowl stir together sugar, flour, cocoa, baking powder, baking soda and salt.
Add eggs, milk, oil and vanilla and mix on medium speed 2 minutes.
Add boiling water and mix until it's smooth.
Divide batter into 2 prepared pans and bake 30 to 35 minutes or until toothpick inserted in center comes out clean.
Cool 10 minutes in the pans, than remove from pans to wire racks upside down (this flattens domed cakes) and cool completely.

To make the filling:

In a large mixing bowl mix heavy whipping cream until firm peaks form.
In another mixing bowl beat cream cheese and sugar until it's smooth.
Combine cream cheese and whipped cream and stir in crushed Oreo.

To make the ganache:

In a sauce pan over a low heat melt chopped milk chocolate, remove from the heat and stir in heavy cream. Stir until it's smooth and pour over the cake. (if it's too runny cool it a little until ganache is thickened but still thin enough to drip down the sides of the cake).

To Assemble the Cake:

Spread filling on bottom layer of cooled cake, carefully place the second layer on top of filling, then spoon chocolate ganache on top of the cake. Garnish with chocolate chips and whipped cream if desired.
http://makingmemorieswithyourkids.com/2016/03/oreo-cheesecake-chocolate-cake-sixteencheesecakes/