When I read my email and saw who my Secret Recipe Club assignment was this month I was so dang excited.  Bewitching Kitchen is an amazing blog written by Sally.  Sally was born and raised in Sao Paolo Brazil and has lived in California, Paris and now lives in Manhattan.  I have a huge love of Brazil and South America.  I was an exchange student in high school and lived in Brazil with an amazing family who I am still in contact with.  The food, the culture, the people, I love them all.
Sally has a whole section of her blog of Brazilian recipes.  I truly wanted to make each and every one of them.  I remember them all and was instantly transported back to years, walking along the streets of Rio eating a Coxinha de Galinha that I bought from a food cart.  Or eating a delicious bowl of Feijoada and rice that my host mom made for lunch.
After lots of lots of agonizing over which recipe I was going to post (because I'm making quite a few of them!) I chose the Brazilian Black Beans.  This recipe is Sally's Mom's recipe and I agree with Sally, it makes the best black beans in the world!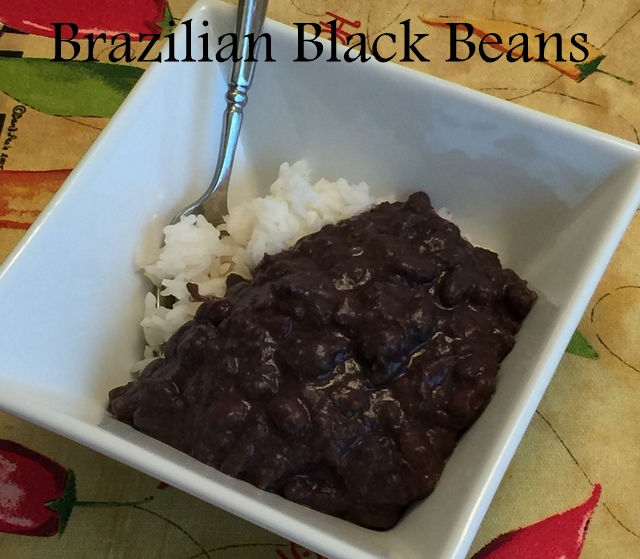 I ate these everyday until they were gone.  They were delicious and instantly made me feel like I did so many years ago in Brazil.
You can make your beans thinner if that's what you like.  I "mashed" up more of the beans because I love, love, love when they are thick and not so soupy.  But that's the great thing about beans – you get to decide.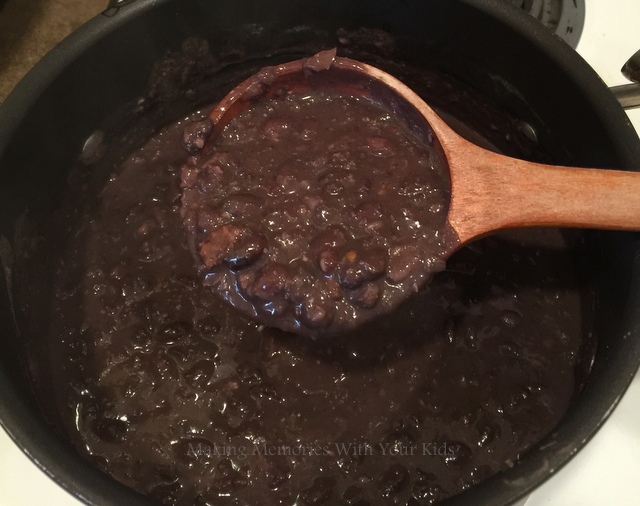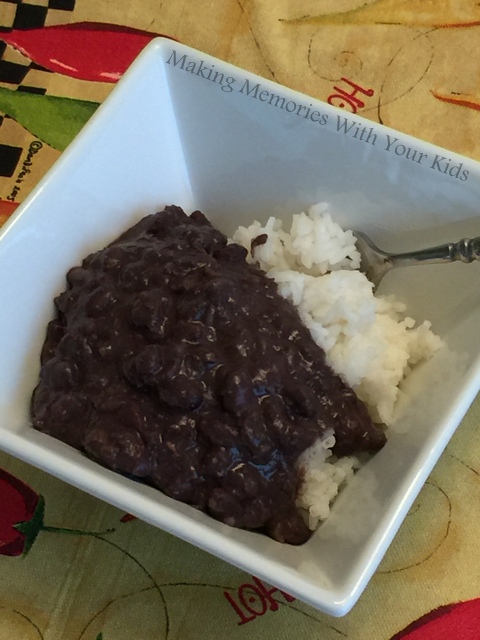 Ingredients
2 cups dried black beans (16 oz.)
2 bay leaves
water
1/2 Tbls. vegetable oil
2 very thick slices of bacon, diced
1 yellow onion, diced
1 clove garlic, minced
1/2 tsp. ground cumin
salt
red pepper flakes
ground black pepper
fresh cilantro (optional)
Instructions
Place the beans in a bowl and cover them with two inches of water. Allow them to soak overnight.
Drain, discarding the water.
Place the soaked beans in a large pot, add cold water to cover by 1 inch, add the bay leaves, and bring it to a boil. Reduce heat and let simmer for about 2 hours, until beans are tender.
Heat the oil in a small frying pan. Sautee the bacon pieces until they are golden, add the onion and sautee more, until dark golden. You do want some color here. When the onion is getting dark, add the garlic and cumin and sautee for a couple of minutes. Season lightly with salt and pepper, add red pepper flakes.
Add the bacon/onion mixture plus all the oil accumulated in the pan to the beans. Mix it all well and allow the beans to simmer for a while (10 to 30 minutes), uncovered.
Remove some of the beans into a small bowl and smash the grains with a fork, forming a paste. Return the paste to the simmering pan and cook everything for 5 or 10 more minutes. Add salt to your taste; add more pepper and cilantro if you desire. Remove the bay leaves.
Serve over white rice.
Enjoy!
http://makingmemorieswithyourkids.com/2016/04/brazilian-black-beans-secret-recipe-club/