It's May 1st!  What the heck?!?!  This freaks me out for a lot of reasons.  #1: there's only 34 days of school left and I have about 99 more days of work to pack into those 34 days.  #2: It feels like just yesterday that it was January.  Does time go by quicker the older you get?  (And that thought totally frightens me.)  #3: the first Monday of the month means it's Secret Recipe Club reveal day.  And this month, it kinda snuck up on me.
My assigned blog this month is Things I Make (For Dinner).  Sarah is the owner of this fine blog.  Sarah lives in Ontario, Canada and started blogging when her friends all started asking for recipes of the foods she was posting on Facebook.
It wasn't hard to find recipes that I wanted to make.  The hard part?  Narrowing it down to one.  I always go to the dessert section (it's like a magnet calling me.)  So her Chocolate Cream Pie definitely speaking to me.  And her Maple Brown Sugar Cinnamon Pop Tarts?  Holy heck!  Yum!  But then I remembered I needed something to make for dinner (and eat for lunch all week) so I started looking through her non-dessert recipes.  There were so many delicious ones!  I chose to make her Cheesy Chicken and Rice Bake because it looked delicious and has everything I love in it.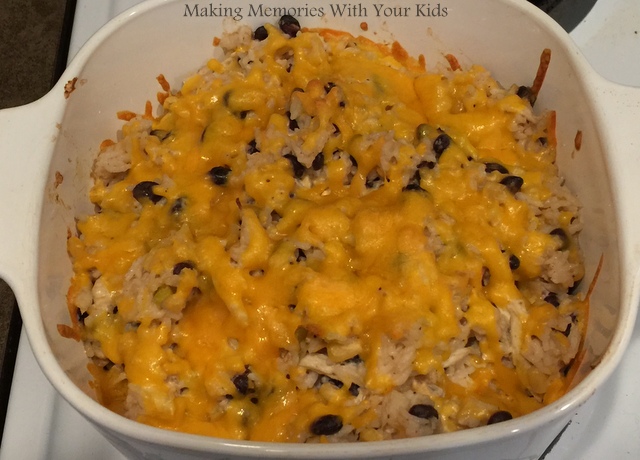 I was so glad I chose this recipe.  It is delicious!  All of the flavors melted together makes for a very yummy meal.  This recipe is also perfect for leftovers.  It reheats nicely and even freezes great!
Cheesy Chicken and Rice Bake
Ingredients
2 whole Boneless, Skinless Chicken Breasts
4 c Cooked Rice
3/4 c Frozen or canned Corn
15 oz can Black Beans, Drained And Rinsed
1 cup Sour Cream
4 oz can of Green Chilis
1/2 c Salsa
1 cup Shredded Cheddar Cheese, Plus More For Topping
Instructions
Cook your chicken and shred. (I boiled mine in water, garlic, onions and seasoning salt)
Cook the rice according to package directions
Preheat oven to 350 degrees.
Mix all of your ingredients.
Scoop into a deep baking dish and top with more cheese.
Bake for 25-30 minutes.
http://makingmemorieswithyourkids.com/2016/05/cheesy-chicken-rice-bake-secret-recipe-club/