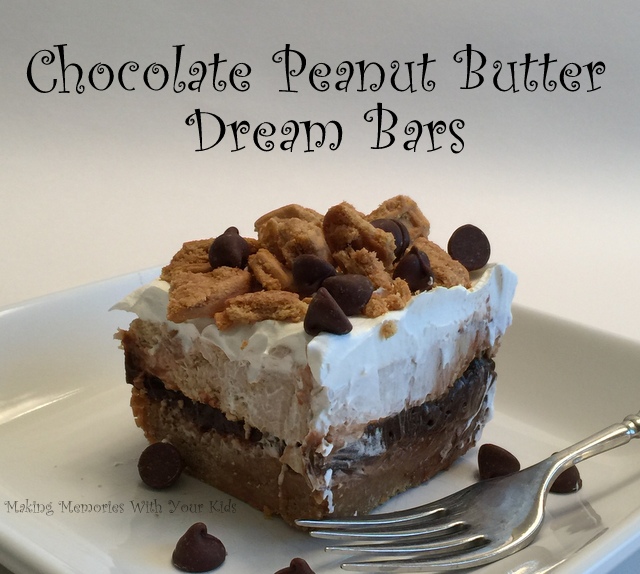 My kids have started the count down to summer.  Already!  I'm not sure if I'm super excited about this or a tad frightened.  Don't get me wrong, summer is my most favorite time of year.  But in the next 23 days I have so much work to get done it almost makes me have a small panic attack.  Really.  All my friends make comments about how lucky I am to have summers off but they don't realize that I have to pack in about 3 months of work into the next 5 weeks.
But, for my kid's sake, I'll go along and count it down with them.  Twenty three days!  Yeah!  (Inward sigh.)
So, what makes everything better?  Baking, of course! 
I love it when I'm looking for something to bake, look on my Pinterest board and find the perfect dessert.  Better yet?  When I look on my Pinterest board and realize I've pinned the same dessert, not twice, but four times!  Yep, I've pinned this recipe 4 times.  Apparently it spoke to me.  If you like chocolate and peanut butter, this dessert is for you too.  It is layer after layer of deliciousness. 
A huge thank you to Lynne over on 365 Days of Baking for this wonderful recipe.
Chocolate Peanut Butter Dream Bars
Ingredients
1 16-ounce package peanut butter sandwich cookies, divided
4 tablespoons butter (1/2 stick) butter, melted
4 ounces cream cheese, room temperature
1/2 cup confectioners' sugar
1/3 cup creamy peanut butter
1 8-ounce container Cool Whip, divided
1 3.9-ounce package instant chocolate Jello-O Pudding Mix
1 1/2 cups milk
1/2 cup milk chocolate chips
Instructions
Preheat the oven to 350 degrees F.
In a blender or food processor, finely crush 24 of the cookies.
In a medium bowl, mix together the melted butter and finely crushed cookies until well moistened.
Press into an ungreased 8 X 8-inch baking dish.
Bake for 10 minutes.
Allow crust to cool completely before proceeding.
In the meantime, mix the package of pudding with the 1 1/2 cups of milk in a small bowl.
In a mixing bowl, beat cream cheese, confectioners' sugar, and peanut butter together.
Fold in 1 cup of the Cool Whip and mix until well blended.
Spread the chocolate pudding over the cooled crust.
Place dollops of cream cheese mixture over the pudding layer and with an offset spatula, gently spread to completely cover.
Spread remaining Cool Whip over the cream cheese.
Refrigerate two hours.
In a plastic bag, break up the 8 remaining cookies.
Sprinkle the cookies and chocolate chips over the top just before serving.
http://makingmemorieswithyourkids.com/2016/05/chocolate-peanut-butter-dream-bars/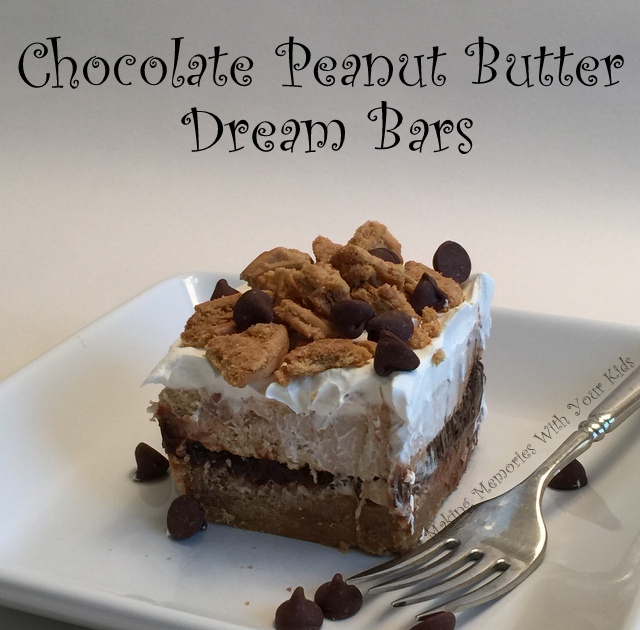 This is a little similar to our Chocolate Lush Dessert that we made a few years ago (which, by the way, was delicious!!!)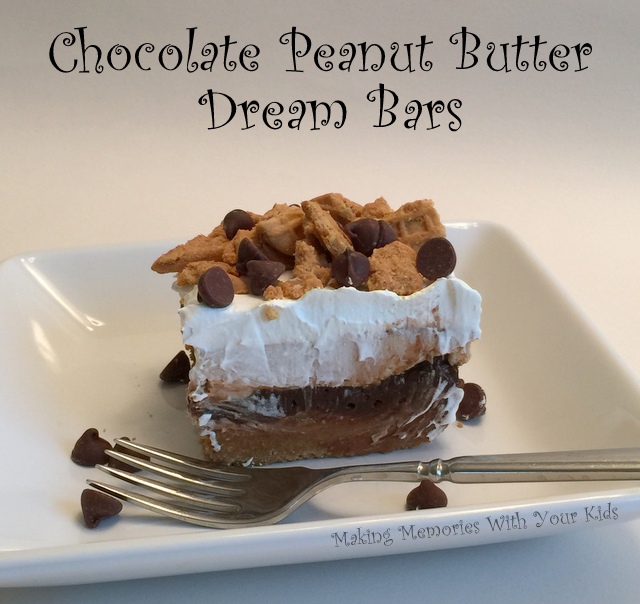 Enjoy!