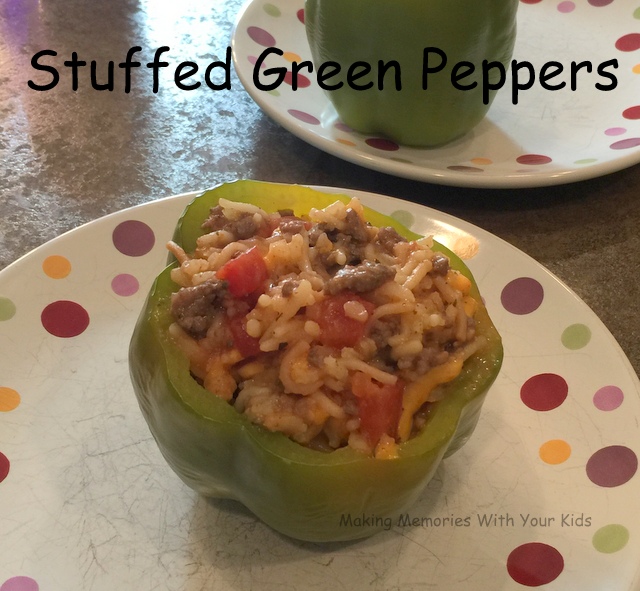 This is one of those recipes that I would never order in a restaurant.  (Now that I think about it, do restaurants even serve Stuffed Green Peppers???)  They remind me of my Grandparents.  I used to make these and take them over to their house for them.  What an easy recipe!  I made two different batches of filling – one with meat and one without meat (my Grandmother didn't eat meat).  I would stuff them and wrap them in foil so they could freeze them.  Then, as they wanted them they could take 2 out, thaw them and then either microwave them or bake them in the oven.  Perfect.
I have a few go-to recipes from my old Better Homes and Gardens Cookbook and this is one of them.  I've changed the recipe a little over the years so my version is what's below.  I substitute Rice a Roni for the white rice.  I think it add more flavor.  Either way, they are pretty darn good.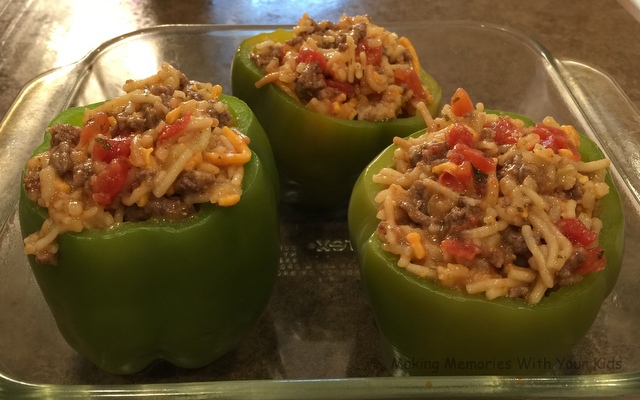 Ingredients
1 lb. lean ground beef
6 large green peppers
1/2 cup sweet onion
1 box chicken and garlic Rice A Roni
1 16 oz. can diced tomatoes
1 cup shredded American cheese
Instructions
Cut tops from green peppers; discard seeds and membranes.
Chop enough of the tops to make 1/4 cup and set aside.
Cook the whole green peppers, uncovered, in boiling water for 5 minutes; invert to drain well.
In a skillet, cook ground beef, onion and 1/4 cup chopped green pepper til meat is browned and vegetables are tender. Drain off excess fat.
Cook Rice a Roni according to package directions.
Mix together cooked rice, ground beef mixture and drained diced tomatoes.
Stir in 1/2 cup of cheese (or more if you like.
Spoon beef mixture into the green peppers. Place in a baking dish and bake, covered in a 350 degree oven for 30 minutes.
Top with more cheese, if desired.
http://makingmemorieswithyourkids.com/2016/05/stuffed-green-peppers/