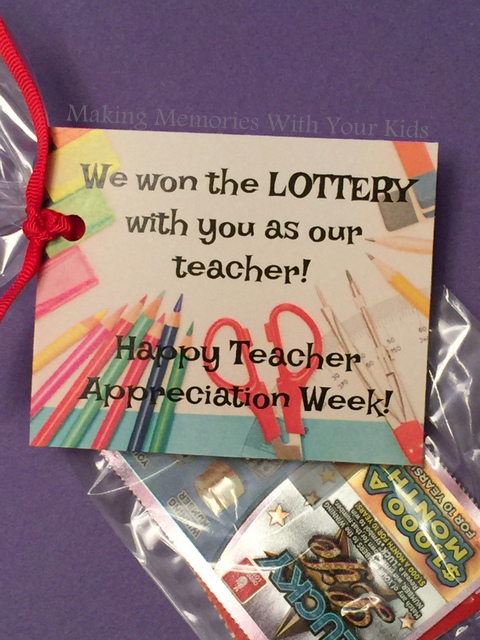 There are 2 more days of Teacher Appreciation Week.  Have you appreciated your child's teachers yet?  I know there are a lot of people out there who think "why do I need to do anything?  They get paid for what they do."  Well, I'm here to tell you first hand, not they don't!  I'm not a teacher but I do work in a middle school.  I'm a school counselor.  I work my tail off and rarely work only a 40 hour week.
 I get to work before my contracted hours, work through my lunch on a lot of days, stay late and work on the weekends.  I can only imagine how much more I would have to do if I had to correct 180 papers and do lesson plans.  It makes me tired just thinking about it.  So do I think a little token for my kid's teachers is necessary?  Absolutely!  Teachers work hard!  And a little thank you one time a year isn't too much to ask.
We' did something similar last year (you can find that post and free printable tag here).  This year we made a new tag (because I kinda have a thing for tags.)
You can definitely make this as extravagant as you want.  You can add as many scratch off lottery tickets as you want.  (We had 10 teachers we were buying for so we just put 3 in each bag.)
What you'll need:
*Tag that you can find here
* Scratch off lottery tickets
* Paper cutter
* Hole punch
* Cello bag
* Ribbon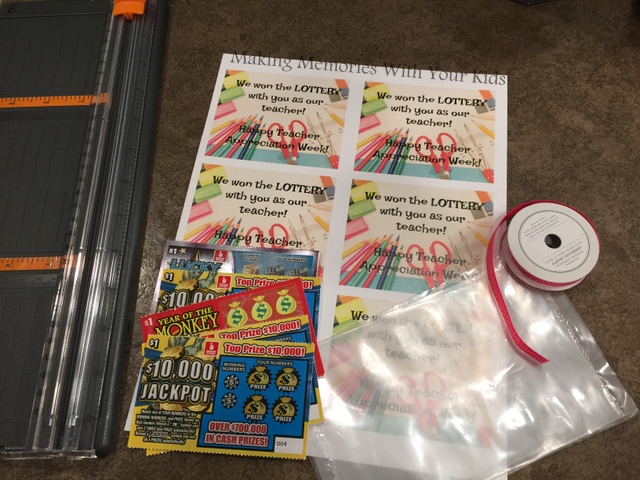 Print out the tags on heavy cardstock.  Put some scratch its in a cello bag and add a tag.  It's that simple!  And you never know, they could get a big winner!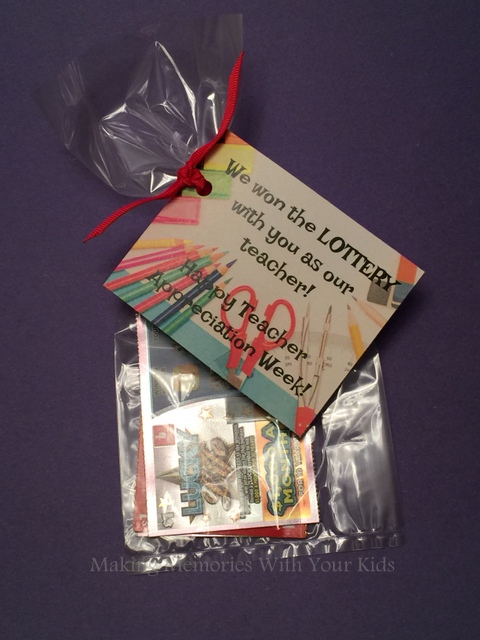 Happy Teacher Appreciation Week to all the teachers out there who work so hard, work extra hours, spend their own money for school supplies and give themselves each day to help raise out children.  Without you, we would have to homeschool our kids and, just sayin', yikes!
For more Teacher Appreciation ideas, you can go here.