It feels like every blog post I've written since December has started out with "holy heck!  Where has the time gone."  How sad is that?!?!  I feel like I'm about a week late to everything.  Yep, everything!  So on Sunday evening when I was sitting with my daughter and the question of when is teacher appreciation week popped into my head, once again I thought "a day late and a dollar short"… again!  Ugh.
It would be pretty easy to just say forget it and buy my kid's teachers cards and a gift card or even easier – do nothing.  But I'm one of those people who then feel bad…. for days.  (It's both a blessing and a curse.)  So… what to make?
My daughter said that one of her teachers loves gummy bears so she wanted to give him gummy bears.  Super easy, right?  Well, we apparently don't ever do anything easy because we decided we had (yes, had) to make a tag to go along with them.  Doesn't a cute tag make everything better?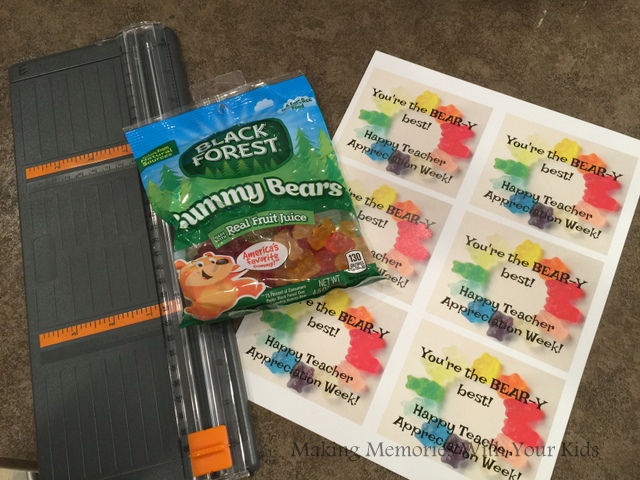 What you'll need:
* Bags of gummy bears
* Tags found here
* Paper cutter
* Hole punch
* Ribbon
We printed out our tags on cardstock (heavy white paper) and attached them to the bags of gummy bears.
That's it.  So easy and pretty cute.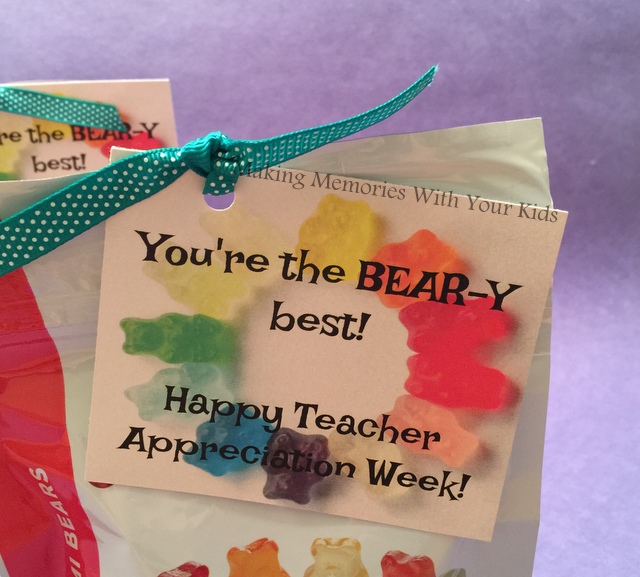 If you are looking for more Teacher Appreciation gift ideas, you can find a ton of them here.