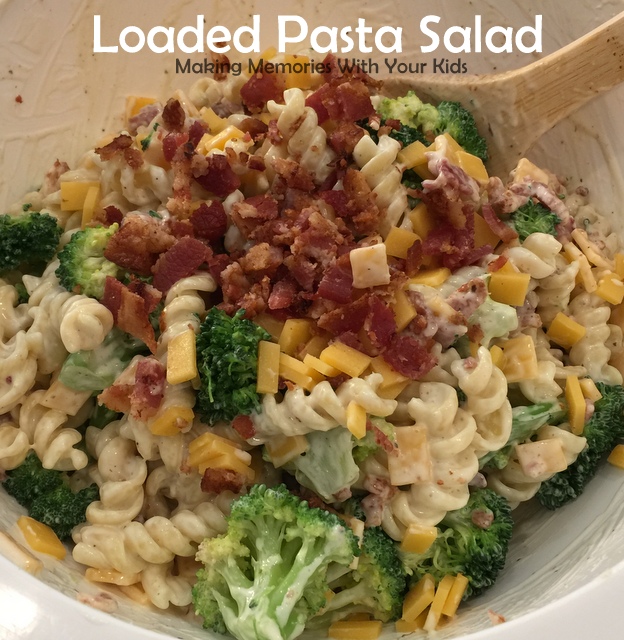 One of my favorite things to eat during the summer is salads.  I could eat them everyday and probably twice a day.  Ever since making the Bacon, Ranch Orzo Salad I have been on a pasta salad kick.  It's the perfect dish.  I make a big bowl and put it in the fridge and then eat it for dinner or lunch until it's gone.
This Loaded Pasta Salad is pretty good.  I love that it has bacon and cheese in it.  The broccoli?  I think I wouldn't cook it next time so that's it's crunchy and not kind of mushy after it sits for a few days.
Thank you to The Midnight Baker for this recipe.
Ingredients
2 cups cooked pasta of any shape
2 cups steamed baby broccoli florets
4 slices bacon, diced
½ cup diced (1/4-inch) sharp cheddar cheese
Salt & pepper to taste

For the Dressing

1 cup mayonnaise
2 tsp ranch seasoning mix
1 tbs cider vinegar
1 tbs sugar
1 tbs water
1 tsp garlic powder
¼ tsp pepper
Instructions
Make sure your pasta is al dente and your broccoli still has some crunch to it. You don't want it mushy!
Mix dressing ingredients in a large bowl.
Combine all other ingredients and mix well.
Chill for at least 2 hours.
http://makingmemorieswithyourkids.com/2016/07/loaded-pasta-salad/
What are your favorite pasta salad recipes?