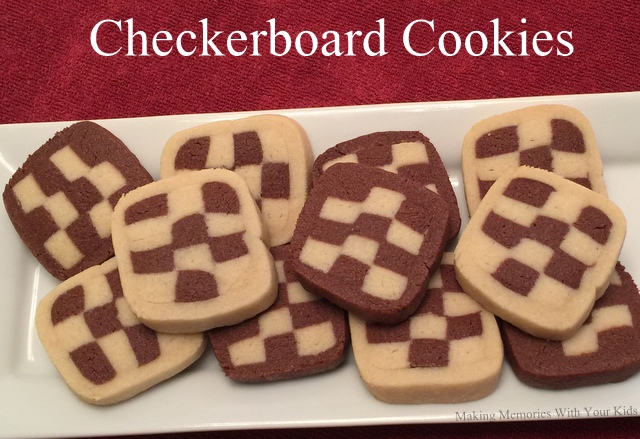 Happy Labor Day Weekend!
I can't believe I'm writing that.  Labor Day!  It was just June.  I know I've been writing "where has the time gone" in my last few posts but, seriously!  Where did the summer go?  The school year ended with me exhausted, frustrated and I seemed to have lost my desire to bake.  So I spent the summer spending time with my kids and trying to get my focus back.  I'm hoping it worked because school starts on Tuesday and I have to start the year at 100%.
Good news?  I found my love for baking again!  Good thing too because my friends were starting to complain.
With it being the first Monday (well, Sunday night) of the month, that means it's Secret Recipe Club reveal day.  I love this day.  I get to post about a new blog and a recipe that I made from it.  My assignment this month was Chef in Disguise.  Sawsan is the author of this amazing blog!  By day she is an orthodontist, by night she is a passionate food explorer.  Her blog is filled with easy authentic middle eastern recipes along with some family favorites.  And my, oh my!  She has some amazing recipes on there!
I had every intention of making her Cinnamon Sweet Bread.  It is absolutely beautiful and I thought it would be a show stopper at our first staff meeting.  But…. time got away from me and my meeting came and went.  I knew I couldn't make it after that because I would seriously eat the entire thing if I didn't take it somewhere.
Some of her other recipes that totally caught my eye were her Chicken Kabob and Aleppo Mortadella, her Kfarat Kabab and her Chimney Cakes.   But my daughter saw her post for Checkerboard Cookies and asked if we could make those.
Sawsan has very detailed instructions on how to make these complicated looking cookies so I wasn't super intimidated.  I was a little worried that they would take forever, but I'm up for a challenge.  About half way through I wondered what they heck I was thinking.  They were pretty time consuming because the dough was ripping and hard to put together but I persevered.
When they were all assembled and had chilled overnight, I cut into them and knew it was totally worth it.  They looked so cool!
You can see I struggled a little with cracking.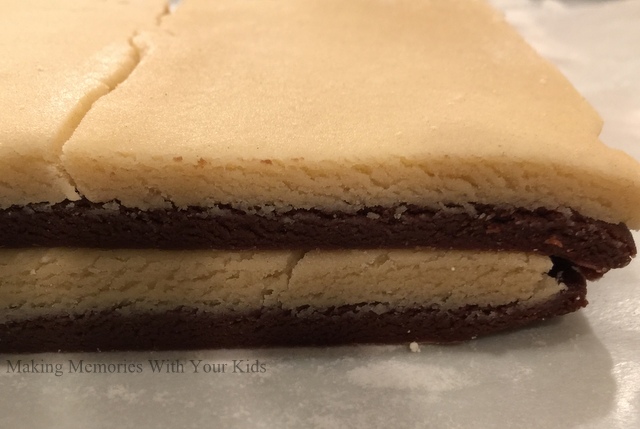 Cut then into strips and stack them.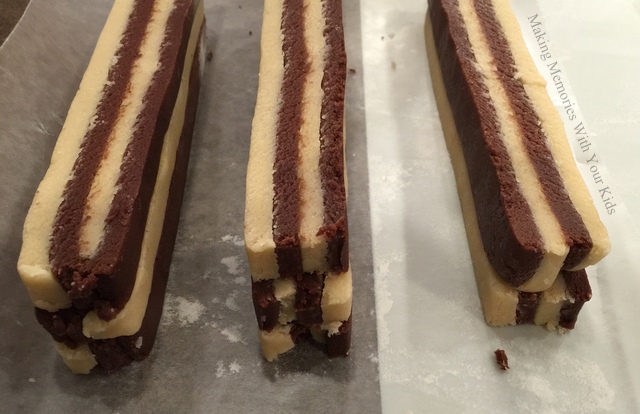 After the dough has chilled again, roll the stripes in more dough.
Chill the dough again and then slice it into thick slices.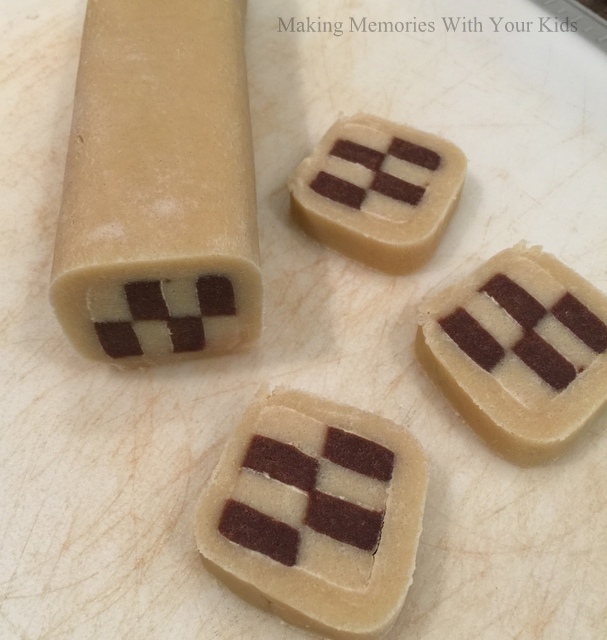 Don't they look cool?!?!
Bake and voila!  Checkerboard Cookies!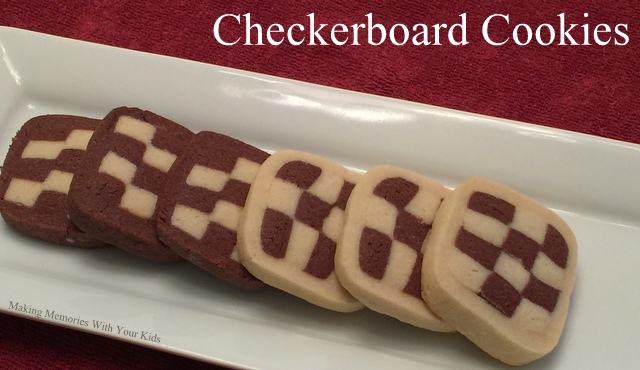 The key is to not over bake these cookies.  I cooked the first batch a tad too long.  I was thinking they should be a golden brown.  Nope.  Bad move.  They were rock hard.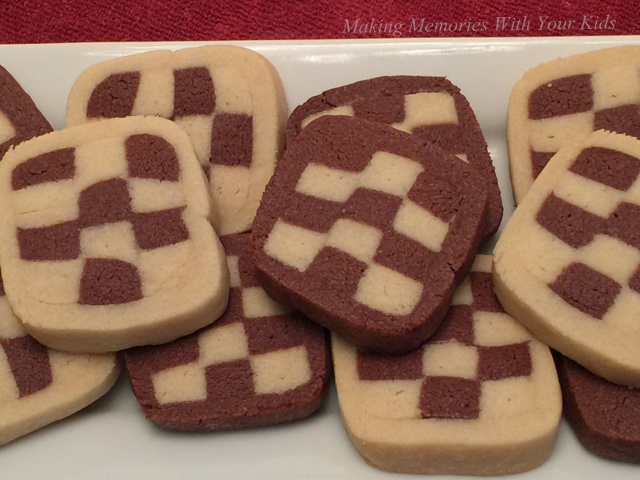 Ingredients
5 1/3 cups all-purpose flour
1 tsp baking powder
1 tsp salt
1 lb (2 cups or 4 sticks) unsalted butter, at room temperature
2 cups granulated sugar
1 tbsp pure vanilla extract
2 large eggs, at room temperature
1/2 cup unsweetened cocoa powder
Instructions
Sift 5 cups of the flour with the baking powder, and salt. Set aside.
In a large bowl, using an electric mixer, beat the butter and sugar together until light and fluffy.
Beat in the eggs, one at a time, then add the vanilla extract.
Add the flour mixture and mix to combine.
Divide the dough in half.
Knead the cocoa powder into one of the two halfs.
If the white half of the dough is a little on the soft side, add the remaining 1/3 cup of flour.
Form the dough into somewhat rectangular shape.
Roll out each of the chocolate and the vanilla dough into a rectangle with about 1 cm thickness.(make sure you do this on a floured surface using a floured rolling-pin)
Cut the each rectangle in half. (Wrap one half of the vanilla dough and one half of the chocolate dough with plastic wrap and put them back in the fridge)
Brush the top of the remaining chocolate dough with water or egg white.
Place the remaining half of the vanilla dough on top of the chocolate dough.
Wrap the dough in a plastic wrapper then put in the fridge for at least 15 minutes.
Cut the black and white rectangle in half-length wise (you get two rectangles the same length as the one in the picture above with only half its width)
Brush the top of one of the two rectangles with egg white then place the other rectangle on top of it making sure you reverse the colors. The order of the layers should be chocolate then vanilla then chocolate then vanilla.
Wrap the 4 layered dough rectangle in plastic wrap and put it in the fridge for at least 15 minutes up to a day.
Using a very sharp knife or a pizza wheel cut your 4 layered rectangle into strips 1 cm wide.
Handling the strips delicately, brush one strip with egg-white then place another strip on top of it making sure you reverse the order of the colors. Then brush the top strip with egg white and place another strip on top of it.
Stop at 4 layers.
On the parchment paper or plastic wrap roll the remaining chocolate (or vanilla) dough (the one that was in the fridge) into a rectangle about 1/3-inch thick. (it would help to let it stand at room temperature for 15 minutes before rolling)
Place the checkerboard log into the center, long sides parallel, and with the aid of parchment, wrap the dough around the checkerboard log pressing firmly to adhere.
Roll the finished log from side to side to form sharp corners. Wrap in the parchment and/or plastic and refrigerate well. The best would be to leave the formed cookie log in the refrigerator overnight.
Preheat oven to 350 degrees.
Using a very sharp knife, slice the cookie-dough log into thick slices.
Bake on a parchment lined cookie sheet for 10-12 minutes. Do not over bake!
Transfer to a cooling rack and cool completely.
Enjoy!
http://makingmemorieswithyourkids.com/2016/09/checkerboard-cookies-secret-recipe-club/