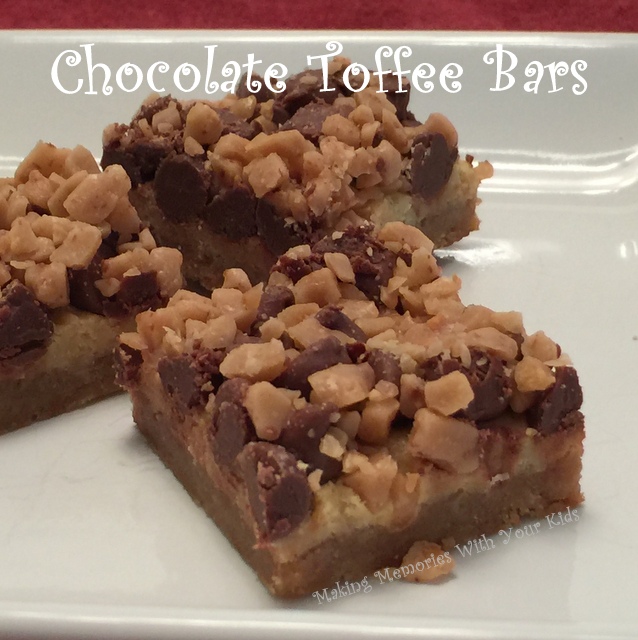 I absolutely love toffee and chocolate together and these cookies?  To die for!  The buttery crust and condensed milk filling puts these Chocolate Toffee Bars at the top of my list.
Our cookies didn't turn out like the picture on Pinterest but when I bit into one of them I realized I didn't care.  They were delicious!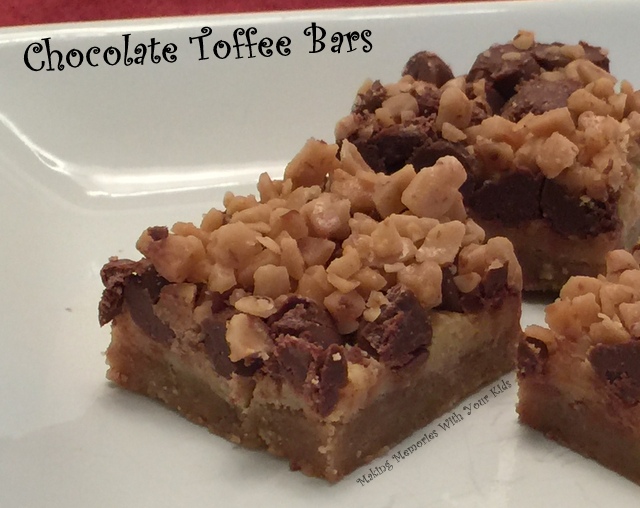 I had a hard time melting the chocolate chips on the top.  They wouldn't melt enough to spread for some reason.  Argh.  So I just left them and sprinkled the toffee bits on top.  No worries.  They were still amazing!
Next time I make these I'm going to double the filling so it is a little thicker.  Or you could make these in a 9×9 pan but seriously.  If you're trying to decide between a 9×9 pan of cookies and a 9×13 pan of cookies it should be a no brainer.  The bigger the better!
I found this recipe over on Sugar Apron.
Ingredients
For the Crust

3/4 cup butter, softened
3/4 cup packed brown sugar
1 1/2 cup flour

For the Filling

1 (10 oz) can sweetened condensed milk
2 tbsp butter

For the Topping

1 3/4 cup milk chocolate chips (1 bag)
1 1/3 cup toffee bits
Instructions
Preheat oven to 350° F and grease 13 x 9-inch baking pan.
Beat brown sugar, flour and margarine in a large mixer bowl until well blended and creamy.
Press evenly onto bottom of 9x13 pan.
Bake at 350 for 20 25 min or until light golden.
Remove from oven to wire rack while preparing filling.
Heat sweetened condensed milk and margarine in heavy pan,stirring constantly over med heat for 5-10 min or until thickened.
Spread over cooled crust.
Bake at 350 for 12-15 min or until light golden.
Sprinkle chocolate chips evenly over the top.
Bake for 2 min longer or until chocolate is shiny and soft.
Remove from oven and spread chocolate evenly.
Sprinkle toffee bits on top,pressing lightly into chocolate.
Cool completely and cut into bars.
Cover and store at room temperature. (On warm days, bars may be stored refrigerated.) Bring to room temperature before cutting.
http://makingmemorieswithyourkids.com/2016/09/chocolate-toffee-bars/