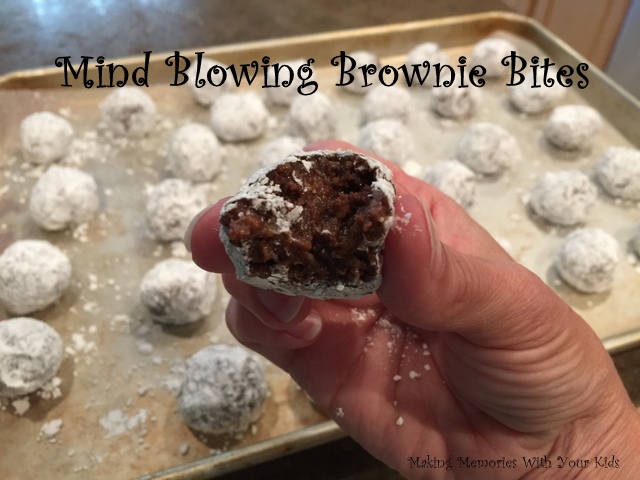 Who doesn't love brownies?  They are one of my favorite desserts with all the chocolatey goodness.  They are so easy to make and you can seriously make a hundred different kinds.  How could I not love that?! Culinary Envy called these Mind Blowing Brownie Bites.  I think I'm changing the name of them.  They remind me of Magic Bars (or Seven Layer Bars) but these are in ball form.  So… they shall now be called Magic Balls.  Doesn't that just sound more fun?  Maybe I've been working in a Middle School for too long.  That could be it.
This is the perfect dessert to make for a potluck.  They are easy to make and taste delicious.
I can't believe I didn't take more pictures.  I think I was too impressed with how these bad boys were turning out.  And, just to put it out there… if you try them while they're warm, say good bye to them all.  They are so good warm!  I couldn't stop eating them.
This is what the mixture look like all mixed together (before you bake it.)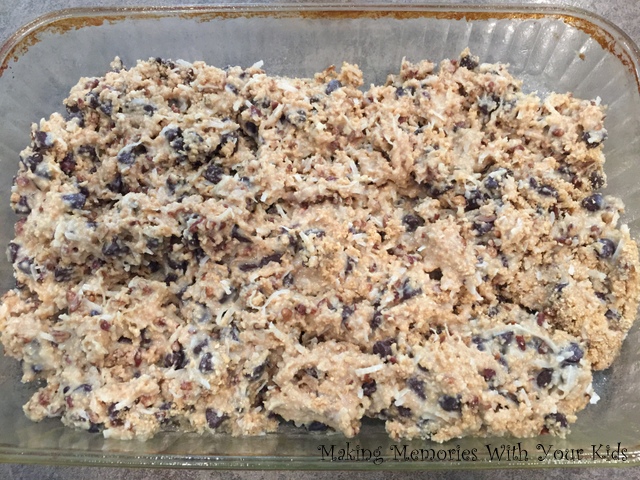 And…. that's my only picture.
After the mixture bakes in the oven you mix it up to stir in all the melted chocolate.  Let it cool and then roll it into balls and roll into powdered sugar.  Delicious!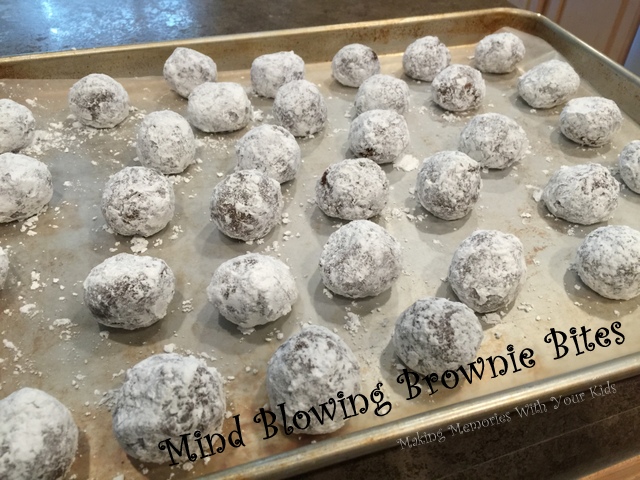 Thank you to Culinary Envy for this amazing recipe.
Mind Blowing Brownie Bites
Ingredients
1 2/3 cups graham cracker crumbs
2/3 cup shredded coconut
2/3 cup chopped walnuts
One 14-ounce can sweetened condensed milk
6 ounces semisweet chocolate chips
Big pinch kosher salt
1/4 lb. Confectioners sugar, for rolling
Instructions
Preheat the oven to 350 degrees F.
Coat an 8-by-8-inch baking pan with cooking spray.
Combine the graham crackers, coconut, walnuts, condensed milk, chocolate chips and salt in a medium bowl. Stir with a wooden spoon until thoroughly combined. Transfer the mixture to the prepared pan and press to the edges.
Bake until the chocolate melts and the top is golden, about 15 to 20 minutes. Stir the hot mixture in the pan until the chocolate is incorporated throughout. Press back out to the edges and set aside until cool enough to handle, about 15 minutes.
Spread the confectioners sugar on a dinner plate. Scoop out the brownie mixture by the tablespoon and shape into balls. While still warm, roll each ball in the sugar to coat. The bites will keep, tightly covered, for 2 days.
http://makingmemorieswithyourkids.com/2016/09/mind-blowing-brownie-bites/
Don't they look yummy?!