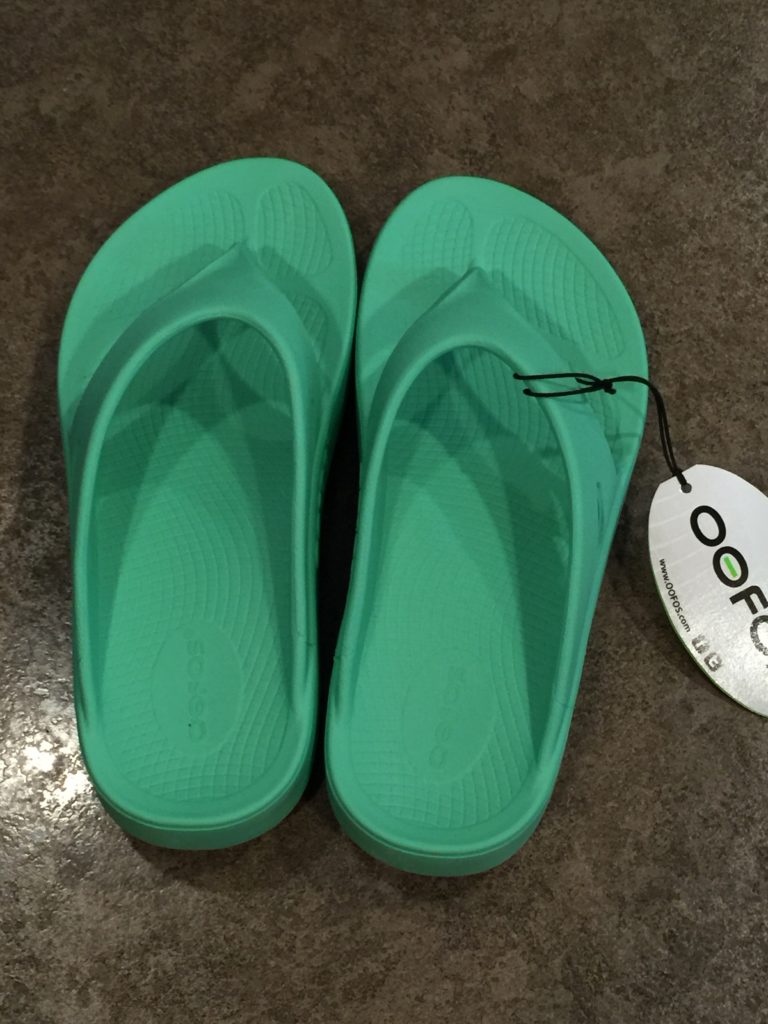 I have a confession to make.  I'm in love.  Yep, head over heals in love!  With these sandals!
I'm on my feet a lot during the day.  I work in a middle school so I have to keep up with 550 sprouting pre-teens.  If that's not enough to make your feet hurt, add to that that I'm a single Mom.  I run after my kids the minute we get home from school making dinner, helping with homework and then getting ready to do it all over again the next day.  So sore feet just became a part of my day.
I discovered OOfos about 4 years ago when I tried on my first pair.  I am a flip flop wearing gal so I immediately fell in love with them.  My feet have always kind of ached at the end of the day.  You know that feeling when you get home from work and you can't think of anything else but getting out of your shoes and stretching your feet?  Yep, everyday that was me.  Until OOfos.  My feet actually don't ache at the end of the day and I wear me OOfos everywhere.  If I could wear them all year I would.
What makes OOfos different?
OOfos absorb more shock than traditional foams:  Athletic shoe foams are designed to "rebound" and propel you forward. Revolutionary OOfoam does the opposite, absorbing 37% more shock with every step than traditional footwear foam.
OOfos reduce stress on sore feet, knees and back:  Your feet and joints take a pounding on hard surfaces. Slipping on OOFOS after a workout provides them with relief and a chance to recover.
OOfos craddle your arches:  Unlike flip-flops, the OOFOS patented footbed is designed with tremendous arch support to take the pressure off of ankles, knees and hips, as well as your lower back.
OOfos enable a more natural motion:  Biomechanically designed, OOFOS flex with both your foot and the ground. The soft, flexible OOfoam material enables your foot to articulate the way nature intended.
OOfos oft, conforming toe post eliminates chafing.
OOfos durable OOfoam holds its cushion its entire life.
OOfos moisture resistant closed cell foam is shower-ready and machine washable.
OOfos are so light they float.
Still not convinced?  These are my OOfos.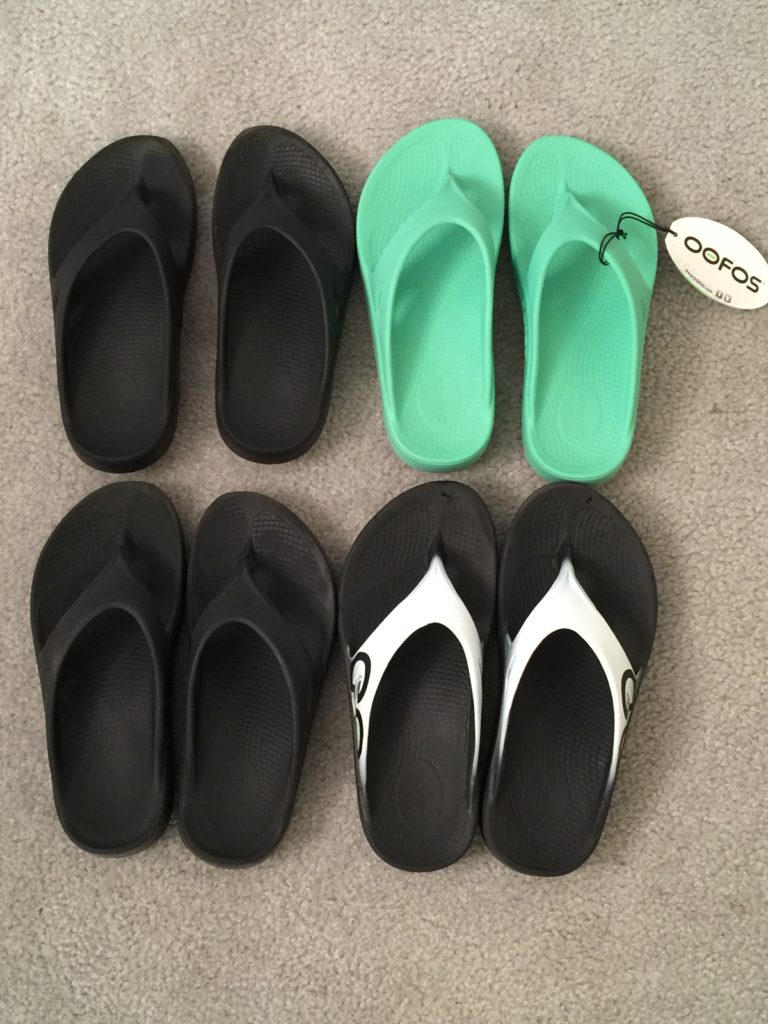 Yep, I have 4 pairs!  My daughter has taken over one of the black pairs.  She says they're the best flip flops she's ever tried on.
Here's my pair that I bought 4 years ago.  They still look brand new!  And believe me when I say I wear them all the time.
I camp in them.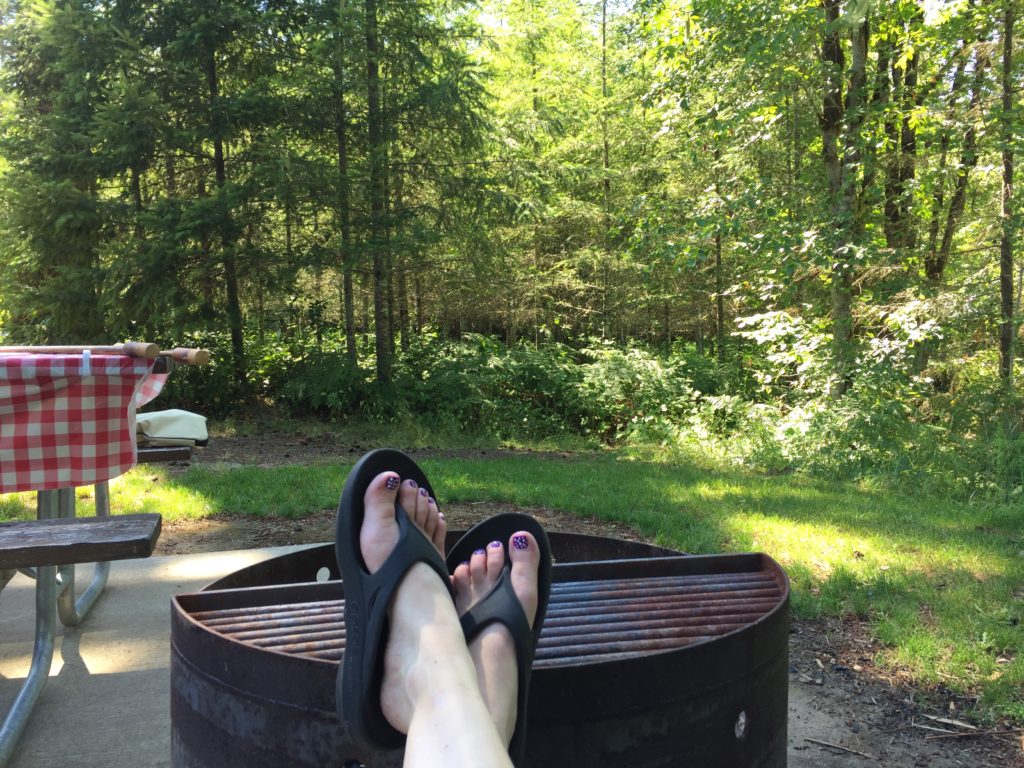 I hike in them.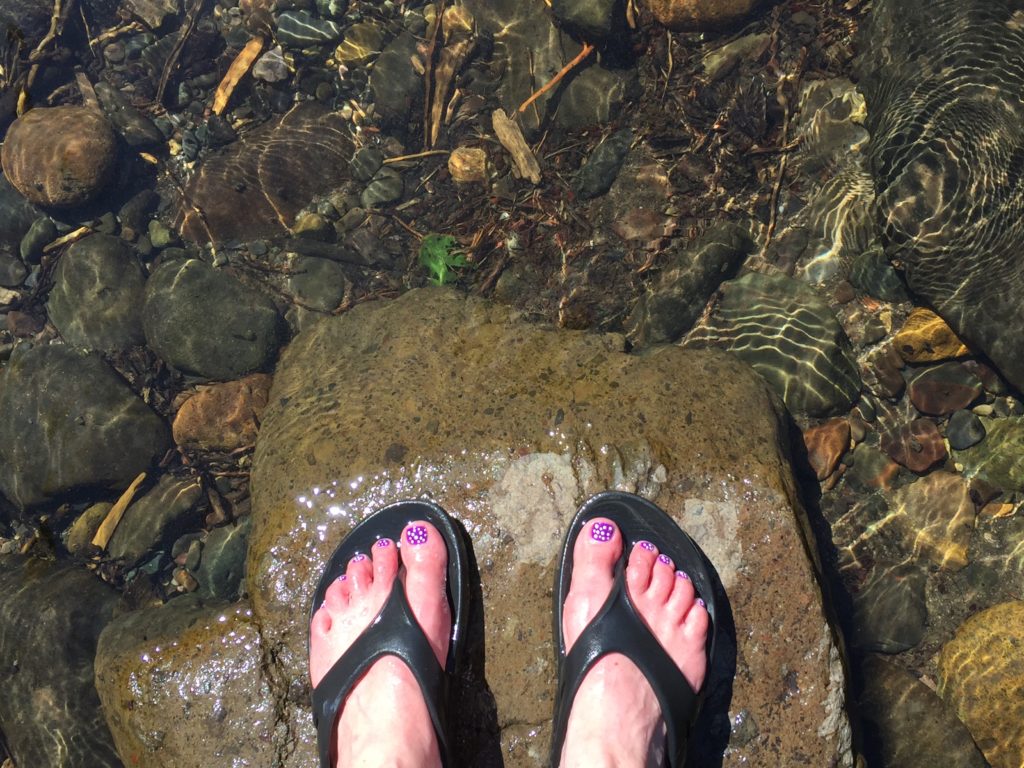 I wear them to work and at home and when I go for walks.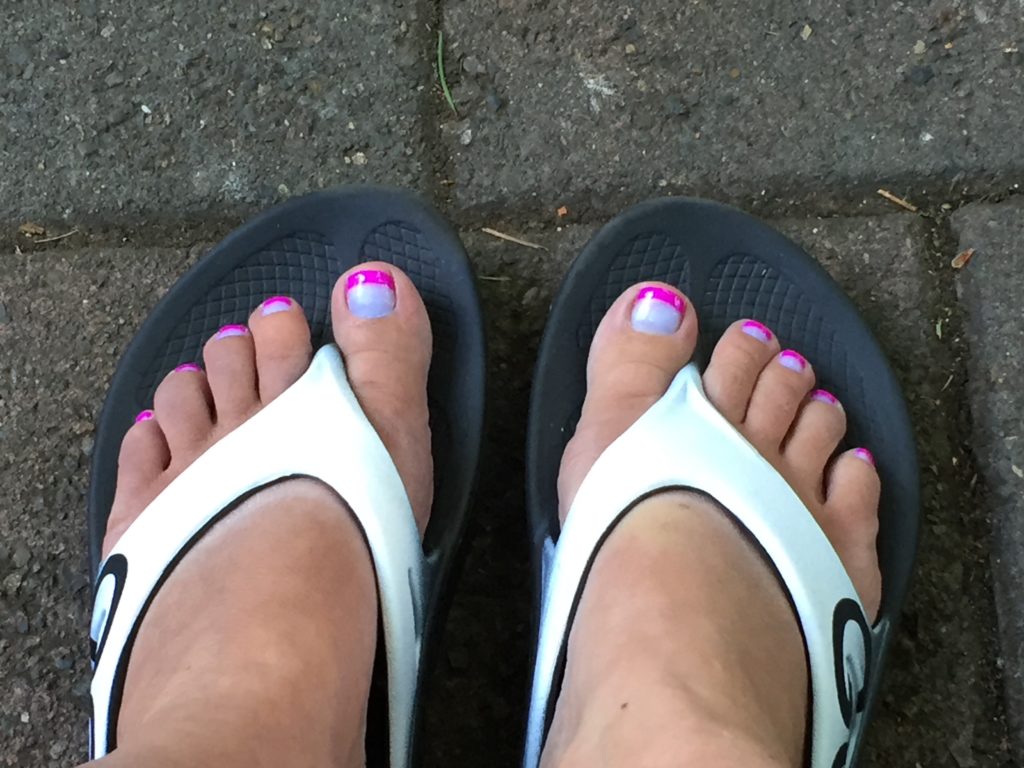 If you'd like to read more about OOfos and their OOfoam technology, you can find them online, on Facebook or on Pinterest.
OOfos come in different styles.  I'm in love with the OOriginal Sandal and the OOriginal Sports Sandal.  I love the fit and the arch support is amazing.  My son is begging me to buy him the OOcloog Clog.  After looking at it now I want that one too.  It would be perfect on the rainy mornings.  And colors?  They come in so many colors you will have a hard time choosing.
So here's where you come in.  The amazing people at OOfos have agreed to let me give away three pairs of OOfos to three lucky readers.  Three pairs!  Lucky you!
Enter below for your chance to win a pair of OOfos Footwear.
Giveaway ends October 17th at midnight and is open to continental US residents only.
I was given a free pair of OOFos to review but the opinions in this post are my own.  A huge thank you to OOfos for their amazing shoes!